Gyeonggi slow food project: New tastes of traditional acorn
by O Youn-hee, The Korea Herald, Dec 8, 2004
Seoul, South Korea -- The ?Slow Food? movement goes back 17 years. Its aim has been to preserve and support the traditional ways of cultivating, producing and preparing food. The movement focuses on the health aspect of people?s food culture, especially in today?s tech-savvy world. There are about 77,000 paid members in 50 countries dedicated to the cause.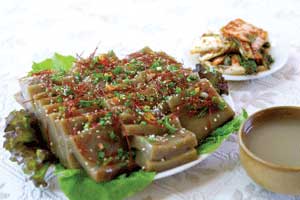 Gyeonggi Province announced early this year that it would support the movement?s efforts by helping to restore the ?natural taste? of traditional cuisine, as well as by promoting the livelihood of farming communities by encouraging consumption of homegrown agricultural products.
In the past, Koreans ate acorns instead of rice when they were stricken by famine or had a bad harvest. These days, food is more often than not plentiful, but acorns are still loved by many people.
If you visit Ogam Acorn Village in Yeoju, Gyeonggi Province, you will have an opportunity to try many different kinds of traditional Korean foods made from acorns, which are widely known for being healthy.
?They are not only delicious but also very good for health,? a 48-year-old village resident Kim Sun-hee said.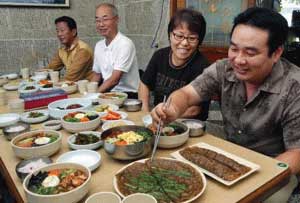 Medical experts have said that acorns can help in eliminating wastes from body, aiding digestion and relieving stress and fatigue. In addition, acorns can be perfect for those who want to go on a diet. A serving of acorn jelly only has 45 calories.
Little known is the fact that Ogam Village has a geographic advantage in cultivating acorns. The village is near Wonju, a mountainous area with several hills. The climate and landscape of this area are suitable for growing large acorn crops every autumn.
The village boasts dozens of food made from acorns. One is acorn flat cakes, in which the dough comes from dregs of acorns. Moreover, while overlooking the river and forgetting everyday worries, visitors can experience the peculiarities of acorn liquor, kalguksu (knife-cut noodles) made from acorns, and muk (chewy acorn jelly).
Kim added that food made from acorns require much effort. To cook with acorns, you must first peel off the fruit?s skin, grind the ?meat? of the acorn, and soak them in water. ?During cooking, you must concentrate intently on what you?re doing,? Kim said.
Aside from acorn food, visitors to the village can take part in the ?Experience Farming Program,? which is available every season. In spring, visitors have the chance to plant red peppers and sweet potatoes. There are opportunities to make pickled vegetables in winter. And in the summer heat, one can enjoy freshly picked corn-on-the-cob.
The Sinleuk Temple (031-885-2505) and Moga Buddhist Museum (031-885-9952) are also located nearby, which can offer romantic nights filled with fireflies and lasting memories.