Solitary Refinement
By Dan Zak, Washington Post Staff Writer, June 17, 2007
Leave Your BlackBerry Behind: Local Retreats Offer a Serene Reprieve From the Workaday Grind
Washington, USA -- It is easy to be lonely. It is hard to be alone.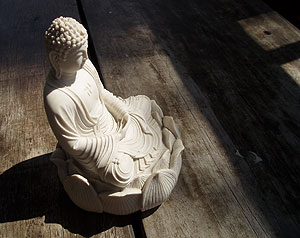 Dawn to dreamland, our days are clogged with companionship: wake to the sound of NPR, swallow breakfast as the TV wails, ride the Metro with the heaving masses as the iPod shouts the soundtrack of your life, spend eight hours at work having meetings, do the happy hour thing, cook dinner with the housemates, fall asleep in bed while talking to your best friend in Denver. Suddenly it's "Morning Edition" again, and you can't remember the last time you had a thought -- a serious, thoughtful thought -- to yourself.
There are pockets of quiet, though, in this roaring metropolitan area. Sneak over to Northeast Washington, close to the Prince George's County border, and settle into evening vespers with a flock of Benedictine monks. Or venture to Beallsville, about 30 miles from the District in western Montgomery County, where a retreat manager waves you into the parking area of a sanctuary for a night's respite on 28 acres of greenery both cultivated and wild.
No TV. No Internet. No cellphone. No preoccupations. Just you and your thoughts.
A two-week detachment from the grind is an ideal amount of cleansing time, says health psychologist Susan Nathan, but let's be realistic: Few of us can take that kind of break from our daily duties. Still, a fraction of quality time alone at a place like St. Anselm's Abbey in Northeast Washington or Am Kolel Sanctuary and Renewal Center in Beallsville can do wonders for one's head space.
"It's extremely valuable to take that kind of night away," says Nathan, who specializes in mind-body interaction and has a private practice in Orange County, Calif. "We're very goal-oriented and work-oriented and task-oriented, and we build up a lot of stress."
Too much noise and go-go-go makes the good stuff erode: Focus weakens, memory fails, sleep suffers. You feel it in your musculature, your heart rate, your lower neck and back, your creeping anxiety or small-mindedness or depression, according to Jon Kabat-Zinn, professor of medicine emeritus at the University of Massachusetts and founding director of its Stress Reduction Clinic and its Center for Mindfulness.
"You get going on a perpetual treadmill and it's all doing. . . [even though] we call ourselves human beings," Kabat-Zinn says. "It might not be a bad idea to be or at least cultivate some kind of intimacy with that dimension of our lives rather than just becoming perpetual 'human doings.' . . .
"The advent of the digital revolution has really transformed pretty much everything about the way we live our lives because you can be in 10 places at once. There's no end to the workday; there's no end to the workweek. You can be on all the time like a computer server."
Maybe you know this already. But maybe now's the time to reboot. Am Kolel's sanctuary and St. Anselm's are two of many local venues that offer a setting for a personal retreat and self-guided detox. Their doors are open to anyone, regardless of creed, who has a serious desire to spend contemplative time with themselves.
"In our age everything has to be a 'problem.' Ours is a time of anxiety because we have willed it to be so. . . . Sanctity in such an age means, no doubt, traveling from the area of anxiety to the area in which there is no anxiety or perhaps it means learning, from God, to be without anxiety in the midst of anxiety." -- Thomas Merton, "Thoughts in Solitude" (1958)
You can't go straight from crazy to quiet. You need to prepare yourself to get the most out of the experience.
"The whole idea is to know why you're there, what you are expecting of yourself, not of the surrounding," explains Nathan. " 'I'm there to be an empty vessel to allow myself to connect with something greater.' "
A traffic-clogged drive up River Road from downtown Washington -- during rush hour -- wasn't the best way to ease into a half-day retreat. But once I got on the back roads past Darnestown, there was a definite sense of having physically distanced myself from the anxiety of which Merton spoke. Now it was just a matter of mentally leaving it behind.
How to do that? The answer is easy, but rarely practiced.
"Just sit still and listen," says Rabbi David Shneyer, founder and director of Am Kolel, a Judaic resource nonprofit group. He stood by the gravel driveway, steps from the vegetable garden and a pine-tree-lined path to the woods.
The sanctuary's acreage was originally a family farm that was passed between religious denominations over the past 50 years: from the Sisters of Perpetual Adoration, who added a chapel, a guesthouse and a cottage; to the Crosiers, a Catholic order of priests; to an Episcopal congregation; and to Am Kolel in January 2006. Despite the dogmatic distinctions between its owners, the property has consistently been used for contemplation and quiet, and the residue of monastic living was palpable as I walked the labyrinth, a grassy maze that is supposed to focus the mind.
"The idea is to walk on the path slowly and to allow whatever thoughts come to mind," Shneyer told me. "Not to dwell too long on a particular thought, and just to let them become more profound."
Walking the narrow paths in the labyrinth is supposed to be like walking into your thoughts -- step by step, ring by ring, deeper and deeper. After an hour at the sanctuary, without much in the way of epiphany, I started toward the center of the labyrinth, keeping my mind open to its own ebb and flow, aware of my breathing and my being. What I interpreted as mental blankness was really a mental quieting. At the center of the labyrinth, my own quietness stirred plenty of thoughts, and I wrote them all in a notebook as the sun set gently past the tree line.
It was, dare I say, cathartic. Or at least different, more mindful, beyond myself. Normally at this time on a weeknight, I'd be settling into Bravo or Comedy Central instead of into my own thoughts.
Inside the guesthouse, which has four rooms with two single beds in each, a Finnish proverb is framed over the sink:
God
did not
create
hurry.
I found and read "Thoughts in Solitude" (in addition to a bit of Henry David Thoreau's "Walden") in the guesthouse's library. In the case of the Merton quotation, "God" can mean a personal deity or simply "you, yourself," and "traveling" can mean a physical journey to
Beallsville or simply a mental journey inward. Without distraction and with a little discipline, I was able to find and indulge all parts of that quotation and be at work on time the next morning.
"Household life is crowded and dusty; life gone forth is wide open." -- Buddha, Majjhima Nikaya 36
If the drive out to Beallsville allowed me to distance my thoughts from life's roar, would the crowded drive back rekindle the mind's clutter? Yes, it did. But though we all can't visit retreats every night, we can buttress our normal days with distinct and protected moments of contemplation.
"The only way that people can have a recollective life is to build very firm structures to protect one or two periods of quiet during the day," says Brother Matthew Nylund, the guestmaster at St. Anselm's, which has been part of the D.C. community for nearly 80 years and has a modest guest wing of eight bedrooms. "People can learn to clear that space -- not necessarily feeling they have to fill it with a particular devotion or accomplish a particular work or do a particular psychological exercise, but simply to clear that space and be."
Unlike the solitude at Am Kolel, a community of 19 monks at St. Anselm's provides a sense of shared contemplation, which can be motivating. Although there are no guided retreats, guests are encouraged to participate in evening and morning prayers (starting at 6 p.m. and 5:20 a.m.) and observing silence between the two.
One can also find some inner and outer quiet with the help of a Buddhist community at Bhavana Society Forest Monastery and Retreat Center in High View, W.Va., about 100 miles from the District.
"It's very difficult to meditate when you're being assaulted by all the hurly-burly of the world," says Bhikkhuni Sobhana, a nun at Bhavana. "Your normal morality is to be aggressive. Here, you're in a community where people are really dedicated to peace and to being very conscious about kindness and quality of speech."
Being alone and quiet at a monastery or retreat center is one thing, but learning how to replicate that experience at home or work or in the car is quite another. Like anything, it takes practice and discipline to carry a monastic sensibility amid the din.
"Once the person gets the skill of being able to identify their mental state of mind, you can learn to intentionally evoke for yourself wholesome and positive constructive states of mind," Sobhana says.
And even if people find what they're looking for while on a monastic vacation, they might feel compressed again when they leave, says Karen Moore Holliday, retreat manager at Am Kolel. She tells retreat participants to allow the outer spaciousness of the sanctuary to create an inner, portable spaciousness in the mind and body.
"Then they can begin to connect with that when they go back to their lives," she says. "The world is a mighty thing to deal with, and we're like little warriors that have to create our own inner spaciousness that we protect."
Take a Retreat Without Going Anywhere
Unable to get to Brookland, Beallsville or Berryville? Create a monastic retreat at home.
"If you could do it about every six to eight weeks, it'd be great," health psychologist Susan Nathan says. "You start yearning for it; your whole self says, 'Oh, I want to go back there.' In a way, you can go back anytime. It can stand in your mind, even if you only do it once. 'I take a deep breath and I'm there.' "
Unplug yourself. Turn off the BlackBerry and leave it off. Resist the urge to check e-mail. And let people know ahead of time that you'll be doing this.

Ease yourself into your "retreat." Breathe deeply. Start off with something simple and ritualistic, such as taking a bath or shower. "One of my clients works from home, so I suggested she practice preserving an hour from the time she gets up till the time she sits at her computer," Am Kolel retreat manager Karen Moore Holliday says. "The first thing is a cup of tea, to have it as a ritual: Boil the water, let it brew, sit with the tea, drink till it's done and that's it. It's about creating a space and putting in there something that's meaningful."

Create an environment that is markedly different from your normal living situation. Light candles to alter the atmosphere, or play music -- anything that will separate this time from the routine.

If you know how to meditate, do it. If not, do something creative (knitting, painting, etc.) that will both focus your mind and allow it to relax, as if you're walking into a virtual version of the labyrinth at Am Kolel. Don't dwell on thoughts. Let them come and go, and let yourself be absorbed in one task.

Do it for a set period of time: Fifteen minutes a day on a lunch break, or an hour or two after work now and then, or a whole weekend every couple of months. Set parameters, and commit that time without wavering.

Got kids? Tag team. Have your spouse or a friend take the young ones while you indulge in a bath or do yoga, says Jon Kabat-Zinn, who co-wrote a book with wife Myla called "Everyday Blessings: The Inner Work of Mindful Parenting." Or just keep a mindful perspective on the grind of child rearing. "Babies and young children, they're always in the being mode," he says. "We, on the other hand, live so much in our heads and not so much in our bodies. We get anxious about time, about looks, about appearances and commitments, about all this stuff that children don't have to deal with. So there's a lot to learn in interacting with your children that you can let them be your mindfulness teacher."