Discover peace in a home sanctuary
The Indianan Star, June 30, 2007
Honolulu, Hawaii (USA) -- When Honolulu fiber artist Madeleine Soder Bays was looking for a new home to rent, she sought out a house that would allow her to have her own personal space where she could create.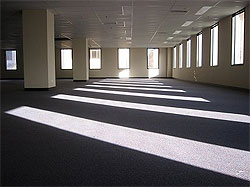 It wasn't enough to have a corner of a room dedicated to her art or even an art room that also doubled as an office.
"I had my studio together with my office in my previous home, and that didn't work out too well," Soder Bays says.
"It's really important to have a separate space, because I can't create in all places. There has to be some sense of peace, a peaceful place just for myself. That's why I've kind of created a space at home."
While the concept of a personal space makes sense for artists, having a space to be alone and to get away from life's everyday stresses is something everyone can benefit from, says Soder Bays.
In addition to her alone time with her art, Soder Bays also sets aside a separate space and time in the morning for a brief meditation practice.
"It's always in the morning," she says. "That's when no one else is up. I know if my husband were to be up at that time, I'd be irritated. I need that alone time for myself."
Few people have rooms they can dedicate to personal spaces. Jamie Jackson, an interior designer and owner of a home store in Honolulu, suggests creating a place that is uniquely your own within other spaces.
What's the benefit of personal space?
Pieper Toyama, principal of the Pacific Buddhist Academy, says personal time in a sanctuary helps slow the mind and temporarily remove you from the pace and struggles of life.
Toyama dedicated a corner of his office to a 4-foot butsudan, or Buddhist altar.
During a busy day, he will take a break, "hit the gong, say the name of the Buddha. It most definitely slows you down, makes you pay attention," Toyama says.
He encourages students who may be facing problems in school or at home to use the butsudan for reflection.
"That act and space," he says, "serves as a mechanism to change your state."