Better studies needed to test meditation: experts
CTV.ca, July 3 2007
Alberta, Canada -- There is a lack of rigorous clinical trials proving whether meditation has health benefits, according to Canadian researchers. But that doesn't mean yoga practitioners should throw away their mats.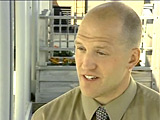 "At this point, we cannot conclude at all that meditation doesn't work," Prof. Maria Ospina told CTV.ca on Tuesday. "But we cannot conclude that it works, either."
Researchers at the University of Alberta examined more than 800 English-language comparative studies. The most common themes were how meditation affects hypertension, other cardiovascular diseases and substance abuse.
Five main categories of meditation were involved in the studies:
* Mantra meditation
* Mindfulness meditation
* Yoga
* Tai Chi
* Qi Gong
Overall, the low-quality studies suggested that Qi Gong and Zen Buddhist meditation helped lower blood pressure, while Yoga reduced stress.
They also hinted that both Yoga and Mindfulness meditation worked equally well at cutting anxiety in patients with cardiovascular diseases.
But the University of Alberta team found serious methodological weaknesses in the studies, such as problems balancing control and treatment groups, or a lack of blinding -- a method designed to avoid researcher bias.
Such problems put any conclusions reached by the studies in doubt.
Even though people have been meditating for thousands of years, Ospina said it's important to use modern scientific methods to test the practice.
"The clinical trial model is a Western invention, in a way. We are using methods of Western science to asses a very ancient Eastern practice," she said.
"That's why we decided to go this way. The clinical trial is the gold standard to assess efficacy and effectiveness of intervention."
Prof. Ken Bond said the team's research has "created a larger question mark" about the effects of meditation.
But he added that his own experience -- although limited -- has been worthwhile.
"I didn't practice it for very long, but it was a positive experience. I can see why it's appealing to people," he told CTV.ca.