Shikoku Pilgrimage: Walk of life
By FUMITOMO OGURA,The Asahi Shimbun, December 23,2004
More and more people -many of them young - are hitting the pilgrim's trail in search of themselves. `I think it was one of the best things I've ever done.' - MITSUNAGA OKADA 15-year-old pilgrim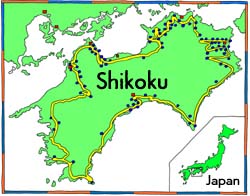 TOKUSHIMA, Japan -- It's known as the ``walk of life.'' The 1,400-kilometer ohenro tour of 88 temples in Shikoku is thought to be walking in the footsteps of an eighth-century Buddhist monk called Kobo Daishi, or Kukai.
The tour, long considered a later-in-life duty, has lately become popular among younger devotees.
While today's trekkers are following tradition, they are not all looking for nirvana. Many are just trying to find themselves.
Mitsunaga Okada, 15, is a third-year junior high school student from Tokyo. After two months on the road, his face was deeply tanned.
He reached his final destination--Okuboji temple, in Sanuki, Kagawa Prefecture, which is No. 88 on the ohenro route--in early October.
Okada is no ordinary student. He is enrolled in a special program for teens who for one reason or another have refused to go to school. Okada says he had found it hard to fit in.
Okada extended his summer vacation for the walk, staying at temples or camping out under the stars. He never stopped walking.
Now back in Tokyo, Okada said: ``I had lots of face-to-face talks with so many individuals along the way. I think it was one of the best things I've ever done. It felt so rich.''
He added, ``Now I think I am ready to be a leader at school.''
Fumie Oka, 26, works at a dental clinic in Tokyo. She is a pilgrim, too, although she can only spend a part of her time walking.
Oka covers the route in small chunks, coming to Shikoku whenever she can manage a few days off.
This July, she walked from Ryozenji temple, the first temple on the route, in Naruto, Tokushima Prefecture, to No. 11, Fujiidera temple, a distance of about 40 kilometers.
She returned to Fujiidera in September and continued on to No. 21, Tairyuji temple. She has plans to walk again before next February.
Oka says she was feeling depressed by the group dynamics in her workplace and getting over a recent divorce. She had reached the point where she was too exhausted to talk to anyone.
She needed a change, and decided to set a challenge ``to see how much I could manage all by myself.'' The idea of a pilgrimage on foot seemed to be the answer.
``I've had numerous encounters along the way that warmed my heart. When I was exhausted from walking, I would always be offered very kind osettai (generous welcome) at houses along the way,'' Oka said.
Osettai refers to acts of kindness and compassion given to pilgrims along their route by total strangers. It is most often offerings of food and accommodations.
``The whole experience was moving. I cherish the time I spent talking to fellow pilgrims,'' Oka added.
The route begins at Ryozenji temple, on the outskirts of Naruto. A travelers' log kept at the temple since 1989 shows that 137 pilgrims embarked on the trek that year. In 1994, the number rose to 500, and then jumped to more than 4,000 by 2002.
Chozen Yoshimura, 73, a priest at Ryozenji, says the pilgrims are younger these days. ``We don't see as many pilgrims in their 40s and 50s anymore.''
Their sun-shading headgear, conical straw hats called sugegasa available at temples along the route, are selling in numbers 10 times as large as they did a decade ago.
In Osaka, the Hankyu department store set up a special section to sell pilgrimage products in April. Most popular is a three-piece ``instant pilgrim'' set consisting of a wooden staff (a pilgrim's necessity), white cotton jacket and straw hat.
Modern pilgrims are looking for a sense of accomplishment more than anything else, they say. To enhance their experience, many share their thoughts and experiences with the public via the Internet.
Oka took pictures of scenes along the way with her cellphone camera and posted them on her Web blog with comments like: ``I met a 95-year-old pilgrim today.''
Okada carried a laptop computer on his back. His Web site has recorded about 20,000 hits so far.
Masaaki Oishi, a professor at Naruto University of Education, in Naruto, Tokushima Prefecture, studies the Shikoku pilgrimage phenomenon. He said that recently, young people only seem to know the ``virtual'' kind of accomplishment attained through computer games and the Internet. They crave real experiences.
``The role of the pilgrimage has been transformed from religious training to a stage that offers spiritual growth to modern man,'' Oishi said.
Naoto Kan, the former leader of Minshuto (Democratic Party of Japan), embarked on a walk of penance this summer, after he resigned as party president in May for having failed to pay national pension premiums.
Why, in his opinion, are more people these days donning ohenro hats and setting out on the trail?
``It's the times. There are so many things that happen to us that prompt us to take a moment to reflect and take a real good look at ourselves,'' Kan wrote in an e-mailed reply.
``And that should not be done by just sitting back and thinking. We are more attracted to the notion of physical effort, and thus feeling something.'' Ohenro pilgrims
Ohenro are honorable pilgrims who travel on foot to visit a centuries-old chain of 88 temples associated with the eighth-century Buddhist saint Kobo Daishi. Also known as Kukai, the Shingon Buddhist founder was born on the island of Shikoku in 774, where he is believed to have gone through rigorous religious training.
Ohenro aim to walk in the saint's footsteps, faithfully visiting each of the 88 temples built along a circular coastal route. They follow the map in a clockwise direction.
At each temple, they offer a fuda prayer plaque, pray and receive an official seal.
Pilgrims are easily recognized by their white garments, including a circular priest's shawl draped around the neck, peaked straw hat and wooden staff.
Local tradition is to offer osettai, or generous service, to the devoted pilgrims--giving them meals, rest and lodgings.