Ancient Tibetan science still necessary today
By Samantha Sigmon, The Traveler, Posted: Nov 16, 2007
Arkansas, USA -- "The Uniqueness of Tibetan Astro-Medicine" was held Monday at 7 p.m. in Giffels Auditorium. The presentation was free and open to the public, and addressed tantric practices including consideration of the chakras, the administration of medical training, and how the medical practice relates to Tibetan Buddhist Philosophy generally, according to the press release.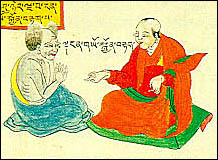 Students for a Free Tibet hosted the event. Jhampa Kalsang, graduated from the Dalai Lama's school in Dharmasala, India. Stephen Coger, a member of the organization, said he organized the event just in the last couple of weeks.
The presentation touched on the fields of medicine, astrology, philosophy and astronomy, according to the press release.
The presenter, Jhampa Kalsang, graduated in 1989 from the Tibetan Medical and Astrological Institute of H.H. the Dalai Lama, in Dharamsala, India. He completed a full course of study and six years of training in Tibetan studies with an emphasis on traditional Tibetan astronomy, astrology, medical astrology and Buddhist philosophy. He has been on the staff of Tibetan Medical and Astrological Institute and was one of the senior lecturers, according to the press release.
"I encourage people to attend to learn about their health, to ask questions about this rich culture's history, and to learn about that culture and its uniqueness with regard to medicine and astrology and the two's intersection," Coger said.
At the presentation, Kalsang said that Tibetan medicine was 2500 years old and fundamentally based on Buddhist principles. They believe that the main cause for disease is ignorance.
Kalsang defined astroscience as "the ancient art of calculation and interpretation of celestial phenomena." Basically there are five elements that correspond to the five vital organs mainly; wood relates to the liver, fire with the heart, earth with the spleen, metal with the lungs, and water with kidneys.
"Things that happen to us involve our own karma; nobody can fix the problem but you. It's all you. For example, once your life is in danger, it is good to save some one whose life is also in danger," Kalsang said.
Astro-science is classified into two categories: elemental astrology (Byung-rtsis, in Tibetan) and astronomy (Kar-rtsis), and the Tibetan style is drawn from the teachings of neighboring countries such as India, China, Persia and Greece in synthesis with the philosophy of Buddhism to create a uniquely Tibetan system. It uses different kinds of ingredients such as herbs, trees, rocks, resins, soils, precious metals, saps, etc. However, 95 percent of Tibetan medicine is based on herbs and precious metals are used for the seven kinds of precious pills known as "Rinchen riplo," Coger said.
"Our bodies are natural, so everything should come from the natural," Kalsang said. "Machines sometimes give you false alarm; people get scared for nothing."
In Tibet, if someone is sick and cannot get to a doctor, they send their closest relative, like a father sending a son, to see the doctor. The doctor will take the son's pulse and prescribe medicine to treat the father. Kalsang has offered two-day workshops in pulse reading, but he says it takes much time and patience, while people expect results in two days, he said.
A tantra is an image passing for many years. People can reach enlightenment by just studying one tantra diligently. The Ghud Zhsi is the root tantra or principle text consisting of 156 chapters divided into main sections. A scholar of this tantra must learn the text by heart, Kalsang said.
When a patent comes to a Tibetan medical astro-scientist, the doctor will look things like diet, behavior and therapies. Everything is bigger in America because people are prosperous, Kalsang said. People also eat too much cold food which causes indigestion problems and they also do not eat for the season they are in.
"When we eat in the West, our mind is not really eating," Kalsang said. "When you are eating, focus your mind on what you are eating. You should also remember to breathe. People have one hand on the wheel of their car while they are eating a hamburger. Everything here is ready to run. There is no time for a cup of tea. Take care of your diet and eat good food. Instead of health insurance, spend money to eat good food."
People need to know how to change their behaviors to accommodate the seasons. Never diet in the winter because you are naturally hungrier and need more food, Kalsang said. In the summer people naturally diet. Also, the winter is more conducive to more sexual intercourse, he said.
Tibetan medicine involves soft therapy like massage and rough therapy like surgery, which is rarely practiced. Ailments are mostly cured with natural things that have been blessed for more potency. Most people don't need the surgeries; it is really all about doctors getting money, Kalsang said.
"For everything in your body there is a reason," Kalsang said. "We cannot just cut and paste like a computer. This is a human body and there are some things we can do better."
Besides the practicing of natural medicine, there is also the practice of astronomy with the Kalachakra tantra. Tibetans put out an annual almanac with these predictions. They also do individual predictions-giving a natal chart, compatibility chart, health chart, and death chart that is updated yearly. With compatibility, each partner's elements are studied. If there is some problem in the relationship, these scientists can give an antidote to help fix it.
"Love grows," Kalsang said. "In the West, you do everything first so there is nothing exciting left in the relationship. We get married first and then start knowing each other because love should grow."
The event lasted about an hour and a half. Afterward, there was a question-and-answer session and refreshments.
"The turnout was great," Coger said afterwards. "I have never got that many people into Giffels. The amount of people that didn't leave while he was speaking was amazing, too."
The preservation of Tibetan culture and practices means a great deal to Coger.
"I'm involved with this event because I care about issues of social justice; the maintenance of this great culture is an issue of social justice," Coger said. "The Tibetan culture has a lot to offer to the cultures of the West, and this culture is struggling to survive."
--------------------
To learn more about Students for a Free Tibet, e-mail Stephen Coger at smcoger@uark.edu. The club's advisor, a Tibetan monk living in exile, Geshe Dorjee, is a UA philosophy instructor. This spring, he will be teaching a class on the Philosophy of Non-Violence and another on Tibetan Philosophy and Culture.