'I'm the happiest (& richest) investor because ...'
By Paul B. Farrell, MarketWatch, Dec. 24, 2007
ARROYO GRANDE, Calif. (USA) -- Thanks for stopping by. Won't keep you long. I know you need to get back to loved ones. Celebrate. Prepare dinner. Open presents. Watch a game. Laugh. Have some fun. Or just take a nap.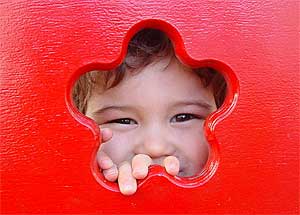 But while you're here, take a moment. Whether you're Christian, Jewish, Buddhist, Muslim or atheist, we can all celebrate today's universal spirit. How? Try this. Simply answer this question: "I'm the happiest (and richest) investor because ..."

You say that's impossible? After all, how can each one of us be "the happiest," let alone "the richest." Logically it can't be. Or can it? Imagine you're in a parallel universe. Or in a movie. Besides, aren't we all in our very own worlds? So yes, you can be the happiest and richest ... in your special way, with your special loved ones.
Now you're in the spirit! Be like a kid on The Polar Express, having fun, chugging away up, up to the North Pole. Imagine you're that little child in her father's arms in "It's a Wonderful Life" when the bell rings and Clarence the angel finally gets his wings.
Yes, for a moment imagine: "I really am the happiest (and richest) investor in the whole wide world!" And to give you a few clues, here are my "12 New Secrets" to being happy and rich. I bet they'll jar your memory, maybe bring a smile, help you see that at this very moment in time, in your unique way, you really are the happiest, the richest and the luckiest investor in the whole wide world, on a train traveling to see Santa, in the arms of a loving father who cares a lot about you. Listen, the bells are ringing for you:
1. Happiness is making others happy
My wife loves Mary Engelbrecht's calendars. We have several around the house. My favorite is from one December with a jolly, happy, bright-colored Santa strolling along with a huge bag of gifts and a cute dog. The caption is from Oscar Wilde: "Some cause happiness wherever they go."
We have 11 other pages from Mary's smaller calendars tacked on our fridge with magnets. They all "cause happiness."
2. Happiness is doing what you love
"Success is getting what you want," says Uncle Warren Buffett, the Oracle of Omaha. "Happiness is wanting what you get." And to University of Nebraska students: "If there is any difference between you and me it may simply be that I get up every day and have a chance to do what I love to do, every day. If you learn anything from me, this is the best advice I can give you."
Yes, you can be happy. And as Will Smith told his son in the movie, "In Pursuit of Happyness:" "Don't ever let anybody tell you you can't do something -- not even me."
3. Happiness is spending less than you earn
Here's Charles Dickens' famous formula: "Annual income, 20 pounds; annual expenditure, 19 pounds; result happiness. Annual income, 20 pounds; annual expenditure, 21 pounds; result misery." Money guru Andy Tobias included it in Parade's "10 Smartest Things About Money."
Dan Millman echoes the message in "The Way of the Peaceful Warrior." "The secret of happiness," says the old garage mechanic, Socrates, "is not found in seeking more, but in the capacity to enjoy less."
4. Happiness is losing yourself in the present moment
Mihaly Csikszentmihalyi looks more like Santa than a psychology professor. In Martin Seligman's book, "Authentic Happiness," Mihaly says: "Isn't it funny? -- I've been studying happiness for at least 40 years, but I still don't have a definition of it. The closest one would be that happiness is the state of mind in which one does not desire to be in any other state. Being deeply involved in the moment, we do not have the opportunity to think about anything but the task at hand -- hence, by default, we are happy."
5. Happiness is knowing when 'enough is enough'
Thich Nhat Hanh is a Vietnamese Buddhist monk, peace activist and was a close friend of the popular Trappist monk Thomas Merton. "In Stepping Into Freedom," Thich says: "Your notions of happiness may be very dangerous. The Buddha says happiness can only be possible in the here and now, so go back and examine deeply your notions and ideas of happiness. You may recognize that the conditions of happiness that are already there in your life are enough. Then happiness will be instantly yours."
6. Happiness is being unattached to money and other stuff
Remember Henry Miller's famous opening line in the "Tropic of Cancer:" "I have no money, no resources, no hopes. I am the happiest man alive." Sounds similar to a Buddhist monk's vows. Thich describes "The Tenth Precept: On Not Accumulating Money or Possessions for Personal Use." Aware that the happiness of a monk or nun is found in solidity and freedom, I vow not to allow money or possessions to become a preoccupation in my life. ... We are happy just by being aware of what is in front of us."
My mentor Joseph Campbell adds: "My life course is totally indifferent to money. As a result a lot of money has come in by doing what I feel I want to do from the inside."
7. Happiness is action, doing what's necessary and right
Recently Chuck Norris joined Oprah Winfrey and Magic Johnson on the campaign trail. "In The Secret Power Within," Chuck says: "At heart, we all want the same thing, whether we call it 'enlightenment,' 'happiness,' or 'love.' Too many people spend their lives waiting for that something to arrive -- and that's not the Zen way. Zen is always on the side of action, always on the side of doing what is necessary and right."
8. Happiness is sometimes you're faking it so good you're happy
In "The Way of the Peaceful Warrior," Socrates tells his young disciple: "A fool is 'happy' when his cravings are satisfied. A warrior is happy without reason. That's what makes happiness the ultimate discipline ... This is the final task I will ever give you, and it goes on forever. Act happy, feel happy, be happy, without a reason in the world. Then you can love, and do what you will."
In AA, sponsors often tell a newcomer who's feeling down to go help someone who's worse off. It works.
9. Happiness is more a bunch of little moments than big deals
I love Roger Rosenblatt's "The Rules of Aging:" "Rule 40. A long, happy life lasts five minutes." And forever! In poet Hugh Prather's poetic "Little Book of Letting Go," a tennis pro talks about a frustrated 12-year-old: "Her problem is that she thinks she should be happy. She hasn't yet learned that happiness is an occasional good meal and, if you're lucky, a good TV program now and then." He concluded that's "an apt description of the surprisingly limited role happiness plays in most adult lives." Five minutes is forever.
10. Happiness is lots of loved ones and a warm puppy
For "Peanuts'" creator Charles Schultz, it's very simple: "Happiness is a warm puppy." Even simpler in Anna Quindlen's "A Short Guide to A Happy Life:" "Get a life in which you pay attention to the baby as she scowls with concentration when she tries to pick up a Cheerio with her thumb and first finger. Turn off the cell phone. Turn off your regular phone, for that matter. Keep still. Be present. Get a life in which you are not alone. Find people you love, and who love you." God bless "Peanuts" and cheery Cheerios!
11. Happiness is about doing what you really love
"Why is it that only a minority of our population love their work? .... If you make one major decision correctly," says Thomas Stanley in "The Millionaire Mind," "if you are creative enough to select the ideal vocation, you can win, win big-time. The really brilliant multimillionaires are those who selected a vocation they love."
12. Yes, happiness is also about being rich ... 'rich in spirit'
"Instead of focusing almost exclusively on our finances," says Ralph Warner in "Get A Life -- You Don't Need A Million To Retire Well," we "should be thinking about the things that truly make a difference in our later years; our health, spiritual life, relationships with family and friends, and having a plate full of interesting things to do."
So take a moment and answer the question: " I am the happiest (and richest) investor because ..." That's your prize in this contest. It comes from within, an investment that will continue growing, making you richer and richer when you go back to the celebration, to your loved ones.
You can cause happiness wherever you go -- today, and every day. Have a joy filled holiday!
Also share this column: Email it to friends and loved ones. Use the link here - Marketwatch.com