Use meditation to improve your health
By Deirdre Cox Baker, QCTimes.com, April 3, 2008
Davenport, Iowa (USA) -- Somnieng Hoeurn rhythmically chants an ancient verse as seven pupils seated in a Davenport home listen closely and learn how to meditate.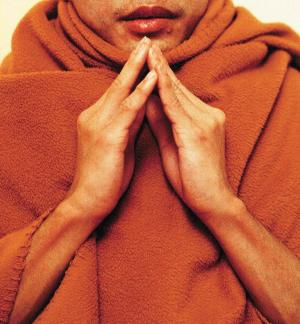 << Jeff Cook/QUAD-CITY TIMES Somnieng Hoeurn, a Buddhist monk from Cambodia, chants during one of the meditation classes he teaches in Davenport.
Hoeurn, a Buddhist monk from Cambodia, is in the Quad-Cities on a year-long visa to study at St. Ambrose University and teach meditation techniques. In the classes, pupils learn to relax, breathe deeply and focus on their mind.
Meditation is used by some medical professionals because it appears to have long-term benefits as far as emotional and physical well-being is concerned. It tends to ease conditions that are worsened by stress, including allergies, arthritis, cancer, chronic pain, heart disease and depression, according to the Mayo Clinic and its Web site, mayoclinic.org.
Meditation, when properly followed, can play a role in decreasing stress-related hormones, according to Dr. Edward Creagan, an associate medical editor for Mayo Health Solutions and a contributor to the Web site. That includes cortisol, which is associated with high blood pressure.
"When we are calm, serene, feel validated and with a sense of peace, the result is lower blood pressure," he said.
Hoeurn works with the Midwest Buddhist Education Center, which also involves Steve Spring, a Davenport accountant. Classes are held on Monday nights at 216 W. Locust St., Davenport, and on Thursdays at the Davenport School of Yoga, 421 Brady St.
"People will discuss how meditation is transforming and how it improves their emotional experience and their relationships with family, friends and co-workers," Spring said.
Hoeurn believes meditation's focus on the mind explains how it helps other parts of the body. "A healthy mind will produce physical health," he said.
Meditation has been practiced for thousands of years in Eastern cultures. Western culture encourages formidable roadblocks to meditation, including busy, over-committed lives with no free time, Spring said.
Also, Westerners do not often see the importance of taking time to develop mental health, according to the monk. "You take one-two hours a day to feed your stomach, take 10 minutes a day to feed your mind," Hoeurn encouraged the class.
A mind-centered focus also provides time to form appropriate responses to life's challenges, he said. "Most of the problems in the world can be traced to people who are quick to anger. They have very quick responses," he added.
The monk led two 15 to 20-minute sessions during Monday's class. "Ease, ease your body," he quietly told the students. "Focus on your breath, breathe deeply, slightly and release slowly."
Hoeurn encourages the meditators to set aside from their minds thoughts and feelings and focus instead on breathing slowly in and out. Students should sit quietly and try to disregard discomfort, he advises.
"Focus mindfulness on breath and ignore the body," said the monk, who sat cross-legged on the floor for more than an hour. "But if it hurts too much, please move," he added with a grin.
Tracy and Brian Tuftee, six-month newlyweds from Davenport, have attended several classes led by Hoeurn. Tuftee said she felt positive after one 15-minute session, "smiling in my heart, if not physically smiling."
She has been interested in meditation for years and tried it with another instructor, but felt she did not get enough guidance. Regularly meditating has helped her calm down "pretty quickly," she said, and also has benefited the relationship with her husband.
General forms of the wide-ranging practice include yoga, Tai chi, guided meditation and Qi Gong, according the Mayo Clinic Web site.
Lives are improved with regular meditation practice, the monk believes. "Your life will be so great," Hoeurn says. "You will be living in heaven on earth!"