Canned foods make life easier for vegetarians
VNA, Aug 19, 2008
Ho Chi Minh City, Vietnam -- Pham Thi Hoa goes to a supermarket near her house every Sunday to pick up some canned foods besides vegetables for the week.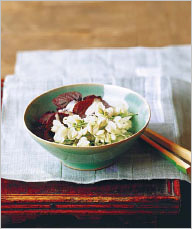 The 72-year-old and her husband, who are both hypertensive, have been vegetarians for many years.
"At the supermarket, I can easily find our favourite vegetarian foods," Hoa said. "They are made mostly from soybeans, tofu, and potatoes but taste similar to meat and fish."
Over 200 kinds of canned and ready-to-cook vegetarian foods, both locally made and imported, are found these days on the shelves of HCM City supermarkets.
Believing in the benefits of vegetarianism, many young people, who have eaten vegetarian foods prepared by their mothers or at restaurants, are learning to cook the stuff themselves using ready-to-use items.
Last month 19-year-old Le Thi Mai prepared a vegetarian meal for her family on the occasion of her grandfather's death anniversary.
She made several dishes including cha gio (spring roll) and curry. She made cha gio from legumes, tofu, mushrooms and vermicelli for deep-frying it, and she bought the canned curry at a supermarket.
Mai said she plans to buy canned spices to make vegetarian spaghetti, her sister's favourite dish.
She said supermarkets sold many kinds of canned spices with delicious vegetarian flavours.
Mai also joined Buddhist nuns and young volunteers preparing vegetarian meals at Long Son Pagoda in Go Vap District last week.
"We're now in the seventh lunar month when prayer services are organised every day at city pagodas to pray for the souls of the dead," she said.
Long Son is one of over 20 pagodas in the city offering free vegetarian meals to Buddhists after prayer services on certain days this month.
Long Son's Buddhist nuns said: "In the past most volunteers were old people who helped us prepare vegetarian meals during [this] month. [Now it is] mostly young people working with us this month.
"We bought several kinds of canned and frozen foods to prepare the meals for hundreds of people.
"Besides vegetarian instant noodles, we made ga chien, a special dish that tastes and looks like roast chicken but is made from wheat flour and potatoes."
Since demand is very high this month, pagodas, vegetarian restaurants, and shops selling ready-to-cook vegetarian food are crowded.
Food suppliers are cashing in on the demand. Many companies have imported vegetarian "meat" delicacies from the Chinese mainland and Taiwan, including chicken, fried or boiled carp, all made from tofu, to supply HCM City and the Cuu Long (Mekong) Delta.
"Canned vegetarian foods that are not expensive sell well," Nguyen Phuong Thao, manager of Maximark supermarket, said.
The prices of imports are about 20 per cent higher than local products, she said.