Give Buddhist economics a try
by C. Gopinath, The Hindu, Sept 15, 2008
Consuming our way to happiness is a dominant theme in modern economics. But it is not true that high living standards necessarily mean high levels of consumption. Our economic and moral lives need to be intertwined.
New Delhi, India -- Recent reports suggest that the US Congress (i.e., parliament) is thinking of another stimulus Bill. That means putting money into the pockets of people so they will spend it and give a boost to the economy. The results of the previous stimulus Bill have not been very encouraging.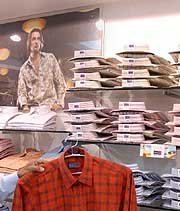 << If three shirts meet your needs, why does happiness come only when you buy the fourth that you are admiring on the store shelves?
The government handed out cheques of about US$ 6.38 each to eligible families and asked them to go and spend it. Studies show that about 70 per cent of that handout was saved, and the economy continues to slip further into a rut with inflation, and higher unemployment figures expected in the months to come.
Consuming our way to happiness is a dominant theme in modern economics. It is a prime motivating force in utility maximisation, and trade theorists claim there are 'gains' from free trade because there are more goods and services available for consumption. The business world, in general, and the marketers, in particular, have also built their very existence around increasing consumption.
Regeneration rate down
The US government also strongly subscribes to this ideology, as seen from their efforts to stimulate consumption. After the terrorist attack in New York in September 2001, the US president George Bush, as part of his speech calming the nerves of citizens, encouraged them to go to the malls. To him, that represented leading a normal life.
The result of all this encouragement to spend and consume is that the planet is getting quite a bit weary. With 5 per cent of the world's population, the US burns about 25 per cent of the world's energy. It also produces about 30 per cent of the world's waste. The World Watch Institute has calculated that if just the two countries, China and India, who are trying to raise the living standards of their people by building more malls, consumed as much per capita as the US, by the year 2030, those two countries alone would need the resources of one additional planet.
An organisation called the Global Footprint Network has calculated that the human demand on the environment, through consumption and waste generation, exceeds the regenerative capabilities of the planet by 23 per cent. In economic terms, this means that we are drawing down the capital, and this cannot go on forever. Not a pleasant thought.
Only ideas, no solutions
The problem with much of the public debate about global warming and sustainable everything is that they are full of ideas that are only solutions at the margin. Increasing mileage of the automobiles by another 10 per cent becomes a goal, switching off the extra lights in the office is a much touted cause, and bulky reports proudly claim that they are printed on recycled paper. These efforts are all like re-arranging the deck chairs on the Titanic. Cosmetic, but does not solve the underlying problem. Nobody is dealing with the fundamental problem that plagues our life, and our economic theories, namely consumption.
So I went back to read E. F. Schumacher's essay on 'Buddhist Economics' (included in his book, Small is Beautiful, 1973) just to calm my nerves. His point is that "since consumption is merely a means to human well-being, the aim should be to obtain the maximum of well-being with the minimum of consumption." I can hear the sceptics jumping up and saying, "If everyone wears ochre robes and begs for their food, who will be around to drop it in the bowl?"
That is not what is being recommended. The Buddhist approach would be to say that you buy the number of shirts that you need, and no more. If three shirts meet your needs, why does happiness come only when you buy that fourth that you are presently admiring in the store shelves? That is the Middle Way.
Extending the idea to fuel use, rather than only look at the cost per unit for the fuels being consumed, Schumacher argues that we need to treat non-renewable fuel with the utmost care and use only the absolute minimum necessary to lead our lives. Thus, there is no formula or index to decide our consumption, but every decision needs to be carefully thought through. We have to re-examine the very philosophy of our life.
I can hear people say that religion has no place in business. (To digress, have we not already made a religion out of the market?) Religion has already been influencing several businesses, albeit marginally. Kosher foods among the Jews and halal meat among the Muslims are areas where practices of faith have determined the products and lifestyles. It is also happening with financial instruments. Since Islam shuns the payment or receipt of interest, and prohibits gambling, many banks have sprung up to cater to people who live their lives on those principles.
The Economist estimates that financial instruments based on Islamic principles are growing at about 10-15 per cent per annum. Several indices have also been developed to track organisations working on these principles.
Dharmic investments
A recent entrant into this field is that of dharmic investments. The Dow Jones Dharma index, which is to be launched in the near future, will identify companies listed in the world's stock markets that are not doing things that violate the concept of Dharma. This is being defined as those products that lead to prosperity in the world and the cessation of pain and misery. (Don't even bother checking if breweries stocks have a place here.) Such efforts show that there is a growing interest in the interstices of religion and business and economics. Getting back to our discussion of consumption, the time is probably ripe to question whether we should let it rule our lives. But the essential issue of dealing with consumption has to come from personal choice and reflection.
Some societies in Europe have already made choices whereby they forego greater consumption for leisure. Thus, it is not true that high living standards necessarily means high levels of consumption. Look at countries such as Japan or the Netherlands who are among the richer countries of the world but consume at just abut half the US rate, per capita.
The underlying theme of Buddhist economics is that our economic and moral lives need to be intertwined. We will probably come to the same conclusion if we substitute any mainstream religion's underlying principles for Buddhism in the arguments made above. But the difficult part is in practising those principles beyond merely buying products that tout those principles.
The problem with consumption is that it plays a role that goes beyond satisfying one's desires. It also has a demonstration effect. Consumption is a symbol of one's success and standing in life. Increasing incomes lead not just to more consumption from those who previously did not consume but also from those who already have satisfied that need but feel it necessary to show society that they can afford the more expensive car or the bigger diamond.
We need to be able to develop an alternative justification for our lives beyond consumption and if Buddhism or any other moral philosophy can provide it, let us give it a chance. And our economists need to get working on revising their theories. Mother Earth will thank us.
-------------------
The author is professor of international business and strategic management at Suffolk University, Boston, US.