The art of vegetables
By Kimiko Barber, Financial Times, January 29 2005
Tokyo, Japan -- I first encountered shojin ryori, or Zen vegan cuisine, in Kyoto when I was five years old at the funeral of my great uncle. It was a scary experience. Vegetables were served cold in minute portions at the end of a long sutra chant. I wondered which was more dispiriting, the food in front of me or the long Buddhist prayer we'd just endured. I also feared that it would look disrespectful to the deceased if I left anything.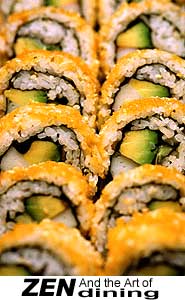 These were the grim childhood memories of funeral food I took with me to Toshio Tanahashi's shojin ryori restaurant, Gesshinkyo, in Tokyo. I slid open the wooden front door to be greeted by Toshio and his young woman assistant, Megumi. Both knelt on the tatami mat floor of the entrance hall. An arrangement of Japanese maple branch adorned a small display alcove next to the entrance hall. The atmosphere was one of utter serenity. It felt more like a home of a wise old friend than a restaurant.
I wanted to understand why the Japanese are so healthy. The nation has the world's longest life expectancy of just over 81 for both men and women. Japan also has a low incidence of cardiac related disease compared with other wealthy industrialised countries. There is no child obesity and, apart from the odd sumo wrestler, overweight adults are nowhere to be seen. What is their secret?
In the late 12th century, six centuries after Buddhism first came to Japan, the austere Zen sect arrived from China, bringing with it the strict vegan cooking of shojin ryori. Shojin refers to the Buddhist training to attain purity of body and spirit, and is written as "advancement of the spirit". Zen became popular among the ruling samurai class, perhaps because of its austerity and frugality. However, pragmatic samurai never adopted shojin ryori and continued to eat fish and game such as venison, pheasant and wild boar. Shojin ryori remained within the confines of Zen temples.
It is neither like Japan's famously elaborate kaiseki ryori (which includes fish and meat), nor is it simply vegetarian cooking; the shojin way is rooted in
Zen philosophy. Toshio explains that the process of cooking is as important as the result. The food should be eaten not only with gratitude to those who prepared the dish and to the farmers who produced the vegetables but, above all, with respect for nature.
Similarly, the three tenets in the cooking of shojin ryori are that it must be done with sincerity, cleanliness, and with gratitude. Toshio trained at the Gesshin-ji temple near Kyoto under its formidable abbess, Murase Myodoni, now in her 80s. There he spent three years during the late 1980s, while the rest of Japan was piling up trade surpluses. He recalls that the most important teaching was a holistic approach to cleanliness.
Toshio is not a Zen Buddhist priest but practices the teaching in his daily life - he begins his working day by pouring buckets of cold water over himself as he meditates. Next he gets dressed in a samue, a kind of working kimono that is Japan's answer to blue jeans. Then he goes out to sweep the street from the top of the hill to the bottom. Surely the Great Tokyo Metropolitan Authority has enough street sweepers ready to carry out this task? But I'm missing the point - it is an attitude of mind that makes this man sweep the street where he lives. He considers it his duty and he takes pleasure in it. So it is hardly surprising that his next task is to clean thoroughly the inside of the restaurant. And guess where his favourite place is for cleaning? The lavatory. How many great chefs of Britain or America pick up a broom let alone a loo brush before a saucepan?
Shojin ryori imposes constraints - no meat or fish is allowed, strong scented vegetables such as garlic, onions and chives are omitted, and only kelp seaweed is used to prepare dashi stock. But Toshio does not feel restricted by the rules; if anything, he finds it challenges his creativity. "Vegetables are remarkable. They give all; they provide nourishment and purification for body and soul, yet they ask nothing in return," he says.
Based on the ancient tradition of shojin ryori, Toshio has developed his own style of cooking that is entirely attuned with contemporary Tokyo life. As in all Japanese cooking, Toshio reflects seasonality in his food and changes his menu every month. He prides himself on using some 30-40 different seasonal vegetables in every meal.
Several hours later, I returned to Gesshinkyo at Toshio's invitation. I sensed a slightly charged atmosphere. Shojin ryori always begins with goma-dofu, a delectable, ultra smooth tofu made from essence of sesame seeds, the most important ingredient in the cuisine. Raw sesame seeds are soaked overnight. Toshio grinds them for two hours into a smooth paste with a suribachi, a traditional Japanese ceramic mortar with a serrated interior, using an ash-wood pestle. It's a laborious and physically demanding process but he approaches it as a culinary meditation. The result is the silkiest pearl-like cube decorated with a single maple leaf, served with a small dab of freshly grated wasabi and soy sauce. A mouthful of goma-dofu brings an instant calm. It is as peaceful as watching a sleeping baby - so pure and gentle, yet promising an exciting future.
Exciting future indeed, as the next course was a bowl of rice cooked with edamame (green soy beans), lily bulb and matsutake, Japan's equivalent of white truffle, both in terms of its astronomical price and scarcity, and its noble scent. Next came a potage of grated yam with mushrooms and yellow chrysanthemum petals served with a generous amount of truffle shavings on top - a sophisticated dish that brought out the best in all ingredients.
There is no direct translation for the next dish, aemono, which is my favourite way of cooking because of how it is written: "peaceful" or "harmonious" substance. It is a dish of cooked or semi-cooked vegetables combined in miso, vinegar, wasabi, soy sauce or tofu. Once again, I was intrigued by Toshio's inventiveness in using seasonal fruits, apple, persimmon and chestnut coated in creamed tofu.
All five senses had already been raised to culinary heaven and just when I thought it impossible to reach any higher, came the most memorable dish of all: a maitake no tempura, or deep-fried maitake mushroom. In Japan it is called "dancing mushroom", an apt name for this spectacular fungus. Maitake resembles the delicate lace-work of old-fashioned petticoats, and tempura is the way of cooking best suited to capturing its texture and aroma.
After a succession of other delightful dishes, the meal came to an end with a modest platter of home-made pickles of aubergine and cucumber, and more rice, just in case. In Japanese, a word for cooked rice, gohan, is the same as "meal". Japanese people don't feel they have eaten until they have a bowl of rice. The meal was so sumptuous, it left me feeling loved and content - just like a sleeping baby. Did I miss meat and fish? You can guess my answer.
I am not contemplating an instant religious conversion to Zen Buddhism, but for those readers unable to jump on the next plane to Tokyo, here is one easy-to-prepare recipe from my book.
Ground sesame seed dressing for steamed vegetables
Put two tablespoons of toasted sesame seeds and a teaspoon of sugar with a pinch of salt in a mortar and grind for 2-3 minutes with a pestle, or until it becomes a coarse paste - don't forget to meditate as you do it! Add a tablespoon of soy sauce and grind it a little more. Drizzle the mixture over any steamed or lightly boiled vegetables. You will have an instant taste of Zen.
Kimiko Barber is the author of 'The Japanese Kitchen' published by Kyle Cathie Gesshinkyo