Mindfulness of our bodies
By CLARK GILLESPIE, Aiken Standard, Oct 7, 2008
Aiken, SC (USA) -- "He lives just a short distance from his body!"
That lamentation is sometimes used by friends who are attempting to explain or to understand the emotional and physical problems that beset those of us who have not yet discovered the balm of meditation.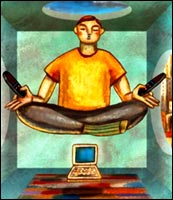 This is not to say that such problems only affect the uninstructed, but that they are there much accentuated and increasingly consuming. The ever-growing pressure of our insatiable lifestyle and our continuous partial attention to actual living (induced by cell phones, TV, texting and more) and to our beings is damaging and is unsustainable. Instead of living within our bodies during the moments when it - living - is happening, we tend to dwell outside ourselves, upon immutable past events and problems along with an unknown future.
So we live somewhat away from our bodies, and often thereby do it decisional injustices and ourselves harm - all being bolstered by toxic self-criticism.
Centuries ago, the Buddhist monks practiced various forms of meditation to foster clear thinking, compassionate understanding, living within the moment and many other aspects of self-awareness. One of these practices which does not, incidentally, involve any religious associations, was mindfulness.
This meditation goal has recently been reactivated in our society - not only for its personal healthful role, but as an effective medical tool in managing a diverse group of health disorders. So much interest in mindfulness meditation has now been established that last year saw more than 70 scientific articles written on that subject.
So, what is mindfulness meditation? Well, to begin with, it cultivates present moment awareness and teaches us to avoid going on autopilot while our life is going on around us - or beside us. We need to be with what is here now, to be more deeply aware of what we are now sensing. Thus we will be living at and in each moment and our decision-making becomes more informed and responsive and less driven by the habits of reaction or by inattention.
Such meditative goals are achieved in quiet isolation, standing, sitting or lying down. One begins by focusing on one's breath and breathing and doing so with a meaningful quality of awareness. This focus and attention continues and deepens to include other senses and sensations but always maintaining a strong now-presence. Remember that the goal is to maintain awareness of living moment by moment and to disengage from beliefs, passions and other thoughts of the past that tend to lead us to bad decisions.
In regard to the expanding role that this meditation force may hold in the practice of medicine, a paper in the Journal of the American Medical Association of Sept. 17 largely deals with that potential. So far, evidence has accumulated that reveals its value in pain reduction and control, the severity of certain disease symptoms, physical functioning and ability to cope with daily life.
Moreover, the paper lists nine potential areas of medical help and comfort that mindfulness therapy could be of worthwhile involvement. A partial view of that listing includes the decreased perception of pain, reduction in stress, anxiety, or depression, diminished needs for certain medications - such as for pain, depression, etc. - improved adherence to medical treatment, increased motivation for weight control, smoking cessation, and physical activity and more. These are almost all suggested areas for future study and work but, again, present evidence indicates its power in both acute and chronic pain control and coping.
Anyone wishing to learn more about mindfulness meditation can at any time attend a fascinating and more or less continuous Google lecture on the Internet by Jon Kabat-Zinn, Ph.D., who has probably done more than anyone else to rekindle interest in this meditative practice. Those of us who are not Internet friendly should get one of his books on that subject.
It may seem incongruous to end this column with a piece of poetry, but I am about to do it because the message it provides fits us here so well. The poem is written by Derek Walcott, the 1992 Nobel Laureate in Literature.
"The time will come, when with elation
You'll greet yourself arriving at your own door
In your own mirror each will smile at the other's welcome
And say sit here, eat.
You will love again the stranger who was yourself
Give wine, give bread, give back your heart - to yourself
To the stranger who loved you all your life
Who you have ignored for another
Take down the love-letters, the photographs from the bookshelves, the desperate notes,
Peel your own image from the mirror
Sit, feast on your life.