Meditation helps calm minds
By Kayleigh King, BYU News Net, Jan 13, 2009
Provo, Utah (USA) -- Half a gallon of rocky road ice cream. A jog on the Provo River Trail. Listening to music. Talking on the phone. Yoga. These are all stress relievers for many students, but now there is another way to relieve stress; it's called the meditation and anxiety group.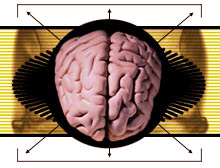 Michael Buxton and Tyler Pedersen, counselors at the BYU counseling center, teach a meditation and anxiety group, starting Jan. 15 and will meet every Thursday from 10 to 11:30 a.m. in room 1575 of the Wilkinson Center to help students calm their minds, all at no cost.
One method Buxton and Pedersen will teach group members is called insight or mindfulness meditation. While there are dozens of different meditation methods, mindfulness is currently the most popular or most studied in America, Pedersen said.
Mindfulness is a form of focus based on concentrating the mind to be calm, still and aware of the present moment, Pedersen said.
He said the idea behind mindfulness meditation is to help people be calm in the present.
"Often anxiety is about projecting your mind into the future," Pedersen said. "It's about worries and anxieties that might happen."
Not only do students practice techniques to manage anxiety, but they are also encouraged to share experiences after meditating. All things spoken in the group are confidential and will not be disclosed elsewhere, Buxton said.
He said he thinks part of the process of managing stress is sharing experiences.
Buxton said students who have a difficult time quieting their mind might start the semester feeling confident and hopeful. But when a student has a tendency to get bogged down in stress, this group will benefit them, he said.
"I think sometimes students deal with a pretty high level of anxiety and they just are so used to it that they don't know they don't have to live that way," Pedersen said.
Pedersen described a typical anxiety-provoking situation students may have: If stressed students are asked to be still and quiet they would notice their mind going all over the place, he said.
Group members will practice bringing their minds back to their breathing.
"As your mind kind of runs away from you, practice bringing your mind back to a certain object, typically your breath, and that helps the mind naturally still," Pedersen said. "The more you practice that the better you're able to do that in stress producing situations."
Once Buxton and Pedersen demonstrate the method, group members will practice the technique while sitting sometimes in silence and sometimes with guided imagery.
"Within our culture we're very plan and goal driven and deadline driven," Buxton said. "Meditation is a great skill to have to counterbalance that approach."
Buxton and Pedersen said a certain degree of anxiety is good for success. Stress becomes a problem when it crosses the balance point, and this group is meant to help students whose balance has been a little bit tipped, Pedersen said.
To improve stress management, students need to attend a series of groups, Buxton said. This is why students participating must commit to come the full semester.
"People think to just manage anxiety is something learned in an hour and you can do it, but it's much like any skill you have like reading, handwriting, or playing sports," Pedersen said. "All are skills that took a while to develop and doing it just once means the odds of you developing that skill aren't very good."
Students are encouraged to practice 15 to 20 minutes a day. Whether students struggle with mild or severe anxiety, the counselors said they know techniques that will help.
Pedersen spent Fall Semester in Thailand learning mediation with Buddhist Monks. He went to six Buddhist temples where meditation courses are open to Westerners and foreigners. He spent two weeks completely silent for one of his sessions.
Having studied meditation, Pedersen believes it has some benefits for the West. Buddhists have practiced meditation for 2600 years, but the West has only practiced it in the last 30 years, he said.
"It's a very helpful way of managing what I call internal experiences ... thoughts, feelings and impulses," Pedersen said.
Buxton's training came from Hawaii studying in a Zen center.
Both Buxton and Pedersen said they would like to have students meditate with them outside of the group sessions.
"We're very interested in students learning about it even if they don't have a clinical problem," Pedersen said.
Buxton and Pedersen can be reached at michael_buxton@byu.edu and tyler_pedersen@byu.edu.