Thailand's Aids temple offers life lessons in death
AFP, March 3, 2009
LOPBURI, Thailand -- Ice Wepawadi has not told her parents she has Aids, even though she is only days from death at this Buddhist temple hidden away on a Thai hillside.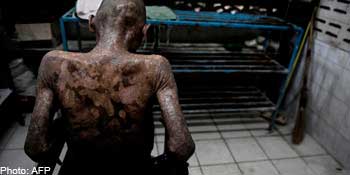 << A patient with Aids is seen in the shower area at the Aids hospice on the grounds of the Wat Phra Baht Nam Phu Buddhist temple.
The emaciated 25-year-old lies in the bed she has occupied for the past month at the Wat Phra Baht Nam Phu temple, a hospice founded 17 years ago by a monk to care for those living with a disease that is still considered taboo in Thailand.
"My family, my dad, my mum - nobody knows I came here. I just told them that I went to work. I don't want to tell them. I feel they cannot take it," Ice told AFP.
"This place is the last place. Everybody knows it's their last but they are strong, they make their own happiness. All the time we laugh, we cannot think too much," she said.
The temple, 50 miles (80 kilometres) from Bangkok, has cared for more than 10,000 people - still a small proportion of the estimated 610,000 people living with HIV in Thailand, according to UN figures.
While providing medical care for patients, the temple's principles are steeped in its Buddhist faith.
"The people living with HIV are a small group who do something wrong in their life and don't have a chance to get better. This is about karma," said temple coordinator Sayamon Unboonruang.
"(People) discriminate and keep them away from society. We need more understanding for each other," she said.
A wing of the hospice housing 33 patients in the final stages of their disease includes Ice, who spends her days listening to her favourite singer, Mariah Carey, surrounded by stuffed toys and pictures of monks.
It is a long way from the life she once led in Pakistan, where she worked as a hotel cook for six years before discovering she had contracted the virus.
Many patients arrive here unannounced and, often, anonymously.
Jo-Jo, who shares a ward with Ice, was nicknamed by staff after arriving without identification, unable to speak and showing signs of mental illness.
He had been living with his grandmother and after she died neighbours brought him to the temple.
Now he wants to die and refuses all medication and food. One bright blue earring, a wooden necklace and the painted red nails are the only hints of his former life.
Near the room he and Ice share is a quarantine ward for patients with tuberculosis, a secondary illness for HIV sufferers.
Yet fear of the disease appears to exist even here - the temple's clinic has no Thai doctor, and just one Indian nurse and a Cambodian doctor care for 120 resident and 300 non-resident patients. The doctor is not permitted to prescribe medicines.
In emergencies patients are sent to a hospital in nearby Lopburi town to receive anti-retroviral drugs that slow the progress of the disease.
"I think they're afraid of HIV, they don't want to work with HIV-positive patients," said the Indian nurse, Ching Thangsing, 26.
"We tried at Lopburi hospital and we talked to the health department and then we do advertisements on web sites. No one applied."
Combating this fear is a key aim of the temple which welcomes school groups to its museums and monuments. Visitors pray at a Buddhist shrine on top of a hill that contains the ashes of 10,000 former residents.
One museum displays the mummified bodies of some late residents, including a five-year-old boy, who contracted HIV from his mother, and a transvestite sex worker with silicone breasts.
Elsewhere, body parts are displayed in tanks of formaldehyde, a reminder that the human body can be put to good use.
The idea behind the gruesome displays is to encourage visitors to avoid activities that could expose them to HIV/Aids. "We cannot deny death," Sayamon said.
"This is a very unique place," said 36-year-old Katsumi Suzuki, a Japanese volunteer, as he talks to patients in a room looking out on a field of sunflowers and corn.
"It crosses the area between Buddhism and medicine. It's not a hospital and I feel it's not the best place for (medical) care, but maybe it's the best place to live peacefully."