Tibetan medicine cures cancer
IANS, 12 Jun 2009
NEW DELHI, India -- Tibetan medical science, a 2,000-year-old legacy of herbal and spiritual healing born in the Buddhist monasteries of high-altitude
Tibet, offers cures for diseases like cancer and thalassaemia but is yet to be recognised by the Indian government, says one of its leading woman practitioners here.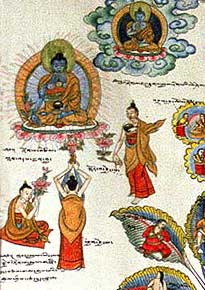 "This system can contribute a lot to ease suffering. If it is recognised by the Indian government, students can carry on research because we have no country of our own," Tsewang Dolkar Khongkar, a Tibetan doctor said.
Khongkar, who has been practising Tibetan medicine in the capital since 1981, is a cancer specialist with patients from across the country and from Europe and the US. She was awarded the Bharat Nirman Affiliation Certiticate for her work.
The Tibetan system of medicine, says the doctor, evolved as an assimilation of healing methods from India, China, Greece and even Persia, which were codified in sacred texts or "pharmacopia" and interpreted with the Buddhist understanding of herbal cures into a separate branch of knowledge.
The knowledge system is presided over by the "Medicine Buddha", a blue incarnation of Siddhartha, which represents cure.
"The system works on similar principles as the Indian ayurvedic system of medicine that seeks to maintain the balance between air, bile and phlegm and one's karma," said the 50-year-old petite doctor who also has clinics in Mumbai.
The treatment is a complicated mix of pulse analysis, urine analysis, dietary modifications, astrology, herbal therapies and physical procedures like acupuncture.
Tibetan medicine is Dolkar Khongkar's family profession.
She is the daughter of Tibet's first lady doctor, Lobsang Dolma Khongkar, who practised the indigenous Tibetan medicine at Dalhousie in Himachal Pradesh and later in Dharamsala, the Indian town where the Tibetan-government-in-exile is headquartered.
"My mother and father were both healers," said Dolkar.
"I learnt most of my therapies from my mother and went up the slopes to Chamba in Himachal Pradesh every year with her to identify and collect herbs for medicines that we made at home," the doctor said.
While her mother learnt astrology and medicine at the age of 22, along with her husband, from the rinpoches in the Tibetan monasteries, Dolkar Khongkar went to the Tibetan Medical School at Dharamsala after learning the basic herbs at home.
"Modern Tibetan doctors do not have to know astrology. But it is important because the movement of planets changes the beat of the pulse," she said.
The doctor is known for her "successful" cancer therapy.
Patients from places like Punjab, Ahmedabad, Uttarakhand and even Mumbai flock to her clinic in south Delhi every morning. "I don't encourage my foreign patients to come to India. They just send me the reports and speak to me on telephone. I send them the medicines," said Khongkar, who makes medicines both at home and in Dharamsala, where her sister, also a doctor, looks after her mother's clinic.
"Sixty percent of my patients suffer from cancer. Tibetan medicines offer hope. I consider a patient of organ cancer, undergoing Tibetan treatment, cured if the cancer does not resurface for three years and I give a bigger margin of 10 years to breast cancer patients," Khongkar said.
According to the doctor, each organ requires different herbs because the element of every human organ differs.
"Making the medicines is difficult. The herbs are available only in Himachal Pradesh and some medicines require as many as 18 herbs. Every herb has to be pure and of the right shade. A slight change can alter the quality of medicine. The changing climate is taking a toll on the quality of herbs," she complained.
"Moreover, there is very little facility for research and scant resources. I wish our medicine would get the same status as ayurveda," she said.