An adventure of a different kind
By Yvonne Bohwongprasert, The Bangkok Post, June 26, 2009
People normally choose to spend their leisure time in pursuit of pleasurable experiences, and that's all well and good, but sometimes it's best to take some time off to make a little merit
Lop Buri, Thailand -- Nestled around a lush mountainside in Lop Buri province, from the outside Wat Phrabat Namphu looks like a typical Buddhist temple/retreat. In fact, the pleasant little cottages along an earthen dirt road are part of a large HIV/Aids hospice run by the venerable Chao Khun Phra Udom Prachatorn.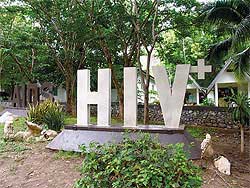 The Thammarug Niwaet (Place of True Protection) project was founded in 1992 to address the HIV/Aids epidemic in the country, which at the time was spreading like wildfire.
Since that time it has grown into a safe haven for Aids patients who have been ostracised from Thai society. Often those afflicted with HIV/Aids are abandoned by friends and family and left to fend for themselves. Wat Phrabat Namphu is their sole lifeline.
The hospice is located in the same compound as the temple, which draws a steady flow of merit makers donating money, food and medical supplies for the residents, who number about 100.
The community is home to people in various stages of Aids. The most heart-wrenching for me to watch were the ones in the terminal stages. Surprisingly however, most of the patients I came across seemed to be in good spirits and looked genuinely glad to receive visitors despite their physical frailty and deteriorating health.
I was amazed at how optimistic they were about living life to the fullest despite the odds against them. One 25-year-old mother of two suffering from full-blown Aids _ who contacted the virus from her husband _ spoke candidly about not blaming him for her condition. She said her husband was good to her and the kids during the time they lived as a family.
Housing for patients comes in the form of small cottages for patients in the early stages of the disease to medical wards for those not able to help themselves. There is also accommodation for families in which all members are HIV positive, and for children in various stages of the disease. Last but not least are the elderly who are left without support because their entire family has been wiped out due to Aids-related ailments.
Some patients like Toei _ a 34-year-old beautician who is still physically fit enough to work _ opt to use most of their free time to help answer questions visitors might have about the hospice and its residents.
While taking me on a tour of the sprawl ing community _ which among other things includes a museum with human cadavers called the Life Museum _ Toei noted that people often have a misconception that Aids only hits sex workers and drug addicts.
''I am one of a large number of patients here that contacted the HIV virus from my husband,'' said Toei.
''I would like to petition every woman and man to get themselves checked before getting physically intimate with someone. I would also like all parties involved in the Aids campaign to do more to educate rural people about the epidemic which has already killed so many people.''
The presence of three crematoria within Wat Phrabat Namphu is a stark reminder that everyone has to face death one day, so don't let worries and pressures from work and family stop you from living your life to the fullest.