Spiritual detox
By RACHEL O'BRIEN, The Star, August 24, 2009
Drug addicts journey to vomit and vow at Thai temple
Saraburi, Thailand -- FIFTEEN-year-old Wanchai Nuantasiri is one of more than a dozen drug addicts kneeling in a row, vomiting violently into the gutter.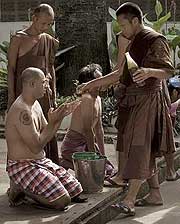 << Therapeutic brew: Drug addict patients being given a herbal medicine shot by Buddhist monks during the vomiting ceremony.
Monks in dark brown robes stand behind the sick, rubbing their backs encouragingly, while onlookers dance and clap cheerfully to an incessant drum beat.
This bizarre scene, set amid spectacular golden Buddhas and rocky mountains in the heart of Thailand, has been a daily ritual at Thamkrabok Monastery in Saraburi since 1959, when its monks and nuns first helped opium users beat their addictions.
Fifty years on, growing numbers of desperate drug and alcohol abusers – from Thailand and around the world – are visiting the extreme detox and rehab centre after failing to find effective conventional treatments.
British musician Pete Doherty helped raise the temple's profile when he became a patient in 2004, despite the fact that he could not handle the challenging detox programme and escaped after just three days.
Wanchai said he travelled from his home in Bangkok about 140km south of Thamkrabok Monastery, to try and halt his dependency on marijuana and amphetamines.
"I want to stop all drugs for life," he told AFP at the end of his first day of treatment. "It's not easy to vomit and I felt really bad while I was being sick."
The vomiting, compulsory for the first five days of the programme, is induced by a thick herbal potion made from an ancient secret recipe, known only to the abbot and the head pharmacist at the temple.
It is said to remove the drugs from the body and alleviate withdrawal symptoms, but it is only a small part of the treatment.
As well as being physically cleansed, patients are taught to use spiritual means to try and cure their addictions for good. "We have to ask each person that comes whether he wants to stop (taking drugs). If he wants to stop the first thing he has to do is to take a sacred vow, which we call sajja, for life," said the abbot Ajahn Boonsong Tanajaro.
By taking the vow, addicts commit themselves to a future free from any drugs.
"Sajja will stay with them after the 15 days they spend with us," the abbot said. "Sajja will heal them in the outside world. When they want to take drugs they will think of the vow and it will act as a medicine for them."
Medics may harbour doubts about such a religious approach to rehab, but patients at Thamkrabok embraced the fact that the temple, where the treatment is free of charge, did not just offer physical therapy.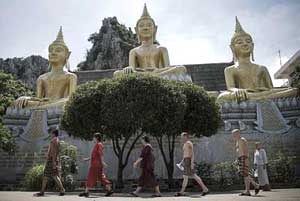 << Path to healing: Drug addict patients walking past golden seated Buddhas to the herbal steaming room at the Thamkrabok Monastery in Thailand.
"There's something about a Buddhist monastery that also treats you spiritually," said Nicky Anderson, who came to the temple from Ireland to tackle her addiction to prescription medicines.
"They're giving you some kind of strong belief in yourself as well and your ability to go out there and to function again without taking any drugs," the 57-year-old said.
In addition to the holy vows and vomiting, patients are encouraged to take daily herbal steam baths and meditation classes, which are run by one of the monks, a French former businessman and alcoholic known as Phra (monk) Erik.
He said he sought help at Thamkrabok because "for me it was my last chance". Shortly after his treatment he was ordained a monk and has never drunk since.
"I try to keep in touch with the patients when they go back home and yes, I can see a good result," he said.
"Of course in the detox you cannot have 100% positive results but I think the results we have here are superior to the results in a centre in the Western countries."
Phra Silatechoh, another monk from East Holland and a former heroin and methadone addict, said the patients' tough routine included rising at 4.30am to sweep leaves. But he explained that they were also given "a lot of free time".
"If you just keep on going, there's no time to think about your life – where are you, where are you coming from, where are you going – which is important when you come here. You're kind of at a crossroads," he said.
In 2006, the monastery saw 427 patients pass through its doors and numbers were up to 580 and 653 over the next two years. The first half of 2009 has already seen 482 addicts sign up.
In October, word of the monastery is set to spread further when a former Thamkrabok monk from Britain, Vince Cullen, will talk about the temple at the inaugural conference of the Buddhist Recovery Network in Los Angeles.
The network supports the use of Buddhist teachings and practices to help those suffering from addictions, and Cullen wants to raise awareness that "there is an alternative and Thamkrabok provides one of these alternatives".
"It's not just a Western approach and certainly not just about replacing one drug with another," he said.
Gerard Slevin, a 41-year-old recovering heroin addict, said the monastery's treatment was better than any approach he had tried back home in Ireland, although he was finding it "pretty tough".
"This is the last place. It's either do or die here, you know what I mean? And I value life a lot more. I don't want to die, so I want to try and get it right this time," he said.