How would you cope on a silent retreat?
By Charmian Evans, The Telegraph, 26 Oct 2009
Charmian Evans turned her back on her busy, urban life and spent three days on a silent retreat

London, UK -- If Harry Potter had walked in and yelled "Expelliarmus!", the effect could not have been more dramatic. At the ting of a tiny gong, 30 chattering strangers – a doctor, bank manager, farmer, builder, solicitor, nurse – became mute, and remained like that for an entire weekend. They shut up as part of a three-day retreat to get away from the ever noisier world.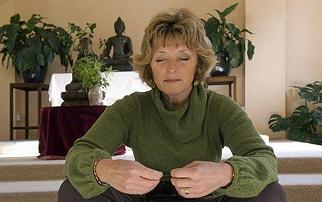 << Charmian Evans: Based on a Burmese technique called Mahasi, which teaches you to be aware of your every action, right down to the way you walk, the retreat was lead by a cheery Buddhist monk Photo: CHRISTOPHER JONES
"A silent retreat?" shrieked friends when I told them where I was going. I grinned sheepishly knowing that it would be a bit like trying to muzzle me. I didn't care; I could do with some peace and quiet. For townies, at least, this is the noisiest time of the year, with Diwali firecrackers and Bonfire Night fireworks providing a nightly chorus that lasts for weeks.
So when that gong sounded, I was relieved. The tranquility of this Buddhist retreat – held at Gaia House, an imposing Georgian house near Newton Abbott in Devon, set in acres of beautiful gardens – would be good enough for Buddha himself.
Previously a convent, what used to be the nun's chapel is now the main hall, where we had our introduction to meditation. No previous experience was necessary, though I noted that as we sat down for a 10-minute welcome speech, several people folded themselves up in yoga-like positions that would make a chiropractor proud. I plumped for a chair with a big cushion.
Based on a Burmese technique called Mahasi, which teaches you to be aware of your every action, right down to the way you walk, the retreat was lead by a cheery Buddhist monk, Bhante Bodhidhamma, from the Satipanya Buddhist Retreat near Shrewsbury.
He showed us a breathing pattern to lull us into a meditative state, and soon his reassuring tones began to make me unfurl from the day, glad to be rid of the phones, the car and the computer. Life seemed to slow, like a gramophone record played at the wrong speed, and before I knew it we were shaking ourselves down in readiness for bed.
My room-mate was Dutch, or so said the travel label on her bag I sneaked a peek at. In order to focus on our inner selves, we were discouraged from even introducing ourselves. Save for Bhante's meditation sessions, silence was adhered to at all times.
There were no clocks. We were summoned to sessions by gong; the first rang the next morning at 6am. The stirrings of birdsong was far more pleasant than the chatter of the Today programme.
There was no strong coffee to kickstart the day, only non-stimulant herbal teas. Breakfast was porridge or muesli with fruit, as much as you could eat.
Gaia House requires its retreat visitors to keep the place clean, so after breakfast we performed household chores. Dishes were washed, floors cleaned, tables polished. In the kitchen, eight people chopped, peeled and prepared a mountain of vegetarian food, much of it grown in the gardens. Dishes was prepared without a word, the odd head twitch indicating what needed doing. Sometimes, a huge pile of celery would be dumped on the chopping board in front of you, followed by a big knife. Yet there was not a single "F" word to be heard – Gordon Ramsay, take note.
The panelled library was off-limits, as reading and writing were forbidden. As an inveterate list-maker, this was difficult for me. Nothing must distract us from thinking. Communication, with Bhante or any members of staff, involved leaving a note on the board, which would be answered in the same way. A pair of reading glasses hung on the board for those who didn't carry theirs with them.
At mealtimes, we were encouraged to eat slowly in order to think carefully about the present, which is very much the Mahasi way. Lunch, the main meal, consisted of hearty portions of delicious aduki, ginger and mung bean casserole, wild rice, roast turnips, courgettes, salad, and anything else you could pile on your plate. Just as well, because supper was a biscuit and hot drink.
Silence is a very odd thing. By the second day, I truly understood the meaning of "train of thought", because an incessant, unstoppable babble of gibberish ran like the Japanese Bullet train round my head. My mind ached as it de-toxed and I longed for the distraction of conversation.
"Imagine you are like a house," Bhante told us. "It has an outside, which most people see but few explore indoors. So many of us don't bother to go beyond our exterior, to explore the richness and diversity of both the pleasant and unpleasant aspects of our inner make-up. But that helps us understand ourselves so much better. Growing wisdom leads to a more meaningful and fulfilling life."
In our quest for mindfulness, we were shown a slow-walking meditation, which makes you aware of the movement of each step. But this is more than going for a slow walk; you adopt a stride which involves bringing one leg to your chest, before putting it down slowly, Ministry of Silly Walks-style. As a scuttler, I found it hard to develop the dopey gait of a giraffe.
As the weekend drew to a close, we were, for the last hour, allowed to break our silence in the drawing room, away from others who were staying on for another week. Suddenly all the bodies had accents, expressions, personalities. It was almost too much to take. I watched some retreaters wander back to the silent area to ready themselves for human contact.
As I drove through the gates, I looked wistfully back. I'd been off the treadmill and I liked the experience. Whisper it: I would go back in a blink.
----------------------
* A two-night silent retreat at Gaia House (West Ogwell, Newton Abbot, Devon) costs from £102, with discretionary donations welcome. To book a place at the Retreat Day this Saturday, price £23, and for details of residential silent retreats throughout 2010, call 01626 333613, or go to www.gaiahouse.co.uk