Tibetan Buddhism as environment protector
Xinhua, January 4, 2010
Lhasa, Tibet -- Tibetan Buddhism is considered as the guardian of the Qinghai-Tibet Plateau, a paradise for diverse species, with its rigorous doctrines.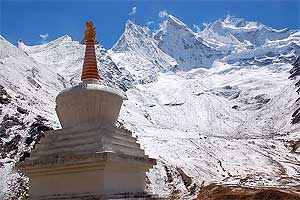 "Tibetan Buddhism stresses the harmony between humans and the nature. Despite harsh natural conditions, however, Tibet has done a good job in environmental protection. This has much to do with the Tibetan Buddhist dogmas requiring quietness during self-cultivation in order to better merge oneself with the nature," said Cao Ziqiang, 75, former vice president of the High-Level Tibetan Buddhism College of China.
The plateau has offered this religion an ideal environment for its expansion. There, all lamaseries have luxuriant woods, vast pastures and fertile land.
"To cherish the land has naturally become a mission for those Buddhist followers," Cao said, adding: "Meanwhile, some Buddhist disciplines and taboos have helped protect the ecological environment as well. For example, the precept of no killing is actually regarded as a respect to life and conducive to the protection of both animals and plants."
Tibetans have internalized these disciplines into self-awareness and have been pursuing them to the letter in their daily life. "Tibet's weak ecosystem has been protected to the utmost this way," he said.
According to China Meteorological Administration, the growth rate of temperatures in Tibet is four times the national average. Consequently, Tibet has become a big victim of climatic changes. Its Buddhism, closely tied up with the nature, has no choice but to accept this reality.
"The snow and ice melting is accelerating with the increasingly higher temperature. What if Tibetans' holy mountains, such as Mt. Qomolangma and Kangdese, are gone? "
Zhang noted that the rapid melting has been giving rise to various kinds of disasters. As the headwater of three rivers, namely, the Yangtze, Mekong and Ganges, the plateau serves as the water supplier to more than one billion Asians. "What consequence would arise if all these glaciers disappeared completely?"
Anyway, he indicated that in such an ever-changing era, the Tibetan Buddhism must adjust itself to adapt to the social and natural environment. "Tibet cannot be separated from the outside world. Globalization is inevitable. It's better to act to cope with such a tendency positively rather than to resist it negatively."
"Tibet will definitely be impacted by the global climatic changes. But it still has been a region with its eco-environment protected the best in China. The Central Government has paid the closest attention to environmental protection and been strict with its implementation. Tibet now has 20 nature reserves, accounting for one third of its landmass."
"The Tibetan Buddhist doctrines changes as the time goes by. Keeping pace with the times is a philosophy pursued by all religions. At the same time, its conception on environmental protection should be promoted further to enable more people to understand it, in order to see to it that Buddhist belief is respected and Tibet's environment is valued," Cao said.