Blending Buddhism And Psychotherapy At Omega NYC 2010
by Clay Chiles, Huffington Post, April 23, 2010
New York, USA -- "I'd like you to join me in singing a Sanskrit ah," said Jack Kornfield, an olive-skinned man with bony cheeks and a salt-and-pepper mustache. And so, following his lead, 500 voices filled the Sheraton Hotel's Metropolitan Ballroom in a single, resonant tone: aaah ...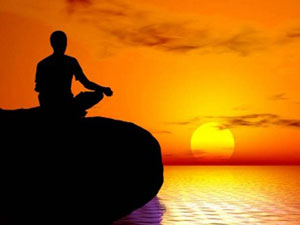 "Now let's try harmony," he cooed into his microphone, quickly demonstrating a major third and perfect fifth before returning to his original tone. There was a moment of dissonance as some people adjusted to match the new notes, but soon a major triad had emerged, and 500 people found themselves united in a simple but stirring harmonic. Then the collective breath gave out, and the teacher pursed his lips in a half-smile -- the half-smile of the Buddha.
It was the first meditative exercise of a workshop called "The Gifts of Buddhist and Western Psychology," as part of Omega Institute for Holistic Studies's NYC event held April 16, 17 and 18, the latest in a series of annual three-day conferences. With this weekend of intensive workshops that united renowned new age speakers and spiritual teachers like Byron Katie, Michael Bernard Beckwith, Debbie Ford, Donna Eden, and others, the Rhinebeck, NY-based nonprofit hoped to offer spiritual renewal to its participants while simultaneously raising its profile in the city.
Kornfield's three-day workshop, which took place at the Sheraton NY Hotel & Towers, also featured talks by Tara Brach, who appeared on Friday and Saturday, and Mark Epstein, who appeared on Friday only. Kornfield, a former Buddhist monk and a preeminent teacher of vipassana meditation, and Brach, a clinical psychologist and equally prominent vipassana teacher, have largely spearheaded the movement to integrate Buddhist meditative practices with western concepts of psychological well-being, a synthesis that Epstein has incorporated into his psychiatry practice in New York City.
Integrating Buddhist practices with western psychology is vital, Kornfield says, because the latter is traditionally pathology-oriented whereas Buddhism offers a positive, wellness-oriented science of the mind. "Buddhist psychology has a very well laid-out vision of mental health," he asserted.
Seated before an audience comprised chiefly of curious mental health professionals and a minority of loyal followers of Kornfield's and Brach's Buddhist teachings, the teachers sought to introduce and elaborate the concepts behind mindfulness and lovingkindness meditation -- "two sides of the same coin," Kornfield often reiterated.
Mindfulness meditation involves focusing one's attention entirely on the experience of the present moment by concentrating on breath, external sensory information and internal sensations, and by allowing thoughts and emotions -- "waves of feeling" that threaten to carry us away -- to flow freely while regarding them with acceptance and nonjudgment.
"If the judging mind butts in," Kornfield offered, "Think: 'Thank you for your opinion,' and go back to focusing on breath." He urged the audience to gently acknowledge the waves with a nod of the head and then let them pass.