Buddhists focus on peaceful path
By STEPHEN TAIT, The Times Herald, September 18, 2010
Group seeks to gain understanding through meditation
Marysville, California (USA) -- Sam Ewalt has a joke he likes to share. "Meditation," he said, "is a whole lot better than sitting around doing nothing."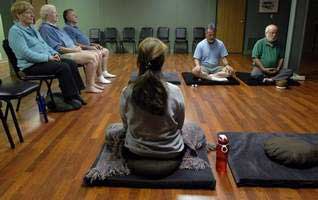 << RELAXING: Linda Slaughter of Clyde Township, Mary Kelly of St. Clair, Larry Lada of Marysville, Mary Evans of Fair Haven, John Eitzen of Marine City and meditation leader Sam Ewalt of Marysville, from left, sit during a meditation meeting at Alternative Connections in Marysville. (Times Herald photos by MELISSA WAWZYSKO)
To a newcomer, it might look as if members of the Blue Water Community of Mindful Living are doing just that -- nothing. But, participants in the Buddhist group said there's a whole lot more happening.
Ewalt, the group's meditation leader, said the goal is to concentrate on the "here and now." That means focusing on each breath during seated meditation and feeling how the body moves and connects "with the Earth" during walking meditation.
At a recent meeting, people sat on cushions placed on the floor and others sat in chars. Starting with the ringing of a kesu, or meditation gong, the group meditated for about 20 minutes. Then, everyone stood for a 10-minute walking meditation followed by 15 minutes of seated meditation.
In many ways, the community's activities are like those of a Christian church. For instance, many meetings are followed by potluck dinners, and members participate in regular retreats built around meditation.
The Blue Water Community of Mindful Living also has a jail outreach program, and participants go to the Macomb Correctional Facility in New Haven every Saturday to lead a meditation group.
"It is a very interesting experience," Ewalt said.
"They are highly motivated people who are very interested in change and looking for individual change," he said about people who meditate at the prison. "I think what is most interesting is how much they are like everyone else."
The group follows the teachings of Thich Nhat Hanh, a Vietnamese Buddhist teacher and author. In particular, the group practices "mindfulness" or "to be aware of what is happening in us and around us in the present moment," Ewalt said.
Ewalt described Buddhism as the practice of "learning how to be more peaceful" and is "more concerned about practice than believing or intellectual understanding."
The Blue Water Community of Mindful Living has been meeting regularly since 1996 and has about 15 core members. About 75 people are on its mailing list.
It meets on the second and fourth Sunday of each month at Studio 1219 in Port Huron and every Tuesday at Alternative Connections in Marysville.
Mary Basrai, 64, of Port Huron said anyone from any religion is welcome to participate. The group's ideals, she said, are "a philosophy of life, really."
"It is based on the principle that, if you sit still and look carefully, you develop understanding. That is part of our meditation," she said. "You meditate and you sit and you look at yourself and what rises in yourself. What you see is impermanent."