Vegging Out
By Kathy Stephenson, The Salt Lake Tribune, March 28, 2005
Meatless options abound in the Salt Lake City area as vegetarian meals become staples at restaurants

Salt Lake City, Utah -- Ordering a vegetarian dinner at a Salt Lake City restaurant once meant a tasteless and uninspiring plate of cauliflower and broccoli covered in cheese. Today, the number - and quality - of meatless options in Utah's capital city and nearby locales have improved dramatically.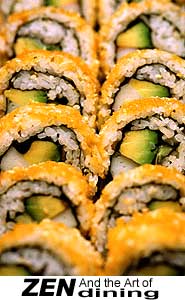 Now it is easy to find something as gourmet as mushroom stroganoff or acorn squash linguine. And diners do not have to look far for tofu scrambles, coconut curries or even a vegan glazed doughnut.
"I'm blown away with how different it is now," said Andrea Mather, author of the new VegOut Vegetarian Guide to Denver & Salt Lake City (Gibbs Smith, $12.95).
Mather grew up in Denver but lived several years in Utah during the early 1990s. While doing research for the guide, she was impressed with those in Utah's vegan movement and the restaurants that cater to their dining needs. (Just in case you don't know, vegetarians avoid meat while vegans do not eat meat and dairy products.)
"I've lived all over the country and I haven't seen as many menus designated vegan as I did in Utah," she said during a recent telephone interview.
VegOut rates restaurants that are vegetarian and vegan as well as those that have a full-menu but offer ample vegetarian and vegan choices. The guide also lists juice bars, farmer's markets and health food stores.
The Denver/Salt Lake Guide, which will be available in April, is the fifth in the VegOut series. Gibbs Smith previously published guides for Southern California, New York City, San Francisco, Washington D.C., Seattle/Portland and Chicago. The Layton-based publishing company is planning similar guides for Miami, Houston, Dallas, New England and the Midwest.
Between 4 and 10 percent of American adults call themselves vegetarians, according to the Vegetarian Resource Group. Most are

Sage's Café, just outside downtown Salt Lake City, was recently given four stars by the publication <I>VegOut</I>, a new vegetarian guide for Salt Lake City and Park City. No other Utah restaurant received four stars. (Chris Sinclair/The Salt Lake Tribune) between the ages of 18 and 29 and live in major cities.
In the book, Mather rates 37 Utah restaurants in Salt Lake City, South Salt Lake, Sandy and Park City. Noticeably absent from the book - because of its rural southern Utah location - is Hell's Backbone Grill, the acclaimed Buddhist-based restaurant in Boulder.
Sage's Café, 473 E. Broadway in Salt Lake City, received the highest rating of four stars, the only Utah restaurant to do so in the guide. Mather said she reserved the "outstanding" rating for those restaurants that really stood out from the rest.
Almost 95 percent of the foods used at Sage's Café are organic. Owners Ian and Kelsey Brandt try to buy only local produce and fair-trade tea, coffee and chocolates. The restaurant focuses on making every order fresh without microwaves, fryers and heat lamps.
"They are really very progressive about what they are doing. It made them stand out from everyone else," said Mather, who was especially enamored with the café's carrot and macadamia nut butter paté served as an appetizer with a toasted seven-grain bread.
"We are only serving what we feel is socially and environmentally correct," said Ian Brandt, who opened the restaurant in 1999 on a shoestring budget. Today the restaurant has 12 employees and a bustling business, especially for its weekend brunch that includes tofu scrambles, crepes and vegan French toast.
Fifteen restaurants received three stars or an "excellent" rating, including Mazza Mediterranean Restaurant, 1515 S. 1500 East; Red Iguana, a favorite Mexican eatery at 736 W. North Temple; and Bangkok Thai, 1400 S. Foothill Drive, all in Salt Lake City.
Bangkok Thai earned praise for having a separate deep-fryer and grill for vegetarian entrees and instituting a "Meatless Mondays" promotion in which vegetarian entries are reduced in price.
Owner Dennis Hummel said Monday is usually a slow night for most restaurants, but it is one of his busiest, selling between 300 and 400 entrees. He said most who dine on Mondays are vegetarians, but many bring in their "meat-eating" friends who quickly see that today's vegetarian dishes bust the stereotype of bland and boring.
"They order pad Thai with shrimp and chicken, but pick at their friend's (vegetarian) curry dish and say, 'that's not too bad,' " he said.
VegOut is not the first to highlight Utah vegetarian dining options. Several years ago, Eric Waters, the deputy executive director of the Utah Animal Rights coalition, and his friend Scott Evans published the Vegetarian Voice dining guide. The 2002 edition can be downloaded at http://www.vegetarianvoice.com.The Vegetarian Resource Group also offers a limited dining guide for Utah athttp://www.vrg.org.
One of Waters' "top" dining spots is the Ever Green House Café, 755 S. State in Salt Lake City, one of only two vegan restaurants in the state. Waters said it is a great place for cheap eats. No entree is more than $8.
Coffee Under the Bridge, 511 W. 200 South in Salt Lake City, is also another inexpensive favorite. Menu items range from $1 to $5.50. And it's likely the only place in the state where one can buy a vegan glazed doughnut.