Vegetarian fare served with a Buddhist flare
By Mike Ives, The Boston Globe, January 23, 2011
Hanoi, Vietnam -- Hanoians associate vegetarianism with Buddhism, so when Le To Nga stopped eating meat in 2006, her friends assumed her decision was spiritually motivated. Was she becoming a Buddhist nun, they asked.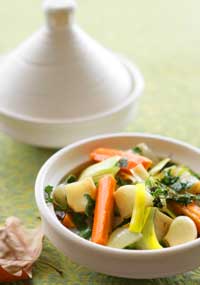 No, Nga told them. She wanted a healthier diet. Explaining her decision was easy, Nga recalls. The hard part was finding vegetarian food in a city where most restaurants serve meat or shellfish, and so-called vegetarian dishes can come doused in fish sauce or garnished with pig ears.
Five years ago, Nga knew of just one vegetarian restaurant, Nang Tam, which had opened in the mid-1990s at the end of a leafy alley. But times have changed in the Vietnamese captial, where the number of Vietnamese-owned vegetarian restaurants has grown to at least 15. Resident foodies attribute the change to rising standards of living and a growing health consciousness among Vietnam's emerging middle class.
"Some Hanoians eat vegetarian food because they are getting fatter and want to keep fit, some have religious reasons, and others are just curious,'' Nga said on a recent evening at Khai Tuong, a vegetarian restaurant that opened last year on a side road near Kim Ma Street, a motorbike-thronged boulevard.
"First my friends started following me to vegetarian restaurants,'' she recalled between bites of a spring roll. "Now they go by themselves.''
Hanoi's vegetarian restaurants are known for serving wheat gluten-infused interpretations of traditional Vietnamese dishes. Too many overemphasize this so-called "fake meat,'' in this Westerner's opinion, but some serve delicious, macrobiotic-style vegetable dishes that would probably pass muster at vegan cafes in Brooklyn or Berkeley. Fake meat aside, these restaurants allow traveling vegans and vegetarians to sample northern Vietnamese food without fear of accidentally ingesting meat.
A big part of the experience of a Hanoi vegetarian restaurant, or com chay, is arriving on a motorbike and soaking up the Buddhist-influenced atmosphere. They tend to serve similar fare — veggie stir fries and spring rolls — but each offers a unique vibe.
Nang Tam is the city's best-known vegetarian restaurant. Its Western-style dining room has wine racks, linen tablecloths, and a fireplace. Nang Tam takes its name from a Cinderella-like Vietnamese legend in which the Buddha gives a poor orphan slippers so she can attend a harvest festival and marry a king. When jealous relatives kill the orphan — twice — she reincarnates as an oriole and a peach tree.
Across town, vegetarian restaurants promote environmental awareness. At a Hanoi branch of the California-based chain Loving Hut, servers wear purple aprons advertising www.suprememastervt.com, which promotes veganism as a strategy for combating global warming. At Khai Tuong, a television broadcasts lectures by the Vietnamese Buddhist monk Thich Chan Quang, who, according to the restaurant's owner, says vegetarianism "protects the environment and purifies your mind.''
If you're lucky, you may find yourself sitting down for lunch with neighborhood monks. I did on a recent Monday at Com Chay Ha Thanh, an alleyside restaurant in central Hanoi. The monks were from a nearby Buddhist pagoda. When they offered me their extra rice, I invited them to join me for lunch another day.
Three Mondays later a quiet female monk from the pagoda joined me, my interpreter, Thu Duong, and photographer Aaron Joel Santos at Ha Thanh for a communal lunch. I ordered rice, stewed eggplant, spring rolls, and sautéed "beef'' with pineapple. The monk, Minh Viet, ordered seaweed soup and french fries. Before handling her chopsticks, she prayed for the farmers who had produced our food and the chefs who had prepared it.
"It's my destiny to be a vegetarian,'' she told us, pausing to sip fresh carrot juice. "At this restaurant, the food tastes good because the cooks put their hearts into it.''
Veggie-only options in this city are still relatively limited. Signs on a typical street advertise "pho'' (chicken or beef noodle soup), "bun cha'' (barbecued pork with sticky rice noodles), "com binh dan'' (meat-laden rice buffet), and "thit cho'' (dog). While some street vendors hawk a few vegetarian-friendly items, notably sticky rice and sweet potatoes, said Tracey Lister of the Hanoi Cooking Centre, most chefs don't understand why a non-Buddhist would avoid meat.
That's why Lister, whose cooking center offers a class on "Vegan Tofu Cookery,'' advises Western vegetarians to tell Hanoi waiters they are Buddhists. It's simpler than listing all the foods they can't eat.
"Food is central to Vietnamese culture,'' said Lister, an Australian chef and author. With new vegetarian restaurants cropping up in Hanoi, Western vegetarians "are lucky they're coming here now as opposed to 10 years ago.''
Not everyone is flocking to them. Lister doesn't see the appeal. Neither does Matt Law, a lifelong vegetarian who owns the downtown bar Le PUB. Law said that unlike in southern Ho Chi Minh City, where he finds that vegetarian dishes are much better integrated into regional cuisine, Hanoi's offerings strike him as consistently uninventive.
In Hanoi, the custom of serving fake meat comes from Buddhist traditions, in which Buddhists eat vegetarian meals in pagodas on the first and 15th days of every lunar month. Nguyen Thi Minh Nga, a chef who cooks for pagodas, said that while local monks mostly eat vegetables, pagodas serve dishes like fake "pork pies'' and "barbecued ribs'' as a courtesy to nonvegetarian guests.
Fake meat can pose problems for practicing Buddhists like Nguyen Hong Son, a native Hanoian who converted to vegetarianism and Tibetan Buddhism last year. "I keep vegetarian because I don't want to kill animals,'' said Son, whom I met at the Hanoi restaurant Nam An. "If someone calls vegetarian food 'chicken' or 'beef,' it's hard to get in the mood to eat it.''
Nam An could be Hanoi's tastiest vegetarian restaurant. Some dishes at this no-frills, family-run eatery, such as a carrot-and-tarot version of a chicken drumstick, are clearly designed to resemble meat. But for the most part, the cooks seem to be less interested in what their food resembles than whether it is delicious.
Delightfully, the atmosphere at alleyside Nam An feels "Hanoi living room'' and there is a $2 set menu. What's more, food is served over steaming brown rice — a rarity in Vietnam, where white rice is the go-to grain — and washed down with glasses of brown rice tea.
Another great vegetarian restaurant is Com Chay May Trang, a.k.a. White Cloud Vegetarian Food, which opened in October 2009 in the upscale West Lake district. This unassuming spot, which sits down the block from two lakeside pagodas, facilitates an uncommonly meditative eating experience. Guests enter through a small courtyard into an airy dining room featuring hanging plants and bamboo tables. Servers deliver wooden chopsticks in wicker baskets. The service is slow, but in a "slow food'' sort of way.
On two recent visits to White Cloud, my friends and I tried brown rice, banana flower salad, tofu wrapped in seaweed, fried gluten with celery and leek, and pumpkin-mung bean-millet soup. The dishes arrived whenever they were done, and they were definitely worth the wait.
"We're trying to help people eat mindfully,'' said manager Pham Thi Bac, who converted to Buddhism in 2009. "In modern life, many people eat to fill their body so they can survive and work, but they don't have a chance to enjoy their food.''
"In our vegetarian way, we encourage people to change both the kind of food they eat and the way they eat,'' she added. "Many of our customers say, 'We like coming to your restaurant because your food makes our stomachs happy.' And we are very happy to hear that.''
-----------------
Mike Ives, a freelance writer living in Hanoi, can be reached at m@mikeivesetc.com.