Home Issues


Soka University of America Is a School On a Hill
By MICHELLE WOO, OC Weekly, Mar 10 2011
The Aliso Viejo college was founded by a Buddhist sect that preaches peace - so why are so many former professors alleging the opposite?
Aliso Viejo, CA (USA) -- Anyone who has ever visited Aliso Viejo knows about gates. Gates separate residential communities from one another. Gates demarcate front yards from back yards and keep pools and tennis courts for the use of those who have the access key. It's a careful study in suburban paranoia, one befitting Orange County's youngest city, and one designed to keep the rest of the world away.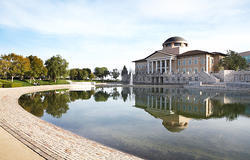 There are guard gates at the entrance to Soka University of America (SUA), a small liberal-arts school perched on a coastal ridge near Aliso and Wood Canyons Regional Park. But for visitors who drive up the wide, curving, tract-home-lined roads of the San Joaquin Hills to visit, the gates cannot hold back the gorgeous view behind them: an unexpected oasis, a seeming mirage of serenity and grandeur in a Stepford town. A water fountain jumps high from a vast, shining turquoise lake in front of the administration building, a soaring, Italian Renaissance-inspired structure built with the same type of stone used for the Roman Colosseum because its founder plans to have the university last 2,000 years.

Walking through the ivy-covered colonnades, where handblown, tulip-shaped lamps hang from above, the scene looks more like a Zen meditation retreat than a college campus on a Thursday afternoon. Two students sit cross-legged in a quiet courtyard, their class notes next to the babbling lily ponds. A bronze statue of Gandhi stands with open arms in a patch of orange groves. Tacked to a cork bulletin board are the words of Eleanor Roosevelt: "All human beings are born free and equal in dignity and rights. They are endowed with reason and conscience and should act toward one another in a spirit of brotherhood."

College guidebooks don't have much to say about Soka, and it remains a mystery even in Orange County academic circles. It's not as old as Chapman University, not as teeming with students as Cal State Fullerton or UC Irvine, not as hidden as Concordia, or as visible as Vanguard. But the school—founded 10 years ago "upon the Buddhist principals of peace, human rights and the sanctity of life," according to its glossy pamphlets—boasts an impressive list of offerings: a nine-to-one student-faculty ratio. Free tuition for students whose family income is $60,000 or less. A global outlook—studying abroad is a requirement for graduation. A new $73 million performing-arts center sound-engineered by the acoustician for the Walt Disney Concert Hall. A cafeteria—or, rather, "bistro"—dishing out daily specials such as spicy kimchi pork bowls and chicken cordon bleu. An athenaeum. An art gallery. An Olympic-sized swimming pool. Plus, 3,400 Internet ports.

Gaye Christoffersen, a worldly academic with a pages-long list of works on Asia-Pacific international relations to her name, felt an instant connection with Soka when she interviewed for a teaching position in 2005 after seeing a job posting in The Chronicle of Higher Education. Contracts were signed, and the 65-year-old relocated from Northern California to become a professor of political science at the school.

"Who wouldn't want to be at a university with a Buddhist peace movement?" she asks from outside a coffee shop in Santa Ana, near Orange County Superior Court. "I thought, 'This is a beautiful campus in Orange County, in America.' How could things be so weird and terrible?"

She makes reference to an e-mail sent in 2002 by Alfred Balitzer, then-dean of Soka University, to a colleague, "SUA will always have two faces and two kinds of faculty," he wrote, "and that is why we as SUA top administrators have to carefully care for the Gakkai members as they are being swamped by non-Gakkai faculty."

The document and others are tucked in Christoffersen's court files, submitted as evidence to a judge. The former Soka professor is suing the university for religious discrimination, claiming she was denied tenure because she refused to abandon her Lutheran faith to join the Soka Gakkai Buddhist sect that founded the university.

"It was a constant pressure," Christoffersen says, staring austerely through rectangular, rimless sunglasses while describing the aggressive proselytizing she says was practiced by both faculty members and students in her classes affiliated with Soka Gakkai on campus. "They're constantly after you, constantly trying to get you. You can't escape."

Christoffersen is one in a lengthening chain of faculty members and students who say they were deceived by the university's nonsectarian status and promotion of "free and open dialogue" and left. They're "Soka refugees," as former psychology professor Jeffrey Green puts it.

Many of those who've left—some by choice, others escorted by security—say that university decisions are made behind locked doors by a group of top administrators whose mission isn't the pursuit of academic excellence, but rather to extol Daisaku Ikeda, president of Soka Gakkai International, the wealthy religious organization that finances the $300 million institution. A culture of paranoia rules the campus, dissidents claim, with jobs always teetering on the line based on whether professors are Soka Gakkai or not.

"We started asking if this is a religious institution or the institution we were promised," says Green, now a professor at Virginia Commonwealth University. "It's sort of ironic that they are a group for peace, but essentially, they declare war on anyone who raises a question."

Soka Gakkai (literally, to "create value") is a lay Buddhist organization founded in 1930 as an educational movement under the teachings of Nichiren, a 13th-century monk. The emphasis eventually narrowed to the need for "human revolution," with the belief that if society members reached their full individual potential, the greater community would prosper. The most direct route to personal enlightenment was by chanting the Lotus Sutra, "Nam-myoho-renge-kyo," which roughly translates to "I devote myself to the mystic law of cause and effect."

During Japan's postwar development, Soka Gakkai rose to unassailable dominance, becoming the Asian nation's largest religious organization. Ikeda took the helm in 1960, and he started a global network, Soka Gakkai International (SGI), in 1975. Throughout his reign, the business tycoon remained one of Japan's most enigmatic figures—and his interaction with the Western media was nearly nonexistent. In a rare interview he granted to the Los Angeles Times in 1996, journalist Teresa Watanabe wrote that Ikeda "has been condemned and praised as a devil and an angel, a Hitler and a Gandhi, a despot and a democrat." He called himself "the anti-authority" and once told a Japanese reporter, "I am the king of Japan; I am its president; I am the master of its spiritual life; I am the supreme power who entirely directs its intellectual culture."

Twenty years ago, the Nichiren Shoshu priesthood (from which Soka Gakkai originated) excommunicated Ikeda, saying that his movement's teachings deviated from orthodoxy. Members have been accused of aggressive proselytizing, violence against those who try to leave the group and blind reverence of their leader. In his new book on organized crime in Japan, The Last Yakuza: A Lifetime in the Japanese Underworld, investigative reporter Jake Adelstein writes that the group has used the Goto-gumi, a notorious yakuza mafia group, to "keep its party strong and squelch dissent." The organization emphatically rejects all accusations.

Today, SGI claims more than 12 million members in 192 countries, as well as tens of billions in assets. It owns newspapers, television and radio stations, art museums, primary and secondary schools, and a university in Japan. There are 100 SGI centers in the United States for practice and study, including one in Santa Ana and a handful in Los Angeles County. Tina Turner is a famous follower, as are Orlando Bloom, Kate Bosworth, Herbie Hancock and Mariane Pearl (widow of murdered Wall Street Journal reporter Daniel Pearl).

David W. Machacek, a Ventura-based human-rights activist and the co-author of Soka Gakkai In America: Accommodation and Conversion, says that while the organization may have a rocky history, it has matured to become a Buddhist sect actively trying to change the world. He calls its message-spreading methods "gentle."

"Any evangelical church in America is more aggressive in proselytizing than Soka, which emphasizes recruitment though friendship and professional networks," Machacek says. "The focus is on the personal practice of Buddhism in your everyday life."

It was under those gentle auspices that the sect's leadership decided to open Soka University of America as a graduate school in Calabasas in 1987. But plans to expand with an undergraduate campus were shut down by environmentalists who wanted to protect the city's open spaces and a Native American ancestral site on property lines. Unfazed, the university migrated south to Aliso Viejo, purchasing 103 acres of rough-graded land from Orange County for $25 million.

The new school - the first private liberal-arts college built in California in 25 years—opened its gates in 2001 to 120 students from 17 states and 19 foreign countries, nearly all of whom learned of Soka from their local SGI centers. Excitement followed, both abroad and around town - Aliso Viejo's then-mayor Carmen Vali believed the fledging suburban city would flourish with a university campus, just as Palo Alto developed around her alma mater, Stanford. "People accuse Orange County of being devoid of culture, and this is something that is definitely going to fly in the face of that concept," she told The New York Times. Soka quickly made an academic splash, with a first-rate library built to house 225,000 volumes, notable hires including best-selling author Joe McGinniss, and a humanistic curriculum focusing on multicultural studies and international relations.

While leading a tour of the campus, Soka spokesperson Wendy Harder recalls the first class. "These were students who were brave enough to take a chance," she says, adding that by the time they graduated, the school had received official accreditation by the Western Association of Schools and Colleges. "They were really coming in with a great deal of faith."

The school's egalitarian principles are showcased throughout the master-planned educational community, which is just more than half-completed. All offices, from the dean's to the janitor's, are the same size. There are no faculty ranks (everyone who teaches is a professor) and no reserved parking spots for managers or higher-ups. Students address the president of the school - Daniel Habuki - as "Danny." With a current student population of 438, the tiny classes are run like graduate seminars, emphasizing "dialogue-based learning."

While Ikeda, the 83-year-old founder of the university, has never visited his U.S. campus, not even for its dedication, his presence is unavoidable. His books are displayed neatly in glass cases at the entrance of the library; his portrait hovers over students in the cherry-wood reading room. A VIP guest house awaits him, should the aging sensei ever decide to stop by. Yet the school downplays its ties to SGI, saying it's not as spiritually fueled as other campuses affiliated with Christian denominations such as Brigham Young University, Notre Dame or even Pepperdine.

"Most liberal-arts colleges are founded on a religion," says Harder, a Lutheran. "This university, from Day One, has been open to everyone. If you wanna study Buddhism, you gotta go somewhere else."

Akiko Tomita, 22, a senior studying international relations, agrees. "The [religious] aspect is not emphasized on the education side," she says, sitting in a campus corridor. "It's big only if you're part of it. A lot of my friends here are atheist or Christian."

As for the percentage of SGI members on campus, Harder shrugs. "You know, we don't ask. On applications, we don't ask about religion, disabilities, one's ability to pay. Our first student body president was a Catholic from the Philippines.

"Soka University was founded upon the principles of peace, human rights and the sanctity of life," she reemphasizes. "Those happen to be my values, too."

* * *

For many academics, it was the allure of being a founding member of a new university that drew them to Soka. Anne Houtman moved from Illinois to join the school's biology department. In 2001, she told The New York Times, "You don't get to start up new liberal-arts colleges. It just isn't done. The idea of being able to start from scratch and say, 'What is it that a global citizen should know about science?' was just incredible.''

But some faculty members quickly became suspicious. Students, they say, would always talk about their "life mentor," referring to Ikeda. They'd spend their days reading his speeches and chanting the Lotus Sutra in the lounge areas. The campus museum featured an exhibit titled "Gandhi, King, and Ikeda." Administrators started calling the university a "hybrid" institution.

One professor who asked to remain anonymous alleges that in the school's first year of operation, students told him of a sexual assault that had happened on campus. The victim went to administrators, who urged her not to say anything. "The excuses they gave were medieval," the professor states. "They said they were going to protect her reputation. It was horrifying to me."

Several Soka staffers walked out or were dismissed in the first few years of the school's opening. When McGinniss (whose next book, The Rogue: Searching for the Real Sarah Palin, comes out this year) was told his contract would not be renewed for a second year, he claimed it was due to his non-Buddhist beliefs. About 20 student supporters camped out on a lawn in protest.

One of those students was Murphy McMahon, who left the school after the incident. Now 29 and working as a translator in Brazil, he wrote via e-mail, "The university was handled like a prerogative of its parent organization, as if the purpose of its existence was the aggrandizement of Daisaku Ikeda. That was manifest constantly everywhere: the reading lists, the special events, the student clubs and activities, the buildings, the museum exhibits, and then in faculty politics and hiring, where not loving Ikeda enough proved an occupational hazard."

Houtman left not long after becoming the assistant dean of faculty. She declined to comment, but she told Australia's Radio National Network in 2003 that she became concerned when the faculty—"really fantastic faculty, lots of experience, really collegial people"—would spend "days and days making decisions" that eventually "would be overturned by an administration that had no experience in academic administration at all."

In 2002—just a year after Soka's opening—Linda Southwell, a terminated fine-arts professor, sued the school for $25 million, alleging religious discrimination, wrongful termination and fraud, among other charges. A complaint filed claimed, "The curriculum is intended to reflect cult beliefs and perspectives." While the university discounted the charges, she came to a settlement, which included a confidentiality clause.

In 2005, Holly Ogren, a professor of Japanese language and culture, also sued Soka in Orange County Superior Court for religious discrimination, alleging she was "severely mistreated, degraded and berated" and "ultimately terminated for being a Hare Krishna, an alternative Buddhist sect." (Contrary to what was stated in that court document, the Hare Krishna movement is actually Hindu.) The case was dismissed in 2006.

One anonymous professor wrote in an e-mail that many faculty members are afraid to come forward with their stories because SGI is "extraordinarily vigilant and nasty regarding any perceived threats to their reputation. They have armies of lawyers and PR people, and they use them. One fellow ex-faculty member was actually tracked down in Mexico by a Soka Gakkai member and asked if he had been accurately quoted in an article; he said yes."

Soka University denies all charges of religious favoritism. "We give absolutely no preferential treatment based on religion," says Edward Feasel, the current dean of faculty. Feasel was also involved in a recent, bizarre episode that had Soka filing a restraining order against one of its own.

In May 2010, political-science professor Orin Kirshner was teaching from Hannah Arendt's Eichmann In Jerusalem in a unit on the Holocaust when he noticed that one of his students continually brought an SS Nazi soldier action figure to class. This particular student, he says, had the doll for years and was known to carry it around campus.

The Jewish Kirshner was very concerned. He e-mailed Feasel claiming anti-Semitism and religious intolerance and demanded something be done about the student.

To Kirshner's surprise, "The dean basically said to me, it's almost summer, the student will be leaving, so it'd be better if I kept my mouth shut." Feasel then told him he was moving the issue to be handled by the department of human resources. The head of the department, Katherine King, responded with an e-mail arranging a meeting about the incident. The letter said this was the first time they had heard of the offending student, a claim, Kirshner says, that was just more stonewalling.

"It was clear that the administration was not going to take this seriously," he says. "They were turning a blind eye to racism, anti-Semitism and various forms of religious intolerance. I'm not saying [the student's actions were] malicious, but nothing was being done about it."

Kirshner asked if he could bring a witness to the meeting—either another faculty member or a lawyer—or a tape recorder; administrators denied his request. He began to suspect a cover-up was taking place, and a series of e-mails later, Kirshner told administrators that he was going to take the issue up with the Board of Trustees.

A few days later, he was locked out of his office. A security guard handed him a letter saying he was no longer welcome on the Soka campus and that he had 48 hours to receive psychological counseling. "Everything was in my office, all of my work—I was on the verge of signing a contract for my new book," Kirshner says. "That got destroyed. I was in the process of putting together a conference paper. That got destroyed."

In defiance, he decided to sit outside his office door and go on a hunger strike. When Kirshner refused to see a counselor hand-selected by the university, he was put on administrative leave without pay, meaning he was technically still employed and therefore could not seek unemployment, yet he would collect no income. Later that summer, he received a two-page letter that listed numerous accusations from "colleagues," ranging from threatening the president of the university to vowing harm on staff if he didn't receive tenure to even seeking out drugs.

"My guess is that the administration got very upset that I had said I was going to go to the Board of Trustees, so they then looked for, fished around for any kind of behavior, incident or anything they can construe as bad behavior," Kirshner says.

Soka kept Kirshner on administrative leave from May until October, when he received an e-mail from administrators saying he could either resign or face a disciplinary committee to respond to the bill of particulars. Instead, on Nov. 8, 2010, he sent an e-mail to King, Habuki, Feasel and others promising "VERY serious TROUBLE (and then some)" and warning them to "please remember to lock your doors. You never know when a wild animal might try to paw its way through." Attached was a photo of a graveyard of skulls. He also left King a similarly threatening voice-mail message. All four administrators filed a restraining order against Kirshner; he is to stay 100 yards from their houses and any portion of the Soka University campus until 2013.

"It was definitely over the top," Kirchner admits about his threats. "I was definitely in a space of being hotheaded. Four to five months with no income created quite a lot of angst in me. But it was all tongue-in-cheek. There was no intention, none at all."

Kirshner, who was named Professor of the Year twice in a row, calls Soka "the jewel in the crown of SGI," used to reel in hundreds of millions of dollars from donors. As for his own case, he says, "It was all about isolating, cornering and destroying anyone who might raise a substantive issue that might tarnish the image of the university or SGI. When they saw that I was serious about my claims of anti-Semitism and religious intolerance, they thought the only way they were going to silence me was by doing something like this. There was no flexibility, zero. There was no dialogue for a school that's known for 'dialogue.'"

Asked about Kirshner, Feasal says he "cannot comment on personnel matters."

* * *

According to documents filed in Orange County Superior Court, Christoffersen entered into a five-year employment contract with Soka University in 2005 with the promise of speeded-up tenure. She applied for tenure in June 2007 and received the further recommendation of the university's Rank and Tenure Committee in February 2008. The committee noted her many accomplishments, including being a "recognized scholar in her fields of expertise" and "publishing regularly over many years in top-quality peer-refereed journals," as well as pointing out that her scholarship is "of a quality usually associated with an established scholar at a major research university."

Then came the e-mails.

Christoffersen says top administrators sent her weekly invites insisting that she attend an Ikeda reading. A month before a decision was to be made about her tenure, the chairwoman of the committee urged her to attend a Soka Gakkai women's meeting. With the future of her career on the line, she drove to the event, but at the last minute, she decided against going in. The chairwoman later told Christoffersen, according to court files, that she was "disappointed with her lack of participation in Soka Gakkai." Another member of the tenure committee, Anthony Mazeroll, told Christoffersen, "Everyone who works here is a member of Soka Gakkai - every administrative person, every IT person, everybody." The assistant dean, Phat Vu, declared in front of several faculty members his intention to "purify" Soka University of all non-Soka Gakkai so that eventually only Soka Gakkai faculty would teach there, according to the complaint.

In March 2008, Soka denied Christoffersen tenure "due to low student evaluations, which showed a deficiency in teaching ability." Other professors with fewer achievements were granted tenure, she claims. She is also suing for age discrimination, claiming the then-dean of faculty, Michael Hays, said to her, "At your age, five years is enough."

She filed the complaint on May 22, 2008, and on Sept. 29, 2009, the court granted a motion for summary judgment by the defendant, Soka University, as not enough facts had been collected. Christoffersen appealed, and the case has reached a California appellate court. It's in limbo, as she lost her lawyer, Brian Glicker (he was charged with failing to maintain client funds in a trust account, among other things, and deemed ineligible to practice law, according to State Bar of California records). She recently applied to be represented by the ACLU.

In Christoffersen's court files are other campus documents that she believes prove Soka University's hidden motives, including a 2002 e-mail from then-dean Alfred Balitzer. "We must insure that the people we hire understand the mission of our university, and it is especially up to us to make judgments about their potential dedication to it," he wrote. "Let us not indulge language that states we are a non-sectarian institution or that Soka Gakkai is so far in the background that we never think about it or it never comes to mind."

Another document is notes from Soka's long-term-planning committee meeting, dated Jan. 28, 1998, during the time the university was being established:

If we overtly call ourselves a Buddhist University, we will likely create a poor image for ourselves in the United States, where people have little experience with or knowledge of Buddhism. Consequently, we will be perceived as "not mainstream" or "not a normal place to send my children to." On the other hand, the very clear reality is that we are completely funded by a Buddhist group; most of our staff and faculty will be Buddhist; and we state that we are "founded on the Buddhist principles of . . ." Therefore, an attempt to hide our Buddhist roots will be seen as secretive and cultish. We need to be somewhere in between depending upon the specific questions being answered.

Back then, the resolution of the committee was to declare Soka a Buddhist university in legal documents to permit the school to "selectively hire Soka Gakkai members without risking legal action for discrimination," according to their notes. The university then agreed to give the impression that it was "open, but middle-of-the-road" in public-relations material such as the mission statement and advertisements in efforts to gain students.

Christoffersen, whose contract ended last year, believes that non-Gakkai faculty members such as herself are hired for legal purposes and to raise the academic stature of the institution, and then "picked off one by one."

"I gave them some credibility they didn't have," she says.

Asked to comment on the claims made by Christoffersen, Feasal said, "We do not discuss personnel matters."

Looking back, Christoffersen says, every day, non-Gakkai students and faculty were hit by "shakubuku," a Soka Gakkai precept that means to "shake and subdue." It's what Nichiren Buddhists call the process of proselytizing and converting non-believers. Of allegations of it happening on campus, Feasel says, "I haven't seen it. I don't think it's true, and it's certainly not something we would condone."

Christoffersen believes otherwise. "The cult frenzy is very crazy, very Orwellian," she says. "I wish they would be as attractive on the inside as they are on the outside."

------------
This article appeared in print as "The School On a Hill: Soka University in Aliso Viejo was founded by a Buddhist sect that preaches peace—so why are so many former professors alleging the school practices the opposite?"