Home Issues


Dalai Lama urges restraint in Tibet monastery standoff
By Abhishek Madhukar, Reuters, Apr 16, 2011
DHARAMSALA, India -- The Dalai Lama has urged restraint in a stand-off between security forces and Tibetans at a Buddhist monastery in southwest China, said to have been sparked by the self-immolation of a monk last month.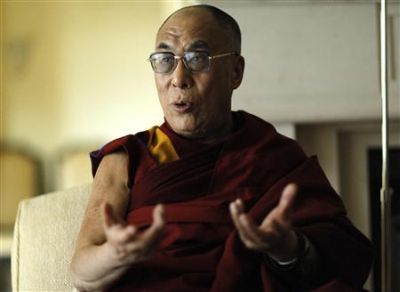 The exiled Tibetan spiritual leader warned of potentially "catastrophic consequences" of the clashes, which he said could prompt a huge crackdown by Beijing on the local population.

Hundreds of ethnic Tibetan people had gathered at the Kirti monastery Tuesday trying to stop authorities moving out monks for government-mandated "re-education," according to exiled Tibetans and activists. That prompted armed police to lockdown the monastery with as many as 2,500 monks inside.

"I am very concerned that this situation if allowed to go on may become explosive with catastrophic consequences for the Tibetans in Ngaba," the Dalai Lama said in a statement late on Friday.

"In view of this I urge both the monks and the lay Tibetans of the area not to do anything that might be used as a pretext by the local authorities to massively crack down on them."

A 21-year-old Tibetan monk burned himself to death on March 16 in Aba, an overwhelmingly ethnic Tibetan part of Sichuan province that erupted in defiance against Chinese Communist Party control three years ago.

His act echoed protests that gripped Tibetan areas of China in March 2008, when Buddhist monks and other Tibetan people loyal to the Dalai Lama confronted police and troops across the region.

Instead of putting out the flames, Chinese police beat the young monk, creating huge resentment in the monastery, the Dalai Lama said in his statement.

The Dalai Lama in March stated his intention to hand over political power to the exiled Tibetan parliament in northern India, though he remains the global face of the Tibetan exiled movement. Beijing brands him a dangerous trouble maker.

Chinese security forces have reportedly used excessive force to end the protest at the monastery, including beating up locals and deploying attack dogs against them, Human Rights Watch said Friday.

"Human Rights Watch's concern for the safety of the local residents around the Kirti monastery has been heightened by the fact that Chinese security forces are increasingly disregarding the rule of law as part of a campaign involving the arrests and disappearances of dozens of the country's most prominent lawyers, human rights defenders, and internet activists in recent months," it added in a statement.