Home Issues


Buddhist Nuns, Monks Arrested for Staging Free Tibet Protests
by Guatham Ashok, The Tibet Post International, 13 June 2011
Dharamshala, India -- Protests in the Kardze county of Eastern Tibet intensified, when two demonstrations were staged at the busy Kardze County market on 10 June 2011. A Tibetan monk and nuns stepped up protests against Chinese rule in spite of being beaten and detained by the Chinese authorities.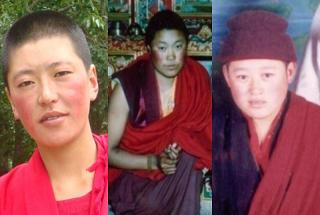 Mr. Choegyal, a Tibetan who is currently living in Brussels, the capital of Belgium told The Tibet Post International that the protestors shouted slogans like 'Invite His Holiness the Dalai Lama to Tibet' 'Tibet is Independent', 'We want Human Rights in Tibet', 'No religious freedom in Tibet' and 'Long live His Holiness the Dalai Lama and they distributed many free Tibet leaflets during their peaceful protests.

According to the Tibetan Center for Human Rights and Democracy, Goyang, a monk of Tsitsang Monastery, staged demonstration raising slogans of "Long Live the Dalai Lama" and "freedom in Tibet". He also called for release of Pangri Rinpoche and all other prisoners in Tibet. Goyang hails from Tsagleg Village, Lhopa Township, Kardze County. Born to Thupten (father) and Tsegyen Dolma (mother), he is 30 years old and studies at the Karze Monastery at the time of his arrest. During the 2008 Uprising in Tibet, his 23-year-old brother, Loyang, was arrested on 20 May 2008 and consequently sentenced to three years in prison. He has been recently freed upon the completion of his imprisonment term.

On the June 10th incident sources say that two nuns whose names were Ringa, 20, from Hormi village of Karze county, daughter of Mr. Jinpa Gyatso and Gyazadha and Jampa Lhatso, 25, from Varu village of Karze county, daughter of Mr. Tenpa and Ms. Ata and they threw leaflets in the air and shouted slogans demanding the return of His Holiness the Dalai Lama and freedom for Tibet. The protestors were then severely beaten by police and later detained, the two nuns are from the Lamdrak nunnery and a monk from the Kardze monastery protested in front of a police station in downtown Kardze.

On June 6th two monks Jigme Sonam and Tsewang Tashi, threw Free Tibet leaflets into the air and called for the return of His Holiness the Dalai Lama.They too were beaten and detained by the local Chinese authorities, according to sources in Tibet.

A Tibetan nun died in a hospital in Sichuan's capital Chengdu on Dec 5 apparently as a direct result of torture by Chinese authorities Dec 7, 2009. Yangkyi Dolma, 33, of Lamdak monastery in Karze (Chinese: Ganzi, Sichuan Province) County, eastern Tibet, had been arrested for taking part in a peaceful protest in March 2009. On Mar 24, Yangkyi and Sonam Yang, 28, staged a march on the Karze county street, chanting same slogans such as "long live His Holiness the Dalai Lama", demanding that His Holiness the Dalai Lama be invited to Tibet. They also distributed free Tibet pamphlets.