Home Issues


Dalai Lama says he will decide successor
AFP, July 20, 2011
WASHINGTON, USA -- Tibet's spiritual leader the Dalai Lama has insisted that he will guide the choice of his successor, saying China's plans to control the selection of the Buddhist leader were "ridiculous."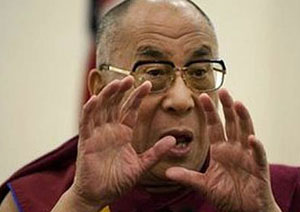 << Tibet's spiritual leader the Dalai Lama. - File Photo

The Dalai Lama on Monday headed back to his home in exile in India after a nearly two-week visit to the United States. President Barack Obama welcomed him Saturday at the White House, leading China to lodge a protest.

China has tried to isolate the Dalai Lama, but he remains widely popular around the world and packed arenas throughout his US visit. Many Tibetans believe Beijing is waiting for his death, hoping his cause will end with him.

The Dalai Lama, who turned 76 during his US visit and appears to be in good health, was emphatic that he would not allow China to stage-manage his succession.

"The Dalai Lama's rebirth or next life logically, finally, it is my business, not others' business," the Dalai Lama told NBC television's "Today" show in an interview broadcast on Monday.

"My next life, ultimately, I will decide – no one else," he said.

Referring to Chinese leaders, the Dalai Lama said: "Recently, they have some kind of policy, some certain policy, but that is quite ridiculous." It was unclear if the Dalai Lama meant he would control his successor's selection in a practical or a spiritual sense. Under Tibetan tradition, monks identify a young boy who shows signs he is a reincarnation of a late lama.

But the Dalai Lama has said in the past that he is willing to break custom by choosing his successor before his death or among exiles outside Tibet. The Dalai Lama has also said he is open to picking a girl.

China's leadership – whose ruling Communist Party is officially atheist – said in March 2010 that it had ultimate authority on the next Dalai Lama and that any choice without Beijing's approval would be "illegitimate and invalid."

In a potential harbinger of future controversy, China in 1995 rejected the Dalai Lama's choice to be the Panchen Lama, the second-highest ranking Tibetan Buddhist, and picked its own boy.

The Chinese-raised Panchen Lama, Gyaincain Norbu, is now 21 and often extols Beijing's rule over Tibet. The Dalai Lama's selection, Gedhun Choekyi Nyima, has not been seen since 1995.

"Several years of some kind of house arrest — not his mistake," the Dalai Lama said, speaking of his choice of Panchen Lama.

Speaking more broadly about the human rights situation, the Dalai Lama said: "Every week some people are arrested and (there is) severe torture in Tibet. Very, very sad."

In another step he hopes will limit China's control over his successor, the Dalai Lama has officially stepped down from his political role, handing temporal power to a prime minister elected by Tibetans living in exile.

The Dalai Lama said he was proud of his decision, adding with a laugh that he slept well the night after he handed over political duties.

"That means I really felt some kind of release, relief," he said.

The Dalai Lama, a winner of the Nobel Peace Prize, says he is peacefully seeking greater rights for Tibetans and that he accepts Beijing's rule.

China insists that he is a separatist. It summoned the top US diplomat in Beijing to protest the Dalai Lama's meeting with Obama, who pledged his "strong support" for human rights and cultural traditions in Tibet.

The Dalai Lama addressed thousands of people in Chicago on Sunday and Monday at a meeting of the Theosophical Society in America, which encourages people of different religious traditions to seek common understanding.

In Chicago, the Dalai Lama also praised Illinois Governor Pat Quinn for the state's recent abolition of the death penalty.