Home Issues


Was Dalai Lama upstaged in Washington?
By Saransh Sehgal, Asia Times, July 20, 2011
DHARAMSALA, India -- There were more reasons than usual for Beijing to feel furious over United States President Barack Obama's date with the Dalai Lama last week. Annual meetings with the Dalai Lama have become almost traditional for US presidents, as has China's angry response.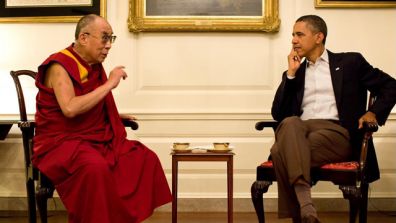 What was different this time, however, was the coincidental presence in Washington of nearly all of Tibet's important religious and political figures in exile. The 17th Karmapa Lama, Ogyen Trinley Dorje - the Dalai Lama's potential successor - and the newly sworn-in prime minister of the exiled Tibetan government, Lobsang Sangay, were in town attending the Kalachakra for World Peace, an 11-day Buddhist ritual that attracted a US audience of thousands.

While the Karmapa's presence at the Kalachakra drew media attention, the main event for Tibetan interests remained the Dalai Lama's second meeting with Obama since he became president. "This meeting underscores the president's strong support for the preservation of Tibet's unique religious, cultural and linguistic identity and the protection of human rights for Tibetans," said a White House statement after the meeting.

Though the sentiment was a rare departure from the US's oft-reiterated commitment to its "one China" policy, the meeting again led China to warn of a possible impact on Sino-US relations. Vice Foreign Minister Cui Tiankai summoned the US representative in Beijing to lodge "solemn representations".

Obama's meeting with the Dalai Lama "severely interferes in China's internal affairs, hurts the Chinese people's feelings and harms China-US relations", said Foreign Ministry spokesman Ma Zhaoxu in a statement. "The Dalai Lama has for a long time used the banner of religion to engage in anti-China splittist activities ... We demand the United States conscientiously handle China's principled and just stance, immediately take steps to remove the baneful impact, stop interfering in China's internal affairs and stop abetting in and supporting 'Tibet independence' anti-China splittist forces."

After years of similar spats, Beijing's protests over the Dalai Lama's US visit appear routine, especially as the spiritual leader retired from politics in March. Perhaps China should've been paying more attention to the arrival in Washington of the 17th Karmapa, Tibetan Buddhism's third-highest lama in exile, who was given a travel permit at the last minute by New Delhi.

In a significant policy shift, the Indian government permitted the young monk to travel from home in India's Dharamsala to the US. The 26-year-old monk has been embroiled in a heated succession debate and controversy ever since he was smuggled out of China in 2000.

Held from July 6-16 in Washington, the Kalachakra for World Peace 2011 was a large Buddhist festival marking the Kalachakra ritual open to the public. The religious event was officiated by the Dalai Lama and coincidentally began on the day he turned 76.

His birthday was celebrated by the thousands of attendees - Tibetans, Buddhist followers as well as American supporters. The ancient ritual of the Kalachakra was first given by Shakyamuni Buddha, the historical Buddha, in ancient India and now the Dalai lineage is carrying forward those sacred teachings.

New Delhi's lifting of the Karmapa's travel restrictions and his presence at the Kalachakra has been welcomed by the religious exile community and the Karmapa's followers in the West. His lineage is the oldest in Tibetan Buddhism at over 900 years and he is the third-most important "Living Buddha" after the Dalai Lama and the Panchen Lama. Buddhist devotees see the young monk as the future face of Buddhism after the Dalai Lama.

However, since his arrival in India the Karmapa has been surrounded by speculation that has aroused the Indian government's suspicion over him. His status as the genuine 17th Karmapa is questioned as there is another claimant for the same title - Trinley Thaye Dorje. However, Ogyen Trinley Dorjee has the backing of the Dalai Lama and most Buddhists, and even China accepts him as the 17th Karmapa.

Earlier this year he was caught in the media spotlight in India over the discovery of $1 million in cash, some in Chinese yuan, at his Gyuto Tantric monastery in Dharamsala, which is home to the Tibetan community in exile. Investigations by Indian authorities eventually found that the money, which Indian police had claimed was payment for "spying" from China, was actually legitimate donations.

In the week before the Kalachakra event began, the 17th Karmapa and many followers had travelled to New Delhi to lobby in the corridors of power for him to receive the travel permit. On July 5, the Karmapa's administration received clearance from the Home Ministry.

This is the first time the 17th Karmapa has attended the Kalachakra event and he was given an enthusiastic welcome by followers. His Kagyu lineage has an extensive network of Dharma centers across the North America that have thousands of students, making his support enormous. Western Buddhist followers have called the Indian government's travel restrictions on the Karmapa a violation of human rights.

The Kalachakra gathering was also the first time that both the Tibetan spiritual leaders living in exile in India were seen together in the United States, making it a historic moment for the Tibetan exiles. Not only the religious leaders but also influential Tibetans such as Lobsang Sangay, the newly-elect Tibetan prime minister in exile, Dalai Lama's special envoy Lodi Gyari, the speaker of exiled Tibetan parliament and many other profiled exiled Tibetans all attended the Kalachakra event making it a Tibetan battalion in the United States capital.

Besides meeting Obama in the last day of his Washington visit, the Dalai Lama also met other top US officials and lawmakers, introducing US contacts to his new political followers for support and future cooperation of Tibetans in exiles and Americans.

The Karmapa had a very different schedule, attending Kalachakra teachings each day and enjoying private sightseeing outings to prominent Washington monuments and museums. This visit was much more low-key than his first trip to the US in 2008, which drew more media attention.

"I think its great the Karmapa was allowed to visit the US as any other non-US citizen," said Judy Worth Friedsam, an American Buddhist. "As a living Buddha, he's fulfilling one of his duties by giving teachings to thousands of his followers in the US."

In Dharamsala, Indian Tibetans also expressed happiness that the monk they see as the spiritual successor to the Dalai Lama was allowed to give teachings abroad.

"His Holiness the Karmapa being granted this trip by the Indian government has come as a blessing for many who have appealed for his freedom, especially his participation in the Kalachakra makes it more special. It is positive that the young spiritual leader can meet US officials along with the young political leadership," said Karma Dhonden, an elderly exiled Tibetan.

However, Tibetan government in exile spokesman Samphel Thupten told Asia Times Online in a phone interview that it was a coincidence that Tibet's religious and political leadership was in Washington at the same time. While the Dalai Lama and Tibetan political leadership met with US officials, the Karmapa did not.

Tibet experts see the Karmapa's opening up to the world as a necessity.

Robert Thurman, the American Buddhist writer and academic, told Britain's Daily Telegraph, "He will be a great voice for the Buddha Dharma in the future, actually he already is, but not in any sort of missionary way, in the way of joining the worldwide network of spiritual leaders turning spirituality toward peace and not letting religion serve as a source of division within humanity in this time of the world crisis, environmental, economic, political."

Interestingly, as the young monk steadily builds his international profile, the Dalai Lama is trying as much to shape him under his wing, introducing him to all major contacts in the United States, considering him perfect to fill his shoes as the influential monk will be the figurehead of Tibetan Buddhism soon.

-----------------
Saransh Sehgal is a contributor based in Dharamsala, India, who can be reached at info@mcllo.com.


Watch Video