Home Issues


Dying as a political act: Centuries-old Buddhist tradition of self-immolation continues in China
by Peter Goodspeed, National Post, Mar 17, 2012
Washington D.C., USA -- On Wednesday, Jamyang Palden, a 39-year-old monk, described as "calm, humble and virtuous," set himself aflame in Drolma Square in the town of Rongwo in the Chinese province of Qinghai, along the border with Tibet.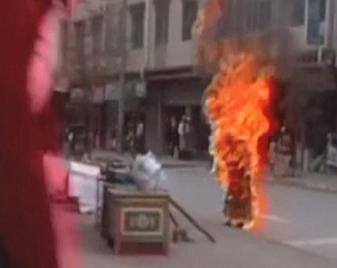 << REUTERS/Students For A Free Tibet via Reuters TV
Tibetan Buddhist nun Palden Choetso burns on the street in Daofu, or Tawu in Tibetan, in this still image taken from video shot on November 3, 2011 and released to Reuters on November 22. The 35-year-old Tibetan Buddhist nun burned herself to death on the public street earlier this month, the latest in a string of self-immolations to protest against Chinese religious controls over Tibet.

He prostrated himself three times beside a Buddhist monastery that was founded in 1301, said a silent prayer, then set himself alight, according to the Washington-based International Campaign for Tibet.

In a matter of minutes more than 500 crimson-robed monks and 700 students from nearby schools were swarming over the site of the attempted suicide, chanting prayers for the monk's soul, shouting political slogans, waving outlawed photographs of the exiled Dalai Lama and filming the scene with their cellphones.

News of the self-immolation was posted on the Internet in a matter of hours, but the fiery protest had its roots deep in the past – in centuries-old traditions of self-sacrifice, disdain for the body and belief in the ritualistic cleansing of fire.

"As a rule, suicide is prohibited [in Buddhism]," said Pinit Ratanakul, director of the College of Religious Studies at Thailand's Mahidol University and an expert in bioethics. "Even when one is suffering from a painful and incurable disease, or when one's life is unsatisfactory, one should bear it quietly and patiently, while simultaneously trying to rid oneself of the pain and suffering in all possible ways.

"Yet in some cases, according to Buddhist scriptures, taking one's own life is allowed for noble ends. The giving of one's own life to save the lives of others, as a bodhisattva [enlightened] gave himself to a hungry lioness to save her from eating her own cubs, is one example of this exception. Another is suicide to escape from an incurable illness that is an obstacle to the attainment of nirvana."

In the last 12 months, 27 Tibetan Buddhist monks, nuns and young people have set themselves on fire to protest China's occupation of Tibet.

They have doused themselves in gasoline in front of government buildings and police stations, turning themselves into human torches, while shouting demands for religious and cultural freedom or calling for the return of the Dalai Lama.

Twenty people who have self-immolated have died – horrible flaming deaths in which their skin blisters and melts and their bodies are fused into charred lumps of burnt flesh.

This is violence, even if it is self-inflicted

In China, there is a long history of self-immolation among Buddhist monks and nuns that goes back to the early Middle Ages, said James Benn, chairman of the religious studies department at McMaster University and author of Burning for Buddha: Self-Immolation in Chinese Buddhism.

In his book, Mr. Benn cites the case of a renowned monk, Daodu, who burnt himself to death in 527 after reciting verses on emptiness as "an active means of deliverance" and a way of becoming a Buddha through a selfless offering.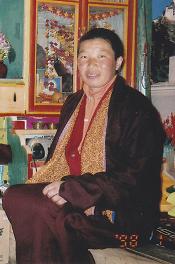 REUTERS/www.freetibet.org/Handout >>
Tibetan Buddhist nun Palden Choetso sits in a house, in this handout picture taken in 1998.
"This was not the random act of a disturbed individual, but rather a single manifestation of a deeply rooted set of ideas and ideals in Chinese Buddhism that blossomed again and again in the history of pre-modern China," Mr. Benn said.
While there is a strain of Indian Buddhist literature concerned with heroic self-sacrifice or the "gift of the body," in China religious suicides have traditionally also had political overtones.
"Early self-immolation was often constructed and construed as an explicitly political act, a way of getting the emperor's attention and forcing him to act for the benefit of the Buddhist community," Mr. Benn says in his book.
"The practice of 'abandoning the body' (through self-immolation, being devoured by wild animals, drowning oneself and self-mummification) has been common in Chinese Buddhism from the middle ages to the present," he says.
The current rash of ritual suicides in Tibet and the surrounding provinces of Sichuan and Qinghai have been met with fierce repression by Chinese officials, who describe the self-immolations as "terrorism in disguise" and a separatist plot inspired by the Dalai Lama.
China has flooded Tibet and its surrounding regions with troops and police, shut down Internet and phone communications, banned foreign news coverage, conducted door-to-door searches for activists and ordered monks and nuns to undergo new "legal education" courses in their monasteries.
Dying in that … way leads to a better rebirth
Jia Qinglin, the fourth ranking member of China's Politburo, recently told officials in Beijing they must "resolutely smash the Dalai Lama's plots to sow chaos in Tibet and maintain social harmony and stability."
Chinese state media depict the self-immolations as the work of fanatical monks engaged in acts "aimed at disturbing social order" and have vilified Tibetan protesters, saying some monks "frequented places of entertainment, prostitution, alcohol and gambling and spread pornographic CD-ROMs."
But each new self-immolation has been greeted by thousands of mourners rushing to Tibet's monasteries to pray and hold candlelight vigils.
Tibet's government-in-exile in India has urged the world to criticize China's human rights record. Lobsang Sangay, prime minister of the government in exile, recently told Australian TV that Chinese repression is driving Tibet's Buddhist clergy to suicide.
"Tibetans cannot protest, they cannot peacefully gather – if you do, you might get shot. You can't have hunger strikes; you can't have rallies. Tibetans see this as the only or most drastic way of protesting against these repressive policies," he said.
So far the Dalai Lama has discouraged, but not explicitly prohibited self-immolation by his followers.
"[People] should bear whatever suffering is inflicted on them with patience and use their precious human lives to develop wisdom and compassion and attain Buddhahood for the sake of all living beings," said Robert Thurman, a professor of Indo-Tibetan Buddhist Studies at Columbia University who has studied with the Dalai Lama for nearly 30 years. "Yet there is a tradition within the spiritual heroes and heroines of Buddhism to offer the body out of altruism, love, and joy of freedom, never motivated by hatred or anger.
"They do believe that dying in that positively motivated way leads to a better rebirth, where they can continue to serve all beings. Their act is the absolute opposite of the suicide bomber who self-destructs with the agenda of hatred in order to kill others."
In 1998, when Indian police broke up a hunger strike staged in New Delhi by the Tibetan Youth Congress, one of the Dalai Lama's followers, Thubten Ngodup, set himself on fire in protest.
The Dalai Lama condemned the act, saying, "This is violence, even if it is self-inflicted. The same energy that can cause someone to do this to himself is very close to the energy that enables someone to kill others in fury and outrage," said Mr. Thurman.
When the Dalai Lama went to visit Mr. Ngodup on his deathbed in hospital, he was visibly upset, Mr. Thurman said.
"His Holiness was worried about this powerful gesture. But he was pleased that at least he was able to whisper into the ear of the totally bandaged victim, 'Do not pass over with hatred for the Chinese in your heart. You are brave and you made your statement, but let not your motive be hatred'."
"Thubten Ngodup somehow signaled that he understood, to His Holiness's great relief," Mr. Thurman said.