Home Issues


Authorities Nurture Burma's Buddhist Chauvinism, Analysts Say
by Daniel Schearf, VOA, September 7, 2012
BANGKOK, THAILAND -- Burma's Buddhist monk-led demonstrations this week against the Muslim minority Rohingya surprised many observers. Analysts say the country's Buddhist chauvinism was shaped by authorities' attempts to form a national identity. But there are worries it could get out of control.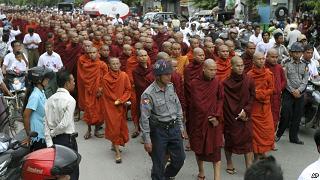 << Burma's Buddhist monks stage a rally to protest against minority Rohingya Muslims in Mandalay, central Burma, September 2, 2012.

This week's protests were the first large monk-led demonstrations in Burma since the 2007 uprising against military rule. But they were a stark contrast to that earlier movement.

While the 2007 Saffron Revolution called for love and democracy, hundreds of monks marching this week in Mandalay called for the expulsion of one of the world's most oppressed minorities, the Rohingya.

The monks were supporting a suggestion by President Thein Sein that the Muslim minority, numbering close to a million, should be segregated and deported.



The extremist calls follow violent summer clashes between Buddhists and Rohingya in western Rakhine state that left 90 people dead.

Sectarian tensions are so high they overshadowed the fact that President Thein Sein was Prime Minister in 2007 when the military government violently cracked down on Buddhist monks.

Maung Zarni, a visiting researcher at the London School of Economics, says authorities are harnessing Buddhist nationalism.

"These generals are considered monk killers," he said. "And, you know, the world [has] seen images of like troops shooting Buddhist monks in the Saffron Revolution. Now, they have successfully refashioned themselves as defenders of Buddhist faith, protectors of Buddhist communities in western Burma. And, it's actually extremely brilliant, if dangerous, you know, political calculation."

Burma's monks have taken lead roles in times of popular unrest, earning them the reputation of being champions of democracy and freedom.

The 2007 Saffron Revolution takes its name from the color of monks' robes.

Buddhist monks were also key supporters of a 1988 student democracy uprising that the military similarly put down by force.

But while those struggles were noble, analysts say historically Burma's Buddhism has been influenced by a racist nationalism that occasionally re-surfaces.

Juliane Schober is a scholar studying Burma's Buddhist traditions at Arizona State University.

"In this particular instance it seems to be a case where there is a lot of debate about what constitutes Burmese identity. And, the saying, you know, 'to be Burmese is to be Buddhist' is one that was first articulated in the early 1910s when the initial struggles for independence became and it was a way of asserting Burmese identity vis-à-vis British colonial rule," said Schober.

Burma's first prime minister after independence, U Nu was a devout Buddhist. He eventually steered a bill through parliament that made Buddhism Burma's state religion in 1961.

Burma is about 90 percent Buddhist and majority ethnically Burman, but the remaining people are a diverse group of over 100 ethnic and religious minorities.

Ethnic groups along the border make up most of the armed rebels that have been seeking some form of autonomy, leading some to question the loyalty of minorities.

Rachel Fleming is Advocacy Director for the Chin Human Rights Organization. She says the Christian Chin in western Chin state were viewed as such a threat to national identity that monks were dispatched to try to convert them to Buddhism.

"The significance of that is those monks were primarily loyal to military rule and Burma army soldiers exacted forced labor from Chin Christians to build Pagodas and monasteries for those monks," she said.

Fleming says while Buddhism is treated as the defacto state religion, with a special recognition in the constitution, authorities tear down unauthorized Christian churches and crosses.

While authorities have at times emphasized the country's diversity, the Buddhist Burman majority was singled out as the trustworthy pillar of national identity.

Aung Thu Nyein with the Vahu Development Institute says authorities have long sought to impose the Burman majority views on the population by keeping minorities out of power.

"They don't have any written laws and regulations, but practically, in the military if you are a Christian or if you are a Muslim you won't be promoted up to major ranks. You won't be a senior leader in the military," he said.

Analysts and rights activists worry Burma is fostering a xenophobia that, if left unchecked, could get out of control.

Phil Robertson is Deputy Director for Asia with Human Rights Watch. He says if more people fail to speak up, Burma could be headed towards a Buddhist xenophobia similar to the Sinhalese in Sri Lanka.

"And that's the concern that we see today in Burma that if this continues, if the Burmese monkhood continues to come out and press against the Rohingya in this way, will we be on the road to a kind of Sri Lanka situation with the Rohingya where you have Buddhists across Burma raising their hands against Rohingya," he said.

Burma media reports say while authorities allowed the monks' three-day demonstration to take place, as it got bigger, they tried to discourage it.