Home Issues


India keeping Karmapa in virtual prison: Chinese writer
by Manu Pubby, The Indian Express, Sep 14 2012
New Delhi, India -- Asserting that the Indian government is keeping Tibetan spiritual leader, the 17th Karmapa, in virtual prison by not allowing him free travel abroad to meet followers, prominent Chinese author Liao Yiwu has said that the leader could be compelled to "escape" from India in a similar fashion in which he left China in January 2000.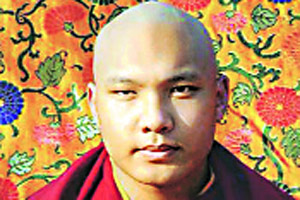 The dissident Chinese author, who escaped to Germany last year after spending several stints in prison for his controversial writings, recently met the Karmapa in Dharamshala and extended an invitation to visit Berlin — a request that is unlikely to be accepted as there are stringent travel restrictions on foreign travel of the spiritual leader who is a political refugee in India.

Liao told The Indian Express that he found the Karmapa very "concerned and anxious". Questioning the restrictions on his foreign travel, Liao said the only barrier between the leader's travel to Berlin is exit permissions from India's Ministry of External Affairs — an issue that would not be easy.

"How can India treat a future leader of Tibet like this by keeping him in virtual prison? The Indian government is treating him in the similar way in which he was treated in China. If the Karmapa cannot stand it any more and escapes in the same manner that he did 12 years ago, it will bring shame to India," the author said.

Liao, who also interacted with workers of the Tibetan Youth Congress who are on a indefinite fast here to show "solidarity with self-immolaters inside Tibet" since September 3, said the impression he got after interaction with the Karmapa's office was that the Indian government has conveyed that he will not be allowed to travel abroad for any purpose this year. "The Karmapa should have basic human rights to go where he wants to and when he wants to. It does not matter if he is a refugee. He should get these basic rights," Liao said.

The author, whose works on the downtrodden in China led to him going to jail several times, is best known for his book The Corpse Walker: Real-Life Stories, China from the Bottom Up that was never allowed to be published in his country. He slipped into Vietnam last year before getting asylum in Germany.