Home Issues


Briton becomes first Western Tibetan Buddhist monk to die from self-immolation
by Henry Samuel, Lavaur, The Telegraph, 16 Nov 2012
A Briton has become the first Western Tibetan Buddhist monk to die by self-immolation, dousing his head and clothes with petrol at a monastery in southwestern France.
Paris, France -- Tonden, 38, whose name at birth was David Alain, had been training for the past five years in the Nalanda monastery near the southwestern village of Labastide-Saint-Georges. The secluded monastery's 25 monks, including five Britons, are currently in retreat.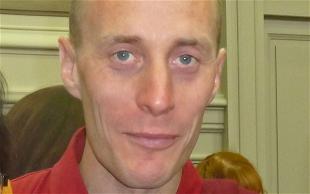 << Tonden, whose birth name was David Alain

Horrified colleagues rushed into the garden of the quiet monastery, which is surrounded by rolling farmland, at 4.50pm on Thursday afternoon, after spotting their orange-robed, shaven-headed colleague burst into flames on the lawn.

They were powerless to help and by the time the emergency services arrived, Tonden had died.

Monks and local police said they were unsure whether Tonden had been depressed and committed suicide or that it was a political statement.

But given international events of the past week, the timing of his demise could not have been more significant.

Tonden died on the day that the Chinese Communist Party enacted its once-in-a-decade leadership change, with Xi Jinping taking over from Hu Jintao.

In the past week alone, at least nine Tibetans were reported to have self-immolated in protest at what they say is religious and cultural repression by the Chinese authorities.

In all, 74 Tibetans have now set themselves on fire since 2009 demanding freedom and the return of the Dalai Lama, who has been in exile since 1959.

Tonden was keenly aware of the Dalai Lama's plight, having met the spiritual leader last year when he visited the monastery

He also met the Dalai Lama's sister in September when she came to Nalanda and its nearby meditation centre, Vajra Yogini, which receives lay people.

Despite the timing, the office of the public prosecutor in Castres, said: "Nothing in the investigation allows us to confirm that it is linked to the events in Tibet."

Michel-Antoine Andreani, number two of the Tarn gendarmerie said the idea a Tibet-linked protest was the "first that sprung to my mind" when he was informed of the self-immolation.

But he told The Daily Telegraph: "Given the information we have gathered so far, the individual was psychologically fragile and during his training was having difficulty coming to terms with all the obligations and vows that his position demands."

The five Buddhist precepts urge against harming living beings, stealing, sexual misconduct, lying and intoxication.

The monastery, an hour's drive northeast of Toulouse, is described on its website as "a unique monastery for Western monks in the Tibetan Geluk tradition".

The entrance to the beautiful location warns visitors: "Retreat in progress. Nalanda monastery is completely closed to all visitors except by appointment."

A lone monk praying by a gold-topped stupa – the structure used for meditation – smiled but declined to speak. The monastery stands at the end of a long drive lined with pine trees adorned with hanging crystals and Buddhist prayer flags of blue, white, red, yellow and green that were last night swaying in the evening breeze.

Standing outside waiting for the undertaker, its director, the venerable Losang Tendar, said: "We don't know at this stage whether he acted for personal or political reasons and cannot comment due to an ongoing police investigation."

"What I can say is he never once spoke about such an act. He gave no warning and left no note. I also can say that nobody was with him at the time." Beside him, Francois Lecointre, a monastery spokesman, said: "We are like his Buddhist family and it's a huge shock for the whole community that nobody could have predicted," he said.

"We have of course followed the events in Tibet, but until now it was simply inconceivable that it would happen here in the West."

He was adamant that "Buddhism proscribes all forms of violence including against oneself. That is very clear in Buddhist teachings."

While police try and piece together the motives, others warned that frustration against Chinese repression of Tibetan Buddhists is threatening to spill over in the West.

"I actually befriended someone on Facebook recently who was threatening to self-immolate to draw international attention to what is going on," said Kate Saunders at the International Campaign for Tibet.

"As far as I know he did not go ahead with it, but it was not the same person".

On Friday, the political leader of Tibetan exiles called for international support for his people's struggle against Chinese rule.

Speaking to support groups from 40 countries at a meeting in Dharmsala, the Dalai Lama's headquarters, Prime Minister Lobsang Sangay said: "Tibet is a litmus test for China and the world. By supporting Tibet, the international community will clearly show what they stand for."

"By not supporting us in our non-violent struggle, the world will send a wrong message to all oppressed people of the world."

Beijing insists it has boosted living standards in minority areas and treats minorities fairly.