Home Issues


Buddhists offended by sexy magazine spread
by PAKAMARD JAICHALARD, THE NATION November 15, 2012
Bangkok, Thailand -- Photos of lingerie models cavorting with Buddha statues published on the Internet by a men's magazine have caused an outcry among Thai Buddhists.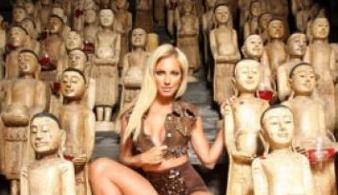 Posted on Maxim magazine's Facebook page, one picture shows a lingerie-clad model posed with her hand on a statue's head and on the statue's arm. Another photo shows the topless model with her hands covering her breasts and wearing only underpants posing among dozens of statues. A third photo shows the blonde "Hometown Hotties" model seated among the statues with her legs spread.

In response to complaints, Culture Ministry permanent secretary Apinan Poshyananda said yesterday he would contact the National Office of Buddhism (NOB), and, because the photos were published on the Internet, the Information Communication and Technology Ministry. He said he would also contact the Foreign Ministry because the photos were from another country.

The various Thai agencies would then notify the magazine about their objection to the inappropriate use of a religious symbol.

Apinan said there have been many cases of Buddhist symbols being used inappropriately and that the Culture Ministry would produce a handbook in Thai and English on the use of Buddhist symbols for commercial purposes in order to prevent future misuse.

Pornchai Pinyapong, president of the World Fellowship of Buddhist Youth, said he had seen the magazine photos and thought they were an insult to Buddhists. He planned to bring the issue to the Parliament's Committee on Religions, Arts and Culture, as well as talk to the Culture Ministry and NOB.

Pornchai also said he would send a letter to Maxim. "If they didn't know what they did was wrong, they can then change it, but if they already knew it was wrong, they will face a protest," he said.

The government should push forward the draft legislation on protecting Buddhism so there would be punishments for those who mistreated religious symbols, Pornchai added.

Pornchai also commented about the worldwide movement to save the 2,300-year-old Buddha statues in Mes Aynak, Afghanistan, from a copper-mining project and said he would bring that issue before the Parliament panel in addition to the magazine photos.

Earlier this year, a group called Knowing Buddha was launched in Thailand, staging demonstrations to raise awareness about the misuse of Buddha images. The group's website lists "dos and don'ts" with regard to Buddha statues.