Home Issues


World leaders criticized for silence on tragic situation in Tibet
by Yeshe Choesang, The Tibet Post, 9 March 2013
Geneva, Switzerland -- The spiritual leader of the Kalmyk people of Russian Federation, has said what is happening in Tibet is genocide. He criticised world leaders for not doing enough for basic human rights and freedoms for the people in Tibet.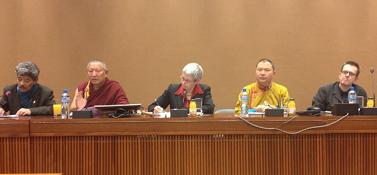 Telo Rinpoche, spiritual head of the Republic of Kalmykia said it was unfortunate that world leaders are not doing anything about the tragic situation in Tibet. He was speaking at a side-event at the UN in Geneva sponsored by five NGOs on "The People's Republic of China: Threat to the Survival of Tibetan Buddhism".

His comment came after 107 Tibetans- including monks, nuns, students and lay people - have burned themselves on fire in Tibet to protest against Chinese rule since 2009 and most of them have reportedly died.

Rinpoche said that the survival of Tibetan Buddhism affects not only the Tibetan people but also the world. The preservation of Tibetan Buddhism is also the survival of Tibetan Buddhist science and philosophy, he said.

Telo Rinpoche said Tibetan Buddhism can be only studied through Tibetan language and the Chinese government is placing restrictions on Tibetan language.

Born to a Kalmyk Mongolian family in the US, he studied at a Tibetan Buddhist monastery in South India at the age of 7 because the long tradition of Mongolians studying in Tibet was no long an option due to China's occupation and repression in Tibet.

Tibet-un-geneva-2013-2He said he was able to visit Tibet in 2003. Unfortunately, he said he was not allowed to travel or meet Tibetans freely.

The other speakers at the side-event were Kirti Rinpoche and Mr Adam Koziel from Helsinki Foundation for Human Rights, Poland. Ms Sophie Richardson of Human Rights Watch moderator.

"The present situation in Tibet is the result of 60 years of Chinese rule," said Kirti Rinpoche, the spiritual head of Kirti monastic community in Ngaba, Tibet. Since 2008, the situation in Tibet has been worsening due to more repression.

Kirti Rinpoche said that his immediate concern was for the safety of the families, relatives and friends of the Tibetan who have self-immolated. In late 2012, Beijing vowed to charge Tibetans "inciting" self-immolation with murder.

Ms Sophie Richardson, China Director of Human Rights Watch, said that China hasn't presented any clear evidence of Tibetan inciting self-immolation.

Kirti Rinpoche said that China must be held accountable for its various pledges that it had made when joining different international bodies. China cannot get away by stating different standards of human rights or democracy, he added.