Home Issues


Buddhist inmate teams up with PETA to save fish from certain death
THE ASSOCIATED PRESS, September 3, 2013
Howard Cosby is a practicing Buddhist who was convicted of sexual assault in 2004. He is a vegetarian, but PETA claims officials at the Corrigan-Radgowski Correctional Institution serve Cosby fish three times a week. Fish are 'not swimming vegetables,' a lawyer said.
HARTFORD, Conn. (USA) -- A Connecticut prison inmate has enlisted the help of an animal rights group in a dispute with the state over his diet.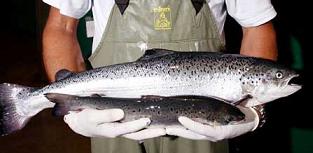 << Fish have thoughts, too, a PETA lawyer argued. That's why practicing Buddhist and convicted criminal Howard Cosby doesn't want fish on his plate.

Howard Cosby, was sentenced in 2004 to 19½ years in prison for sexual assault and other crimes, says he is being served fish three times a week at the Corrigan-Radgowski Correctional Institution in Uncasville, despite requesting a vegetarian diet as a practicing Buddhist.

In a letter to People for the Ethical Treatment of Animals, the 35-year-old Cosby said his administrative complaints were dismissed by prison officials, who told him that his diet is classified as vegetarian because the department does not consider fish to be meat.

"Clearly fish is meat," said Jeff Kerr, an attorney for PETA. "They have thoughts. They have interests. They have a central nervous system. They are not swimming vegetables."

The organization sent a letter to warden Scott Erfe on Tuesday asking that fish be removed from Cosby's diet under the federal Religious Land Use and Institutionalized Persons Act. The law, passed in 2000, requires that prisons avoid imposing substantial burdens on inmates' religious exercises.

Not all Buddhists are vegetarians, but Kerr said Cosby practices vegetarianism as part of a Buddhist lifestyle of nonviolence, and that is enough to meet the requirements under the federal law.

Correction Department spokesman Andrius Banevicius said he was unaware of the complaint Tuesday, and would reserve comment until he had looked into it.

The department's directives include a requirement that an inmate's diet meet "all nutritional requirements as determined by a Department of Correction licensed dietitian, without the presence of food items forbidden by religious dogma."

Kerr said several inmates across the country have won similar disputes with prison officials over their diets, and was hopeful Cosby's complaint could be resolved without having to take it to court.

"We can't imagine they would want to make a federal case out of this," he said. "It seems so simple to just comply with his request, as the federal law requires them to do."