Home Issues


The Dalai Lama and the international Buddhist menace
by Andrew Donaldson, The Weekend Argus, 6 September 2014
Andrew Donaldson on the South African govt's pathetic grovelling at the feet of the Chinese
Johannesburg, South Africa -- IT'S a deeply embarrassing and shameful business but there can be no doubt that our supine government's refusal to grant the Dalai Lama a visa for the third time in five years officially confirms that we are now China's bitch.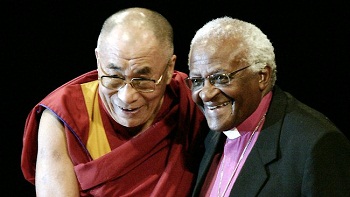 << His Holiness The Dalai Lama is seen here with Nobel peace laureate Desmond Tutu in 2006. The Dalai Lama has been denied visa to enter South Africa for the third time in five years.

Or, in the colourful vernacular so prevalent in that sphere of popular entertainment that is rap music, our ass is they's.

Here at the Mahogany Ridge, though, we are still trying to determine what we will get out of this relationship given that we did, at least as far the pundits were concerned, go out on a limb for the Chinese.

The Tibetan leader had been invited to attend the World Summit of Nobel Peace Laureates in Cape Town next month and, it seemed, only a churl would have conspired to ruin that particular party.

However, the churlish have never been in short supply as far as Pretoria was concerned. Our ill-mannered government is either too thick-skinned or just too plain thick to even bother about the consequences of its grubby behaviour because Beijing's interests, after all, remain of paramount importance.

And Pretoria certainly has been grubby. And devious. The Dalai Lama's folk were reportedly "informally" informed by the Department of International Relations and Cooperation that their leader's visa application would not be granted - so he withdrew his application. Which allowed Dirco the opportunity to glibly suggest that it was the Dalai Lama himself who had cancelled his visit - and they had nothing to do with it.

China, naturally, is very grateful. They've said as much themselves.

Thanking Pretoria for its understanding and devotion, a foreign ministry spokesman, Qin Gang, told reporters in Beijing that "[China] highly appreciates the respect given by the South African government on China's sovereignty and territorial integrity and the support given to China on this issue. We believe that South Africa will continue to support China's sovereignty and territorial integrity."

It appears that it is a sovereignty and territorial integrity that is particularly vulnerable to the giggling Tibetan's sedition. According to Qin, the Dalai Lama had "destroyed" China's ethnic unity "under the guise of religion".

In fact, such was the monkish menace to ethnic unity that the Chinese were compelled to introduce policies that led to the deaths of between 500 000 and 1.2 million Tibetans after the People's Liberation Army invaded the territory in 1951. (The number varies depending on Cold War allegiances.)

Documented human rights abuses include what is euphemistically referred to as the "deprivation of life", disappearances, torture, poor prison conditions, arbitrary arrests and detentions, denial of fair public trials, denial of freedom of speech and of press and Internet freedoms. In addition to political and religious repression, Tibetans have also allegedly been subjected to forced abortions, sterilisation and even infanticide.

To counter these alleged and terrible falsehoods, Beijing likes to point out that for centuries Tibet was a feudal, theocratic backwater with no human rights whatsoever. Lhasa was, for all intents and purposes, serf city.

Christian missionaries were routinely murdered, as missionaries in the non-Western parts of the world were in those days. On the plus side, and this may have been due to Buddhism's growing influence on the locals and the attendant rise of vegetarianism, at least they weren't killed for the pot - which was the fate of those 19th century missionaries who picked the New Guinea short straw, let's just say.

The rise of Buddhism - and, more specifically, the reforms introduced in 1913 by the current Dalai Lama's predecessor - also put paid to the remnants of what one English explorer had described as "a very mild form of slavery".

This was a disturbing revelation for those Ridge regulars who could clearly recall from their history lessons way back in the 1970s that the only form of benign bondage anywhere in the world was here in the Cape Colony in the years before the British arrived.

But enough of that and back to the international Buddhist menace.

I worry - very briefly - that our government may have underestimated the Dalai Lama's particularly low cunning and has inadvertently fallen into a devilish trap.

It may well be that he withdrew his visa application to avoid a possible conflict situation. Very Buddhist of him, and all that. But it could also be said that he has also tricked government into revealing how spineless and hypocritical they really are. Which was perhaps not very Buddhist of him.

More importantly, the Dalai Lama's moral stature and political significance has been boosted immeasurably thanks to our petty nonsense and the eagerness with which we grovel and kowtow to Beijing. And I'm not sure this is what the Chinese want - an opponent who is not a man of straw.