Home Issues


Calling for equality
by Aree Chaisatien, The Sunday Nation, March 8, 2015
Bangkok, Thailand -- AS THE world marks International Women's Day today, fair-minded people from around the globe will be celebrating the achievements of women and joining voices to call for greater equality in what is still, in many countries, a male-dominated society.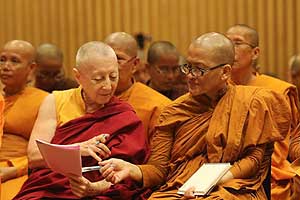 << Bhikkhuni Dhammananda, abbess of Watra Songdhammakalayani, was the first Thai woman to be ordained in the Theravada lineage in Sri Lanka

Here in Thailand, lay supporters of Bhikkhunis - the word used for female monastics or nuns - will be hoping that the Sangha Supreme Council of Thailand (SSC) hears those voices and reverses its ban on the ordination of women.

More than a decade after the first Thai woman was ordained in the Theravada lineage, women who want to be accepted into the order are still facing resistance in Thailand, this despite the acknowledged contribution they are making to society, both locally and globally.

"A woman's right to be ordained as a bhikkhuni is in accordance with PraVinaya (the Buddha's rules)," says Phra Kru Suthammanath, the abbot of Wat Plak Mai Lai in Nakhon Pathom province, at the recent seminar titled "Significance, Situations and Roles of Bhikkhunis in Thai and Global Society".

The seminar was held following the controversial ordination of 47 women from the Asian region last November at Thippayasathandhamma Bhikkhuni Arama, a nunnery on Koh Yor, Songkhla province, by Sri Lankan Bhikkhus and Bhikkhunis.

The SSC responded by banning the ordination of women in Thailand, claiming that foreign Sangha should seek permission before holding ordination ceremonies in the Kingdom. The council reiterated the 1928 religious order by the Buddhist Supreme Patriarch forbidding monks from ordaining women, which claims that according to the ordination rules for women, there must be a quorum of both male and female monks for an ordination to be possible. The statement added that the Theravada Bhikkhuni lineage had been discontinued and thus female ordination could no longer be recognised.

"The SSC resolution that reiterates that the Thai Sanghato adheres to the 1928 announcement of Supreme Patriarch Chinavorn Siriwatthat forbidding male monks to ordain women, clearly indicates it is high time for religious reform," asserts Paiboon Nititawan, a member of the National Reform Council (NRC).

He adds that the SSC's resolution represents an interpretation of the rules and is not a command of the Buddha.

"According to Buddhist principles, women are allowed to be ordained on the grounds of accepting the Eight Garudhammas (heavy rules). Mahapajapati Gotami along with 500 other women, were ordained by Bhikkhus as there were no Bhikkhunis then," Paiboon points out.

There are no obstacles to ordination in terms of dharma principles, he adds, yet the SSC insists on adhering to its interpretation of the law. In his view, the SSC's ban on the Koh Yor ordination oversteps its powers.

"Any legal organisation should be open to criticism. Religious affairs should not be in the hands of bhikkhus if only because the Buddha set up a four-fold assembly, made up of bhikkhus (monks), bhikkhunis (female monks), laymen and laywomen. Laymen and laywomen must also participate in supporting Buddhism," Paiboon stresses.

Mano Laohavanich, a renowned Buddhist scholar at Thammasat University's Chulabhorn International College of Medicine and a former monk, notes that all Buddhist lineages or schools emerged from the first council of Vinaya recitation, where disciples re-constructed the way in which the Buddha's teachings should be followed in future. This led to differences of interpretation of the Buddha's teachings after his death.

"It is a misunderstanding that the Theravada lineage follows the truest of the Buddha's teachings," he says.

"The Buddha's reason for refusing three times the request of Mahapajapati Gotami, his maternal aunt and adoptive mother, to be ordained, should be pondered in depth," adds Phra Kru Suthammanath.

"There were many conditions attached to her eventual ordination and for good reason. Ask yourselves this: if you have a daughter, would you allow her to sleep in the jungle? Would that be appropriate?" asks the abbot of Wat Plak Mai Lai, who was one of male monks present at the revival of the female monk ordination in Theravada Tradition in Bodhgaya, India in 1998.

The fact that female candidates need to be ordained by bhikkhuni teachers (pavattini) also needs to be re-examined, stressed Dhammananda, the abbess of Watra Songdhammakalayani Monastery in Nakhon Pathom, in a letter read out to the seminar after illness prevented her for from attending.

The letter, read out by moderator Kanchana Sutthikul, confirmed that while pavattini were indeed involved, their role was to conduct the purification process during which the candidates are asked questions related to the female anatomy. "The practice of having bhikkhuni teachers in the first place was because some candidates might be embarrassed were such questions to be posed by male monks," Dhammananda explained. "But the actual ordination is done by bhikkhus."

Dhammananda was the first Thai woman to be fully ordained as a Theravada nun. The ordination took place in 2003 in Sri Lanka and she has since devoted herself to restoring Thevarada female monks to Thailand. And she has met with some success. Ordination of nuns in the Theravada lineage has been held in several countries including Australia, Indonesia, Vietnam and Thailand.

Thai bhikkhunis are also taking the lead in restoring bhikkhuni communities and nurturing societies as a whole at local, regional and international levels.

For example, the Network of Thai Bhikkhuni Sangha (Theravada) has been in force since 2013. The Songdhammakalyani Monastery acts as an information centre on bhikkhuni history and dharma rules. During this coming Buddhist Lent, a group of bhikkhunis from India will be trained at the temple in Nakhon Pathom. Additional Bhikkhunis in many countries support one another through an international alliance, of which the abbess is a member

Kanchana, coordinator of Thai Peoples' Network for Promotion of the Fourfold Buddhists and personal secretary to the abbess, has accompanied Dhammananda during many of her activities.

"Some of these could not have been undertaken by bhikkhus," she says, citing as an example the abbess's frequent visits to women in prisons.

The abbess also gives provides educational supports to young people in Sankissa, India, home to most descendants of the Buddha's Sakya clan.

"Buddhism originated in India yet Buddhists number less than one million of the 1.2 billion population," she points out.

"The abbess awards scholarship to Buddhist youths to be ordained at Wat Plak Mai Lai. Although the abbess does not ordain the youngsters herself, she is fully supportive of those who want to be trained and return to Sankissa as Buddhist leaders."