Home Issues


Buddhist Nun Sets Herself Ablaze in Protest against Chinese Rule in Tibet
by Thomas D. Williams, Ph.D., breitbart.com, 11 Apr 2015
Sichuan Province, China -- Tibetan nun Yeshi Khando is believed to have died after setting herself on fire earlier this week to protest Chinese rule in the Himalayan region and express support for the Dalai Lama. Khando is the 138th Tibetan to perform this form of self-immolation protest since 2009.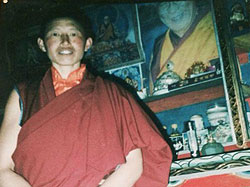 On Wednesday morning, the 47-year-old Tibetan woman, a Buddhist nun from Ngangang Nunnery, visited Kardze Monastery before carrying out her protest in Kubumshab, near a police station in Kardze County, Sichuan Province.

Khando walked around the monastery in Kardze making a prayer commonly practiced in Tibetan Buddhism before setting herself ablaze near the local police station, according to reports by the British-based Free Tibet group, the International Campaign for Tibet (ICT) and Radio Free Asia (RFA).

In her three appeals, the woman called for "the return of the Dalai Lama," the exiled spiritual master of Tibet, for his "long life" and for "freedom for Tibet." Those present do not believe the woman could have survived. Her body was quickly taken away by security forces, and her family was summoned by the police.

According to a local source, "Not long after she set her body on fire, she fell to the ground, and then police arrived and carried her body away in a vehicle."

"The relatives approached the authorities for the body but they were not given the custody of her body. Those who witnessed the scene are almost certain that she did not survive the fiery protest," the source added.

The exiled Central Tibetan Administration reported that Chinese security forces had seized the nun's body, but expressed uncertainty about whether she had died.

"Chinese authorities have summoned (her) family to the police station on 9 April to inform them that she has died. However, they refused to hand over her body to the family members. So, it's quite difficult to ascertain whether she is dead or alive," said the report.

The ruling Communist party has responded by cracking down on Buddhist monasteries and setting up a series of requirements to test their party loyalty.

The region's party chief, Chen Quanguo, said that Buddhist monks and nuns would be evaluated for their "patriotism," and national flags would be installed in monasteries to strengthen ideological control in the region.

The Communist party will perform "assessment activities" to ensure "model harmonious monasteries," as well as "patriotic, law-abiding monks and nuns," Quanguo wrote in the People's Daily newspaper.

The drive would seek to make the monks and nuns "feel the warmth and care of the Party and government," Chen said.