Home Issues


The Dalai Lama Says Buddhist Culture Most Important to Him
by Ashwini Bhatia, Associated Press, Oct 10, 2015
DHARMSALA, India -- The Dalai Lama said Saturday he considered it most important to preserve the Buddhist culture that has helped the Tibetan people live together even in exile.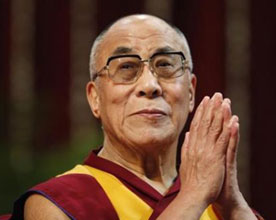 "Our values have helped us Tibetans live together as a people," the 80-year-old spiritual leader said at his first public event after returning last week from a medical check-up in the U.S. "So after coming into exile, I have considered it most important to preserve this rich and profound culture that we have."

Many Tibetans fear that their culture may not endure for long and may weaken after the Dalai Lama is gone.

Carrying white silk scarves, dozens of school children in traditional Tibetan costumes welcomed the Dalai Lama to the event, the 10th anniversary of the opening of a Tibetan school in Dharmsala, the Tibetan government-in-exile's headquarters in northern India.

He also said he regretted that some people were using religion to harm others and said he advocated education of secular values.

Last week, the Dalai Lama said he had had a thorough medical checkup at the renowned Mayo Clinic in Minnesota, U.S.A., and was in "excellent condition." Though advised rest by doctors, the Dalai Lama got out of his car and walked nearly 100 meters (yards) to the school.

His followers lined the path with incense sticks and flowers. The Dalai Lama sat on a chair on a raised platform while others settled on cushions on the floor in a show of respect to him.

The Dalai Lama fled across the Himalayas into India after a failed uprising in Tibet in 1959. Beijing accuses him of seeking to separate Tibet from China. But the Dalai Lama says he simply wants a high degree of autonomy under Chinese rule.