Home Issues


Dalai Lama criticises Aung San Suu Kyi over Rohingya silence at EU meeting
Mizzima, 16 September 2016
Brussels, Belgium -- The Dalai Lama has condemned attacks against the Rohingya Muslim minority in Myanmar, describing them as acts of "some mischievous individuals who do not represent Buddhism," according to the Kuwait News Agency on 15 September, 2016.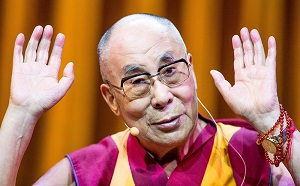 << The Dalai Lama, the exiled Tibetan spiritual leader, gestures during a conference on Individual commitment and collective responsibility at Palais 12 in Brussels, Belgium, 11 September 2016. Photo: EPA

The Tibetan Buddhist leader was speaking to the European Parliament's Foreign Affairs Committee in Strasbourg.

He also criticised Myanmar'sState Counsellor and Foreign Minister Aung San Suu Kyi for not speaking up against the atrocities committed against the Rohingya. "She remained quiet for a while, as Nobel Laureate she should speak against injustice," the report quoted him as saying.

About 1.3 million mainly Muslim Rohingyas live in Myanmar. They reside mainly in the northern Rakhine townships, where they form 80–98% of the population. International media and human rights organizations have often described Rohingyas as one of the most persecuted of minorities in the world, while origin of that term with relation to the United Nations is still unclear.

Many Rohingyas have fled to ghettos and refugee camps in neighbouring Bangladesh and to areas along the border with Thailand. More than 100,000 Rohingyas in Myanmar continue to live in camps for internally displaced persons, not allowed by authorities to leave.

Rohingyas have received international attention in the wake of 2012 Rakhine State riots, and more recently because of their attempted migration throughout Southeast Asia in the 2015 Rohingya refugee crisis.





About Us
Get Breaking Buddhist News in your Email. Free subscription.

Please help keep the Buddhist Channel going

Point your feed reader to this location
Wikipedia: Buddhism by Country
Sangha Directory
Ecards
Wallpapers
E-Library
Archives
Sitemap
Submit an Article
Write to the Editor
Affiliation Program