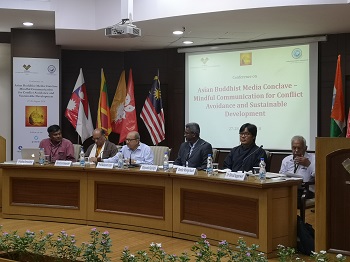 Thus, there is a need to understand the socio-economics of religious conflicts to be factored while planning protection of cultural heritage. The Bodh Gaya Declaration, adopted in September 2015 by Buddhist leaders in the presence of Hon Prime Minister, acknowledged that in the past 15 years religious conflicts have trebled and killings in the name of religion have gone up by two-thirds.
The structural violence of the global economic system which is further being compounded by the effects of climatic change are at the root of the socio-economic problems that is leading to conflict in Asia and across the world as well. If we look at climatic change, we can see that its peoples' greed to destroy the environment in the name of economic growth with a delusion that it provides us development and better standard of living. But when the climate hits back, that creates hatred among people who are affected - normally among poor vulnerable communities. These reflect the three poisons described in Buddhist teachings - greed (lobha), that could lead to hatred (dosa) and to delusion (moha).
There is an urgent need to focus upon developing a mindful communication strategy, to avoid conflict and promote sustainable development in accordance with the 1948 UN Human Rights Declaration on individual freedoms including freedom of speech and dissent, the 1976 International Covenant on Economic, Social and Cultural Rights, focus on 'Development Rights'.
One of the key principles of Buddhist teaching
pratitya samutpada
or 'dependent origination' which sees all things and phenomena as interdependent is clearly consistent with these and UN Sustainable Development Goals (SDG) adopted on 25 September 2015 embedded in complex relationship of cause and effect.
We need to revisit these Buddhist ideas on economics, interdependent nature, mutual understanding, middle path and promote it in journalism practices and development policies.
Media in the modern era has assumed far greater significance than ever before and is now within reach of every individual on this planet. The advent of social media platforms has now evolved media from a medium of providing information and news to shaping and influencing global opinion and perspective. Thus, media today has a very effective role to play in promoting conflict avoidance, environment consciousness and mutual understanding between cultures, faith and ideologies.
However, there are no Buddhist media network that interprets news from a Buddhist perspective and reflecting Buddhist interests.
A Buddhist media network and communication strategy should also distinguish itself from the regular commercial, ideology and hype driven crowded media space. We must look at journalism not as an adversarial model that focus on conflicts, but a communication model that helps people to achieve harmony and happiness in life.
Mindfulness in Journalism can be a way forward. It is at the very heart of Buddhist teachings known as '
Vipassana Bhavana
', which means to see things as they really are, it is one of lndia's most ancient techniques of meditation. Mindfulness is a global movement today and the practice could be cultivated to train to practice Mindful Journalism in a secular setting.
Mindfulness training for journalists should be seen in the context oftraining oneself to gather knowledge and wisdom to gain a deeper understanding of the issues being reported about and how to communicate with the society/community to improve their lives.
A Buddhist social media network will also look at the practice of Buddhism in Asia critically and apply the teachings mindfully to analyse, expose and provide solutions to address the socio-economic problems of grassroots besides reporting and providing a philosophical approach to the 'Structural Violence" of globalised society today.
Through this the spirit of "free thinking" can also be inculcated among the current generation with practical application of the dharma teachings to enrich individual lives and the society. There is a need to bring Buddhist and other philosophies of Indic heritage into the popular culture of the young people and use of modern communication tools to bring it to them in easy to understand manner.
Some work on this has already been initiated. A UNESCO funded program at Chulalongkorn University, Thailand called "Mindful Communication for ASEAN Integration" developed curriculum to train Asian journalists in a human-centric journalism paradigm. This could be adopted in a secular manner by anyone irrespective of your religious or ideological / political affiliations.
We must look at journalism not as an adversarial model that focus on conflicts, but a communication model that helps people to achieve harmony and happiness in life.
In this context the Bodh Gaya Declaration also called for setting up a Buddhist Spiritual and Civilizational Institute in Bodhgaya. This institute can include a Department of Mindful Communication for Sustainable Development in collaboration with Nava Nalanda Mahavihara deemed University under Ministry of Culture, Shantiniketan University (SU) and other institutions.
To address the issues outlined above, a two-day conclave was held in New Delhi under the theme "Mindful Communication for Conflict Avoidance and Sustainable Development". The development of Buddhist social media networking in Asia is a joint collaboration between International Buddhists Confederation (IBC) along with other partners in Asia such as Lotus Communication Network (LCN), TPBS (Thailand), The Buddhist Channel (Malaysia), The Buddhist TV Network (Sri Lanka), Bhutan Media Foundation, Life TV (Taiwan) and those from Sri Lanka, Cambodia, Vietnam, South Korea and Nepal.
The conference pledged to launch a "Mindful" news network under the banner of IBC. It also initiated a regional Buddhist social media training program in partnership with various universities and media organisations and set up standardize curriculum and certification programs across Asia.