Home Issues


The Despair of Tibetans
By Gautaman Bhaskaran, The Seoul Times, April 20, 2006
Seoul, South Korea -- Railway lines fulfill dreams. At least in modern times. But the one about to link central Tibet with China threatens to dash hopes. When passenger trains begin running on this stretch in 2007, hundreds of Han Chinese will immigrate to Tibet. Tibetans are already in a minority in the cities. This new influx will just swamp them. And, this is precisely what Beijing wants: a less gruesome form of ethnic cleansing.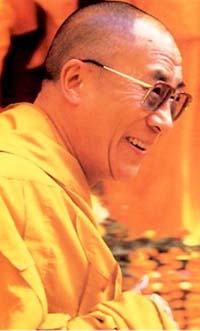 << Dalai Lama, Tibet's spiritual leader
The Railway line is merely one of the many threats that the Tibetans face. Since their spiritual leader, the Dalai Lama, escaped to India with about 80,000 followers in 1959 after China put down a rebellion in Tibet, the simple largely pastoral race has been in deep despair. This agony does not appear to go away or even diminish.
At a recent gathering of Tibetans in Dharamsala in northern India, where the Dalai Lama lives and runs a government in exile, he rues that his people are "facing extinction." Out of a total of six million Tibetans, 130,000 live outside their land, three-quarters in India. These men and women dream of returning home some day, and they continue to keep alive their traditions, sometimes even their way of daily existence.
But the Dalai Lama who acts as a catalyst to the Tibetans and their aspirations will not live forever. He himself says that his death will be a serious setback. It is an understatement. Lobsang Nyandak Zayul, a Minister in exile in the Dalai Lama's government, feels that there will be chaos after the leader's death.
This unrest will probably affect China deeply as well. The Dalai Lama no longer seeks independence for Tibet. What he now wants is limited autonomy for his people that will allow them to practise their customs without fear or hindrance.
Analysts aver that Beijing should not let go this opportunity for one for very important reason. No leader who after the Dalai Lama can ever hope to enjoy his respect and love that the Tibetans have for him. The spiritual leader's command over and loyalty from his people are enormous. Besides, the Dalai Lama is a true Buddhist who seeks peace, and has till now somehow managed to keep the Tibetans from the path of violence.
Sometimes one does get the impression that the present leadership in Beijing is trying to forge some kind of peace with the Tibetans and the Dalai Lama. In recent years, there have been several rounds of discussions between his representatives and Chinese officials.
But, but, there is also a feeling that Beijing is merely trying to buy time and wants to placate international opinion. Probably, China sees in the Dalai Lama's death a series of events that will divide the Tibetans to an extent that they will no longer cherish any hope of returning home or even continuing with their traditional ways.
In a large settlement of Tibetans in Mysore in the southern Indian State of Karnataka, most young men and women have to pinch themselves hard to believe that they are Tibetans. Years of living among Indians may not have made them Indians, but it has certainly led to a feeling of hopelessness of pursuing the dream of their parents and grandparents.
These young Tibetans now want to get on with their careers and ambitions, and appear to care little for Tibetan autonomy. They see their life in India, with its democratic freedom as a far better choice than one in Tibet under a Chinese rule that is bent on destroying their self-pride and job opportunities.
The question now is will the Dalai Lama reincarnate himself as the 15th leader? He says that he will not unless the Tibetans themselves want the institution. Yet, most Tibetans believe that the reincarnation will take place. China knows this too, and has already begun to meddle in this process.
A senior lama is traditionally involved in identifying and tutoring a young Dalai Lama. His is the Panchen Lama. The tenth Panchen Lama died in 1989 and two young men — one recognised by the Dalai Lama and most Tibetans and another by the Chinese—carry the title of the 11th.
The Chinese Panchen has been in jail since 1995 (for his own protection, says China).
The stage, it seems, is all set for drama and intrigue. Yes, some aver that the 17 Karmapa, Ogyen Trinley, (barely 20 years of age) — who belongs to the Black Hat School of Tibetan Buddhism, which in the 17th century lost state power to the Dalai Lamas' Gelugpa School — recognized by the Chinese Government and the Present Dalai Lama, may be able to bring about a semblance of peace after the spiritual leader's demise.
Trinley was born in Tibet, but fled to India in 1999 in the hope of freedom. But he does not have it here as well. The Indian security around him is heavy and he is not allowed to visit his predecessor's seat in the north-eastern Indian State of Sikkim, considered as a sensitive region by India.
In the days to come, both the Dalai Lama and Beijing are bound to get more and more suspicious of the Karmapa's exile. For a long time, India thought that he was a Chinese spy. Perhaps it still does. And Beijing is uncomfortable with the idea that he is living in India.