Home Issues


Chinese Buddhism re-emerges as major global force
By Senaka Weeraratna, Asian Tribune, April 25, 2006
Colombo, Sri Lanka -- China is re-discovering the priceless value of Buddhism and the role it must play in the dissemination of Buddhism worldwide.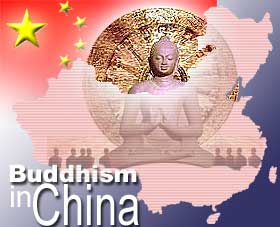 The World Buddhist Forum (WBF) that was held in China recently was the first major step taken in the new role that China has embarked upon. On the eve of Chinese President's visit to USA, the Chinese Govt. used the WBF conference to send a strong message to Washington that the China of the future will not only be a supplier of goods and services but also a source of enlightened thinking based on Buddhism.
In the words of Alvin Wong from Singapore who attended the WBF Conference and wrote on it to the Buddhist Channel:
" Buddhism is deeply rooted in China and is part of the Chinese culture and civilization.
From my intuition, Chinese Buddhism will be a major drive in the very near future. Moreover, with the advance in technology and wealth, Chinese Buddhism that blend with modern technology and focus on social engagement will emerge as a major force in this nation and with the support of the local government.
This Forum (WFB) is just a starting point for the Chinese government to promote Buddhism, and I believe that Buddhist missionaries from China will emerge very soon to spread the teachings to all over the world."
This is sweet music to the ears of all those who have watched with despair and helplessness the inroads that the Christian missionaries were making in Buddhist Asia. The Chinese themselves have been at the receiving end for decades of Christian evangelization, and of late Islamic resurgence.
China's leadership is no longer doctrinaire Communist. It sees in Buddhism a noble path for the evolution of Chinese society. Ye Xiaowen, the Director of State Administration for Religious Affairs, said recently that Buddhism can reduce social divisions in China better than Islam and Christianity, adding Buddhism can help believers cope with fast-changing society plagued by wealth gap and social unrest.
China may well claim the leadership of the Buddhist world to better project its image and Chinese culture, which is rooted in Buddhism, and in addition effectively counter American led aggressive evangelism in many parts of the world.