Home Issues


More Religion, Less Religious Freedom
By Doug Bandow, The American Spectator, July 16, 2007
WASHINGTON, USA -- "The modern world is becoming increasingly religious," yet at the same time there is "intensifying persecution," according to the Hudson Institute's Paul Marshall. He spoke at a forum last week to summarize the results of a detailed new study that will be published next year. Marshall's presentation surveyed the globe and found a few bright spots amid much tragedy.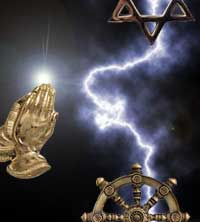 There are "religiously free" nations in every region, he told the audience, with Western Europe and the North Atlantic largely free. Latin America, too, stands well, with the exception of Mexico, Colombia, and Cuba.

Yet even in several European countries religious liberty is unnecessarily limited: "[O]ne sees mounting state discrimination and increasingly aggressive identity indoctrination squeezing out religious values in the public square," Marshall warned. As a result, Belgium, France, Germany, and Greece are less free
religiously than are Brazil, Guatemala, Japan, Latvia, Senegal, and Ukraine.

Still, one can practice one's religion without great fear in even these more restrictive European states. Alas, there are many religious hellholes, concentrated in Asia, North Africa and West Asia, Africa, and the former Soviet Union. Eleven nations fell into category seven at the bottom. Another eleven were at level six.

The worst persecuting states "tend to be communist, nationalist, or Islamist," explained Marshall. China, Cuba, North Korea, and Vietnam fit the first category. Belarus, Burma, Eritrea, Turkmenistan, and Uzbekistan fall into the second group. Afghanistan, Bahrain, Egypt, Iran, Iraq, Mauritania, Pakistan, Palestinian territories, Saudi Arabia, and Sudan meet the final criterion.

It is an odd mix, communist and Islamic. As Marshall pointed out, "extremely religious or extremely secular states comprise most of the religiously intolerant countries." Notably, secularity does not guarantee religious freedom, as is evident from the communist nations, as well as Turkey and to some degree France and Mexico. Nor do issues of state religions or state subsidies for religion correlate much to religious liberty, noted Marshall.

PERHAPS THE MOST STRIKING correlation with religious persecution is religious background. Obviously, intervening events can have an important impact: Do people's Buddhist beliefs matter much when a communist government is making policy? Nevertheless, most nations with a Christian background are relatively free. The only set of countries where that relationship does not hold is Orthodox states, many of them former Soviet constituent republics or Soviet satellite states.

The one Jewish state, Israel, rates a middling 3. The two Hindu states, India and Nepal, come in at 5. Buddhist states do much worse, with four in the bottom two categories; however, most of these are communist-ruled.

Worst, by any measure, are nations with an Islamic background. Twelve fall into categories 6 and 7. Another 20 are at levels 4 and 5. Just two, Mali and Senegal, are genuinely free (in category two). Of six mixed Christian-Muslim states, one is at level seven and five are at levels 4 and 5.

The individual injustice resulting from refusing to recognize, let alone protect, freedom of conscience in these nations is obvious. But there is a larger political impact, since "religious freedom is necessary to protect economic and political freedom," in Marshall's words.

In particular, the lack of religious liberty in the Muslim worlds creates an incubator for anti-Western terrorism and discourages the development of more liberal, democratic societies. Warned Marshall: "Radical Islam probably is the most serious threat to religious freedom. The question of religious freedom is important anywhere in the world. It is particularly important in the Muslim world." For persecution most often is employed against dissenting Muslims, making the "question of religious freedom in the Islamic world a key factor in which political forces win out," explained Marshall.


AMONG THE OTHER ATTENDEES was Brian Grim of the Pew Forum on Religion & Public Life. While the secular West tends to segregate religious values from economic and political factors, Grim argued that freedom is a "bundled commodity." He has conducted extensive research on public attitudes towards, religious freedom and its relationship to such characteristics as economic and political liberty. In his poll of eleven countries last year, Grim found that 76 percent of people said religious freedom was important for them but only 64 percent believed it to be important for others. "This gap indicates a problem," he observed, for that's "where some restrictions come from."

Grim found religious liberty to be very highly correlated to civil liberties, political freedom, and open economies. Social intolerance and government controls tend to reinforce each another, creating a cycle of persecution. Interestingly, religious restrictions also correlate to failed states. Argued Grim: "religious freedom is more than just a Western or American pet peeve," but has long-term geopolitical impacts.

Nevertheless, the West is limited in what it can do to promote religious liberty. Obviously the issue should concern all people of good will. Another contributor in attendance, Richard Land, president of the Southern Baptist Convention's Ethics and Religious Liberty Commission, noted that religion reflects the "deepest longing of the human soul." Protecting the right of people to worship God is a matter of freedom of conscience and, as such, is the cornerstone of a free society.

The point is not just to protect Christians or Jews. Bahais and others face virulent persecution in countries such as Iran. Moreover, noted Land, "the most victimized are Muslims who refuse to accept" extremist Islamic interpretations. Religious liberty is a "universal right to practice and change one's faith. It cannot be denied by countries that want to be part of the community of nations," he concluded.

Not all countries desire to be part of that community, however. What then? Iraq shows that war is no answer; it is the U.S. invasion that has inadvertently sparked the large-scale destruction of that nation's historic Christian community. Economic sanctions are another dubious tool, best limited to the most exceptional cases. The U.S. can prod, push, and embarrass, but diplomacy is likely to have only limited impact.

Which leaves non-governmental organizations. Religious, political, and human rights groups all can play a role. So can corporations and financial institutions. Ted Malloch, chairman of the Spiritual Enterprise Institute, also spoke at the Hudson event. He emphasized that "religious liberty begets economic liberty," so, he added, if "you want economic prosperity, you need to protect religious freedom." At the very least the international business community can tell countries that persecute that they will be viewed as undesirable investment destinations. It is imperative that religiously unfree nations pay a price for their actions.

People around the world will be best off when their countries are capitalistic and their governments are democratic. But the "first freedom" truly is religious liberty. Societies which are afraid to allow people to live out their faith to God are unlikely to trust people to otherwise control their lives. Ultimately, religious liberty begets political, economic, and civil liberty.

---------------------
Doug Bandow is Vice President for Policy of Citizen Outreach. A former Special Assistant to President Ronald Reagan, he is the author of several books, including Foreign Follies: America's New Global Empire (Xulon Press).