Home Issues


Commercialising religious art
by TUNYA SUKPANICH, The Bangkok Post, Aug 5, 2007
While many believe it is always inappropriate to include religious art in a commercial setting, others feel it may be permissible if it is given the proper respect, writes TUNYA SUKPANICH
Bangkok, Thailand -- Buddhist art and architecture is increasingly showing up in nonreligious settings due to the absence of clear and concrete guidelines and policies from the government. This includes everything from the building of complete replicas of temples and using well-known temple architecture motifs in new commercial construction to actually incorporating images of the Lord Buddha in the designs.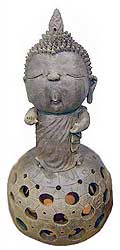 << Cartoon-like Buddha image.

Moreover, the use of Buddhist art - mostly by resorts or spas - has sparked serious concern not only because it is seen as inappropriate in general, but also because the placement of the replicas and reproductions of sacred objects is often unsuitable.

As well, there is considerable controversy over the use of temple grounds for nonreligious activities and entertainment events such as fashion shows.

Three years ago, a network of civic groups in Chiang Mai and Lampang provinces strongly protested against a luxury hotel which imitated the architecture of ancient temples which are highly venerated by the locals in several of its buildings.

When the civic groups persuaded the Fine Arts Department and other agencies to step in, the hotel management agreed to change some of the designs and placement of the items.

Yet new hotels and resorts continue to use Buddhist architecture and images in their construction, for the most part without any reaction from the general public. The latest cases are a hotel resort in Chon Buri province and another in Krabi province.

"If things continue in this way, modern Thai society as well as foreign visitors will be unable to distinguish authentic religious art from the commercial variety," said Chanin Thongthammachart, deputy secretary of the Office of Natural Resource and Environment Planning and Policy (ONEPP).

ONEPP recently organised a meeting of academics, civic groups and concerned government agencies to discuss the issue and try to come up with solutions to prevent future conflicts.

A DEEPER UNDERSTANDING

Pongkhwan Sukwattana of the Siam Architect Association said that a lack of knowledge and also confusion over what the distinctions are between traditional Thai art and religious art have led to an inappropriate use of temple architecture and objects in many commercial places.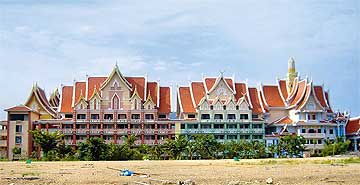 The temple style of a hotel in Krabi province. — Photos courtesy of THE NATURAL AND CULTURAL ENVIRONMENTAL CONSERVATION DIVISION (NCECD) >>
She said temple architecture has been used for commercial building in Bangkok for several decades, and cited the examples of the Montien Arcade and the Jim Thomson building.
Builders may in fact wish to promote Thai traditional architecture, but Ratchavadee Sripraphan, director of the Natural and Cultural Environmental Conservation Division, said that they must take care in the selection of the designs.
She explained that Buddhist art can refer to architecture or the fine arts - mural paintings, drawings, sculptures, etc - which are involved with faith and belief as well as the religious activities of the Buddhist religion. They have been created to specifically serve Buddhism.
"They represent not only religious wisdom, but are also a national cultural resource and social capital which must be preserved and conserved for the next generations," said Ratchavadee. She added that because of their specific purpose, those who use them without deep understanding can unintentionally insult the Buddhist faith and traditions, leading to unnecessary conflicts in society.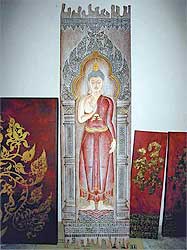 << Buddha Image used for decoration in a hotel lobby.
Sod Deang-iad, deputy permanent secretary of the Ministry of Culture and former chief of the Fine Arts Department, said that some aspects of temple art and architecture also have value and significance outside the teachings of Buddha, and should be given a proper respect.
For example, the temple gates represent entrance to a holy area, and the naga and singh (mythical creatures) that may adorn them represent the protectors of the scared place. At present, Sod pointed out, these sculptures are commonly used as decorations at the entrance of hotels and spas.
"A few years ago when I went to inspect the controversial hotel in Chiang Mai, I saw many things which reflected a misunderstanding of the significance of Buddhist arts and beliefs," he added. "Some items were located in inappropriate places. They later changed the locations following our explanation."
He also lamented the temple objects used as decorative items in many commercial buildings. For example, the Dhammas seats which monks sit on while giving their teachings, or the cases which enclose replicas of the sacred teachings.
Dr Duangchan Chareonmuang of Chiangmai University has written that although certain hotels build decorative stupas, in fact these structures are highly respected in Buddhist tradition, and in the old days housed numerous Buddha statues and amulets. The thung kradang (similar to flags) which are used to adorn the stupas in northern culture are also used as decorative items.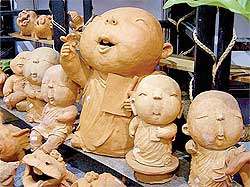 Cute but insulting? >>
Moreover, it has been alleged that the demand for reproduced religious pieces sometimes leads to the smuggling of authentic antique pieces from the temples for display in resorts and spas. Some traders may even attempt to persuade temple abbots to dismantle old buildings and replace them with new construction, with the parts from the old temples sold to builders at a high price.
Assistant Professor Somchai Nil-athi of Rajabhat Maha Sarakham University commented on the inappropriate use of temple grounds for nonreligious purposes, such as to host dinner parties for high ranking officials. At the same time, he said, traditional Buddhist festivals have been extensively commercialised to cater to tourists who are ignorant of the true purposes for the celebrations. He remarked that these days even most Thai people do not know the tradition behind the Candle Festival in Ubon Ratchathani province held annually on Buddhist Lent, which today focuses mostly on the candle carving and decorative competitions.
The associate professor said the commercialisation of religious objects and architecture is not as serious in the Northeast as in the North, but he wished to register his concerns over the theft of Buddhist architecture from historic temples in the Northeast. The heads from ancient Buddha images as well as the sandstone lintels which frame doorways have increasingly been turning up at antique markets.
TRANSITION PERIOD
Some academics think that it may be permissible for Buddhist arts to be displayed in contemporary commercial buildings as long as they are given proper respect and precedence.
The order of precedence, or ranking, of Buddhist arts refers to their significance in the overall design of the architecture, which should reflect the purpose of the piece - they should be installed in the proper setting as the pre-eminent elements of such architecture. For example, the Buddha images must be placed within a shrine, and never in a dining room or in the garden. Likewise temple-style roofs should never be used for common buildings.
Chatree Praditnondthakarn of Silpakorn University pointed out that society has changed and so must modern attitudes toward culture and the arts.
He cited the case of the Mandarin Oriental Dhara Dhevi Hotel, which incorporates a large amount of religious art, including ancient masterpieces. While many believe it is always inappropriate to include religious art in a commercial setting, it cannot be denied that the hotel's displays are very tastefully done.
"It is quite a complicated matter, in a grey area of right and wrong, and no one should be blamed," said Chatree, adding that in a world of capitalism and tourism, culture has been turned into a commodity. Investors want to offer something different to generate greater profits from certain groups of tourists.
He also remarked that oftentimes commercial operations offer local craftsmen an opportunity they could not find elsewhere to use their skills to the utmost.
"Even the local temples today are not built in the traditional way, but turn to something modern. In that case the local craftsmen cannot preserve or show their skills," Chatree said.
He considers that Buddhist arts are in a transition period, noting that some temples in Bangkok now have a palace-style roof, and that one well-known temple recently under renovation opted for painted metal to decorate the roof rather than the traditional carved wood. Therefore, he said, government agencies and academics should seek a broader perspective.
"We have to understand the concepts, thoughts and opinions of the contemporary architects, interior decorators, and artists. This can lead to a development of a contemporary order of precedence of Buddhist arts," he said.
He also feels that it is time to initiate new Thai art forms, whether or not they are based on tradition and culture.
"Whenever our country joins any international trade exposition, the Thai exhibit always features the Sala Thai pavilion. The National Identity Committee defines what is 'Thai' with three symbols - the elephant, the Ratchapruek flower and Sala Thai. It is very narrow," said Chatree.
LEGAL LOOPHOLES
The present law on historical and ancient places, historical objects and artifacts (1961, amended in 1982) does not cover the replication and reproduction of Buddhist art.
There are only a few registered historical objects and artifacts which are prohibited for reproduction. For example, the Phra Avalokitesalaya and Phra Sean Khan found in Ayutthaya, or Ratchburana gold objects.
According to the Fine Arts Department, any reproduction of historical objects and artifacts must be to a smaller scale than the genuine article.
There are no laws or regulations to prohibit or limit the use of Buddhist art or architecture for display in commercial buildings.
"That is a loophole," said Sod of the Culture Ministry. "During the controversy over the temple-like hotels in Chiang Mai three years ago, there were several proposals from both Buddhist organisations and academics in Chiang Mai to review such legal loopholes, along with other necessary measures."
He said the ministry will recommend that national heritage sites and temples apply for patents to prevent the commercial use of Buddhist art and architecture, and also propose an amendment of relevant laws to stop the inappropriate use of temple art and architecture.
However, as it stands now no review of the present laws has been initiated, and hotels, resorts and spas are free to use Buddhist arts in their designs if they so choose.
Associate Professor Roj Khunanek of Thammasat University said that it may not be possible to restrict the commercialisation of temple art, as it was considered a sort of local wisdom and therefore in the public domain. Therefore, it cannot be protected under patent laws.
He concluded by saying that the ethics of the architect is as important as the law in preventing exploitation.
---
The laws on religious art
At the present time there are two main laws which are related to religion and also artefacts.:
- The Criminal Law (1956):
Article 206: Anyone who conducts any act or activities insulting respected places and objects of any religion will be imprisoned from one to seven years, fined from 2,000 to 14,000 baht, or both.
Article 207: Anyone who causes troubles or disorder during any religious meeting or event will face a maximum 2,000 baht fine, a maximum one-year imprisonment, or both.
Article 208: Anyone who illegal dress or use any symbols of a monk or a priest of any religion will face one-year imprisonment, or a maximum 2,000 baht fine, or both.
- The Ancient Sites, Ancient Artifacts and National Museum Law (1961), amended in 1982.
Historical sites
Article 7 : The director-general of the Fine Arts Department is authorised to register places and its surroundings as protected historical sites.
Article 7 (2) : It prohibits any construction in the compound of registered ancient sites.
Article 9: The owner of any registered historic site must report any damages or decay of buildings to the director-general of Fine Arts Department within 30 days.
Historical Objects and artefacts:
Article 14: The director-general of the Fine Arts Department has authority to register any historical objects and artefacts.
Article 15: Any repairs or changes to the registered objects cannot be done without permission from the director-general of the Fine Arts Department.
Article 16: Owners of registered objects must report the loss, decay, damage or change of storage place of the objects to the director-general of the Fine Arts Department within 30 days.
Article18: The reproduction of historical objects or artefacts can be done only with permission from the director-general of the Fine Arts Department, according to rules, methods and conditions declared by the director-general in the Royal Gazette (dated November 17, 1998).