Home Issues


Reincarnation Red Tape
The Telegraph India, Aug 5, 2007
New Delhi, India -- Totalitarian states can be cruel and comic at the same time. The latest Chinese restriction on Tibetan Buddhism would appear to come straight from the theatre of the absurd. Come September, and Tibet's "living Buddhas" would have to queue up before religious affairs officials, application forms in hand, waiting to receive official permission to be reincarnated. The official explanation for the new restriction is that it is "an important move to institutionalize the management of reincarnation of living Buddhas".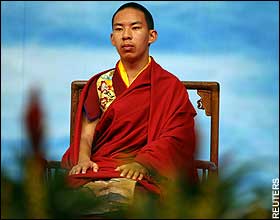 << China's annointed 11th Panchen Lama

The official version itself gives away the government's lie. It must be a bizarre system that seeks not only to manage the religious affairs of its people but also to institutionalize them. But this is not the real import of the new regulation because China's "management" of Tibetan Buddhism — and of all other aspects of life in Tibet — began soon after it had taken control of Lhasa in 1951.

The real target of the new law is none other than the Dalai Lama. An important provision of the 14-part regulation bars any Buddhist monk living outside China from seeking reincarnation for himself or recognizing a "living Buddha". Thus the law effectively marks the end of a tradition sustained by the Dalai Lama and the "living Buddhas", who dominated life and culture in Tibet in his name. The Chinese had earlier tried this endgame by propping up a puppet Panchen Lama, the second most important religious leader of the Tibetans. Now they want to foist their own "living Buddhas" on the Tibetans.

But totalitarian regimes are also known to do silly things out of fear. After nearly half a century of repressive measures, China has not quite succeeded in killing the soul of Tibetan Buddhism. Despite five decades of living in exile, the Dalai Lama remains the most important influence in Tibetan life. China fears that the "living Buddhas" may do at home what the exiled leader cannot.

This Chinese fear is clearly born of a failure. Despite five decades of bitter campaigns against the "feudal and splittist" Dalai Lama and the "obscurantism" of Tibetan Buddhism, China has failed to wean the Tibetans away from either their spiritual leader or from their religion. Worse, the communist state is never free from the fear of Tibetan revolts. Historically, the State and religion have an uneasy relationship.

The latest Chinese attempt may therefore be defeated by its own irony. It may help tighten the State's control over the lamas and the monasteries, but it may further erode China's authority over what the writer, Patrick French, called "the Tibet of the mind".

Another impact of the law may be more immediate and direct. It is likely to further cloud the talks between the Chinese government and the Dalai Lama's representatives on the issue of Tibet's autonomy.