Home Issues


South Thailand: A Shattered Trust
by SUPARA JANCHITFAH, The Bangkok Post, Aug 12, 2007
In a time when the former harmony between Buddhists and Muslims in Thailand's South is becoming just a memory, some strong hearts remain dedicated to healing and renewal, writes SUPARA JANCHITFAH
Narathiwat, Thailand -- Manop Homwong is only 12 years old, but already he is shouldering some heavy burdens. Every day, he has to get up as early as three o'clock in the morning to milk the family's para-rubber trees with his 68-year-old grandmother.
After he comes back from the six-rai plantation, he eats breakfast and sets off for the Wat Prachum Chon Tara Buddhist school, about four kilometres from his home in Taling Soong village in Sungai Padi district of Narathiwat province. Formerly, before his life was suddenly turned around, he studied at Taling Soong village school.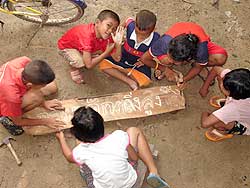 << The best way to build good relationships between Buddhists and Muslims in a village is to let them learn and share problems as well as good times together. — Photos by NAVAPOL LEENIN

Manop would not have to milk the para-rubber trees when only in Grade Six if his parents had not been killed earlier this year. His father, Somjai Homwong, was an assistant to the village headman in the village where both Buddhists and Muslims had resided together in peace and harmony for more than eight decades.

There are about 43 Buddhist families and 135 Muslim families in Taling Soong village. Some Thai Buddhists settled in the village more than 80 years ago, but most came shortly before World War II.

Since the resurgence of violence in the deep South in 2004, most Thai Buddhists in area villages have normally taken to journeying out to the para-rubber plantations in groups. On the fateful morning of March 29, Somjai and his wife were on their way to collect the rubber milk. It was around nine in the morning that neighbours who were also on the road to the para-rubber plantations outside the village, their motorcycle a little ahead of one carrying Manop's parents, heard the gunshots.

Manop has a younger brother who is eight years old and studies in Grade Two at the same temple school. Since their parents died, they are staying with their aging grandparents.

Manop's grandma Yi has trouble seeing her way despite the operations she has undergone for cataracts.

"I never thought that he (Somjai) would be killed. He was a good son and a good person. Whenever I see my grandsons, I wish the murderers had taken me instead," she said, her voice shaking and her eyes swollen. Her tears are indistinguishable from those of so many other mothers across the deep South, both Buddhists and Muslims, who have lost children in the senseless killing.

The Taling Soong village headman, Makori Maming, agreed that Somjai was a good man, and said he also had a good relationship with Muslim villagers. "Whenever we had any activities, he always joined in, for example in raising funds for the Tadika school (or Taman Didikan Amali - a school for the young to study basic Arabic as well as provide an introduction to Islamic studies), and various Islamic ceremonies," he said.

At a time in life when most are learning to relax and take it easy, in their golden years Yi and her husband are facing mounting difficulties. Their only source of income is the six-rai para-rubber plantation, and without her son and daughter-in-law the yields are much less. All aspects of life seem to be more trouble for her and her husband, and they are particularly concerned for the future of their grandchildren.

"Now we are living in fear, we have to be extremely careful at every step. We cannot move anywhere else, our home is here. But how my grandsons will survive, I don't know. I am not sure if I can protect and raise them properly. I am not sure if I can send them on to higher education," she added.

Since the death of Somjai and his wife, neighbour Navapol Leenin has tried to help the old couple by submitting petitions requesting assistance for them, along with relevant documents, to the National Reconciliation Council (NRC) and other government agencies. The NRC has so far declined any assistance.

BRIDGING THE GAPS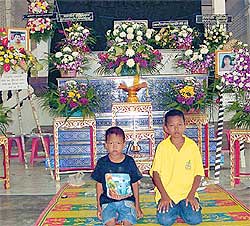 Manop (right) and Nawin Homwong lost both of their parents at the same time to the southern violence >>
"It's in the process. I hope some government agencies will assist them, but maybe we have to wait," said Navapol optimistically.
Navapol is also a volunteer for the Abhaibhubejhr and Kho Yai Conservation Foundations, and a teacher for the Non-formal Education Department of the Ministry of Education. He was born in Taling Soong. After he obtained his Bachelor degree from a university in Bangkok, he decided to come home and work for his people, both Buddhists and Muslims.
"I opened a learning centre for the children to learn and play together," he said.
"When I was young," he added, "I studied with my Muslim friends. Sometimes we had conflicts, but we played and enjoyed our days together. We had no cultural or religious barriers." His eyes displayed the vigorous memories of those bygone days.
Now, since the escalation of violence in the deep South, most Buddhist parents feel that they can no longer send their children to village schools where the majority of children are Muslim, and have moved their children to temple schools where the teachers are all Buddhists.
Most Buddhist parents in the village seemed reluctant to express this openly. Some said the moves are because of the quality of the village schools, and some gave other reasons.
Likewise, 10 children gathered in front of Navapol's house said their reason for moving to the temple school was that it has a better teaching system compared to the village school. Five children in the village even go to study at Sungai Kolok, which is even further away from home.
Since the violent turn of events more than three and a half years ago, most village schools in the deep South have encountered all sorts of serious problems. Teachers need a military escort to get to and from their schools, as about 75 of them have been killed and a number of them injured.
Children have far fewer days in class. Schools often close because of teachers' protests or violence along the roads which prevents them from coming to school.
A teacher in Cho Airong who asked not to be named said this is a problem, since by law each state school must show that it is in operation more than 80 percent of total school days.
While most elderly Buddhists in Taling Soong say they have no problems with Muslim people about their age, things are different for the younger generation.
"We have shared our culture through difficult times. We were once able to enjoy each others' company," said one lady."But," added another, "not the young people. Most feel that relations have changed for the worse. It is about trust and distrust."
Navapol wants to mend the problem and heal the distrust amid all the violence.
"I want to tell all young people in the village that we share the same sources of water, the mountains and the forest. I have taken many to the forest and organised many activities," he said.
Navapol told the story of Golf and Ma, who were once close friends. Later Golf moved to study at the temple school. The two met again when Navapol organised a study trip and they renewed their friendship.
Navapol said a good relationship between people of different religions should start when they are young. "This is the best time to build a base."
But he said that since Somjai was killed the project has been slowing down because "fewer Muslims join in our activities. Most Muslim children come for a while and then they left (from the playing ground)."
Some of Navapol's neighbours ask why he has to help the Muslims, but he is determined to continue his activities, even if it is hard to convince all sides to join in.
Undeterred, he added in a determined voice: "I will continue organising activities to bridge the gap between my people."
ON THE FRONTLINES
Six soldiers from nearby Cho Airong military camp have been stationed in the village since Somjai and his wife were killed. Buddhist villagers helped them build a post in the middle of the village.
Five of them are Buddhists from other provinces and one is a Muslim from Pattani.
Private 1st Class Sai (not his real name) is from Surin province. He was trained at a military school and then sent to the South.
"When I learned that I would be coming here, I felt a bit uncertain, not because of fear, but because I didn't know the situation," he said while on night patrol in Taling Soong village. He said he felt lucky after being sent to a Buddhist village, and he feels happier.
"Villagers give their cooperation and they support us. Whatever they have they share with us. They also take care of my Muslim friend," he said enthusiastically.
Sai is one of the few soldiers in the southernmost provinces who doesn't wear an amulet. "The Lord Buddha is always with us, in our hearts," he said by way of explanation.
He said he keeps the same feelings and attitudes toward all villagers, be they Buddhist or Muslim, and that most everyone accepts him. He added that he was trained in public health, and that he feels very happy that his role is to help people.
The soldiers sleep and eat at the military post. The best time for the people on the frontlines is when they have the free time to call their families.
"When I talk to my mom, I feel that I am close to her. I have her moral support and this encourages me to stay alive, to go home to see her," said Sai.
He said the day that his mobile phone signal was cut was a horrible one for both him and his family. "My mom kept calling. When the line could not be connected, she kept worrying that something might have happened to me," he added. His friends nodded their heads in understanding.
Apart from his meagre private 1st class salary, he gets 1,000 baht per month for the risk of being stationed in the South. Those who are drafted get a 50-baht per diem and no salary, plus the 1,000 baht per month risk payment.
Food preparation costs are deducted from the 50-baht per diem, leaving, until a few months ago, just 10 baht per day. Now, with a new calculation, they have 35 baht left after the deduction for food preparation, according to one Buddhist draftee.
WHAT ROAD TO PEACE?
These low ranking soldiers have no complaints about their earnings, and most have no idea what their superiors in the military camps and in Bangkok earn. They are also unaware of the budget increases being requested by the Ministry of Defence (MoD).
According to the Bureau of the Budget, the total budget for the MoD for the 2006 fiscal year was 85,107.6 million baht. For the 2007 fiscal year, the amount was increased to 114,696.2 million baht. For the the next fiscal year (from October 2007 to September 2008) the total budget is 141,265.8 million baht, about a 23.2 percent increase from 2007. The total budget of the MoD for the 2008 fiscal year amounts to 8.5 percent of the entire national budget of 1,660,000 million baht.
The share for the Royal Thai Army comes to 56,847.9 and 70,448.1 million baht in 2007 and 2008, respectively. Besides, there was a budget allocated for the three southernmost provinces for security and development of 9,060.1 million baht in 2008.
Obviously, not much of this is going to the low ranking soldiers who risk their lives day in and day out.
Sai says he feels it is his duty to fight for the "nation". He wants peace, but he feels the government should take more decisive measures to bring it about.
"Why do we have to be so compromising, when we already have better weapons and more soldiers compared to them (militants)," he said.
However, a Muslim draftee disagrees, saying that the road to peace would see the government withdrawing the troops from the area.
"We are their (insurgents) main targets. If we are not here, maybe peace could be restored in the area easier,"said the soldier, who asked not to be named.
Apart from the soldiers at the post, each night six villagers also patrol their village. The government trained 13 people in the village as defence volunteers, gave them some weapons and allocated 800 baht a month to each. However villagers share the money with other villagers on duty even if they were not trained by the government. Som is one of the village defence volunteers who takes his turn once every five days on patrol. He talked of the difficulties of living in the violence-prone area.
"We have to take extreme care with our families and in our daily lives. We cannot trust anyone at the moment. We never know if those who come close to us are friends or foes," he said, adding that it is good to know that people in Bangkok are worrying about Buddhists in the deep South.
Now people in Taling Soong are facing not only problems with security, they are also encountering economic difficulties.
"This year, the price of mangosteens is only three baht a kilo. Yesterday, I harvested 98 kilogrammes and only got 294 baht," said a farmer who sells his produce to Muslim vendors.
But most Buddhists in the deep South don't seem overly concerned with economic hardships.
"We are willing to work hard, the only thing we are afraid of is the violence," one said, adding that she prays every day for peace to be restored.