Home Issues


My successor could be a woman: Dalai Lama
The Times of India, Dec 7, 2007
MILAN, Italy -- Tibet's spiritual leader the Dalai Lama on Thursday suggested that his successor could be a woman.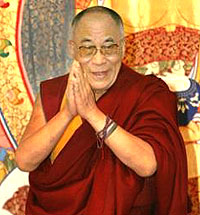 "If a woman reveals herself as more useful the lama could very well be reincarnated in this form," the 14th Dalai Lama told reporters in Milan, where he arrived for a private visit on Wednesday.

The 72-year-old Dalai Lama, who has lived in exile since 1959, said last week that his successor could be chosen outside of Tibet if he were to die abroad.

He also mooted the possibility of choosing the 15th Dalai Lama himself. According to centuries of tradition, high-ranking monks in Tibet choose the Dalai Lama's reincarnation after the death of the incumbent.

China, which has ruled Tibet since 1951 and has violently crushed protests there, recently announced that so-called living Buddhas in Tibet needed permission from the government, officially atheist, to be reincarnated.

The Buddhist leader also said his 11-day visit to Italy was "not political" and that he did not intend to "cause problems for the state and the (Italian) authorities."

Beijing has complained to the Italian foreign ministry over the visit, which will take the 1989 Nobel peace prize laureate to Rome for four days from December 12, even though he will not meet with any members of the Italian government.

A planned meeting with Pope Benedict XVI was cancelled, in a decision that Italian media reports said facilitated the ordination on Tuesday of a new bishop in Guangdong, southern China, with the Vatican's approval.

The political high point of the Dalai Lama's stay will likely be his meeting with Italian lawmakers.