Home Issues


In Tibetan Monasteries, the Heavy Hand of the Party
By Jill Drew, The Star (Washington Post Foreign Service), April 15, 2008
BEIJING, China -- Arjia Rinpoche was 47 years old and a senior Tibetan abbot when he first signed a document denouncing the Dalai Lama, Tibetan Buddhism's spiritual leader.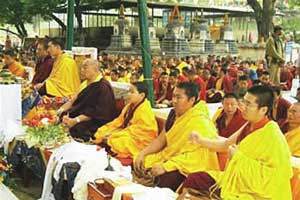 << Apart from religious studies, Tibetan monks are required to attend lessons designed by the Chinese Communist Party to tighten control of a religion whose leader, the Dalai Lama, is viewed in Beijing as a threat to the party's supremacy

It was 1997, and about 50 Communist Party workers had come to his monastery to conduct what is called a "patriotic education" campaign -- 45 days of instruction in the Chinese version of history and a requirement that all monks sign a document accepting Chinese rule in Tibet and rejecting the Dalai Lama as a "separatist." For many followers, that amounts to painful renunciation of their religion's central figure.

"It was not our wish, not our thought, but we don't have choices," Arjia said. "We have fear."

Such campaigns are now a standard feature of life in Tibetan monasteries and nunneries. They are one of many tools Chinese leaders use to tighten party control of a religion whose charismatic leader, the 72-year-old Dalai Lama, is revered in Tibet, respected around the world and viewed in Beijing as a threat to the party's supremacy.

After widespread protests swept the Tibetan plateau last month, Chinese leaders responded with a combination of arrests, interrogations and vigorous education campaigns. At least eight people were reportedly killed in a remote town in Sichuan province Thursday in a protest sparked by an attempt to force monks to participate in an education campaign.

Monasteries around the Tibetan capital of Lhasa remained closed for a fourth week, and a woman who answered the phone, but would not give her name, at Tibet's religious affairs bureau said that was because the monks were "taking some lessons."

For Tibetan Buddhists, the education campaigns undermine their core beliefs and are a hated humiliation. For the Chinese, the campaigns boil down to a simple loyalty oath.

"The government controls all the religions in China very tightly, such as Taoism, Buddhism and Christianity," said Kang Xiaoguang, a professor of regional economics and politics at Beijing's Renmin University. "The government doesn't only aim at Tibetan Buddhism. On the contrary, it makes greater concessions on Tibetan Buddhism than on other religions."

That perspective, along with the view that China has invested the equivalent of millions of dollars in Tibet's economic development, is the backbone of China's position that Tibet has been well-treated by Beijing. But monks say those who don't accept China's terms are stripped of their robes and permanently expelled from their monasteries. If they protest, monks say, they can be jailed and tortured.

Arjia, who fled to the United States in 1998, said that fate was well-known to the 700 monks from his community, Kumbum Monastery in Qinghai province on Tibet's border, when they gathered for a final meeting after 45 days of patriotic study.

The study sessions themselves had not been arduous, recalled Arjia, who had lived through China's harsh Cultural Revolution and spent 16 years in labor camps. In 1997, when the lessons about China's glories and the memorization of party slogans got too boring, party workers often killed time with monks, chatting about everyday problems. The workers were a little easier on the Kumbum monks because Arjia had been dealing with the Communists in an attempt to shield his monastery from more stringent political control. But now that the campaign was concluding, the workers needed signatures and testimonials to prove to their bosses that Kumbum was a "patriotic" monastery.

As abbot, Arjia recalled, he joined party officials sitting behind a table at the front of the hall. One by one, his monks were encouraged to stand up and read their thoughts about the lessons they had received. It was understood that they would follow the party line to avoid trouble.

"We have a saying: 'Close one eye, open one eye,' " Arjia said. "It was very difficult to denounce His Holiness before the other monks. If you can avoid saying his name, that's considered being a hero."

Avoiding direct confrontation over the Dalai Lama has become almost impossible in Tibet, certainly in the past month, but also more generally in the two years since tough-talking Zhang Qingli took over as party secretary for the Tibet Autonomous Region. He has called the Dalai Lama a "wolf in monk's robes, a devil with a human face but the heart of a beast" and dismissed the exiled leader's supporters as the "scum of Buddhism."

On Thursday, Zhang ordered not just monks but students, government workers and business people throughout Tibet to participate in patriotic education sessions and sign denunciations of the Dalai Lama. The lessons assert that China liberated Tibet from oppressive feudalism in the 1950s and that, in Zhang's words, an "international hostile conspiracy to Westernize and split our country has never changed."

A diplomat who participated in a tour of Lhasa on March 28-29 arranged by the Chinese government said local officials there did not answer direct questions about whether underlying social tensions, including resentment over education campaigns and the vilification of the Dalai Lama, helped spark the violent protest in Tibet's capital on March 14. Speaking on condition of anonymity because of the sensitivity surrounding the trip, the diplomat said officials insisted the only problem in Tibet was that a small group of "splittists" had incited people to riot and that the monks needed more education.

One 27-year-old monk, interviewed on condition his name not be used, fled Tashi Lhunpo Monastery in the Tibetan city of Shigatse in September 2006 because after 14 years in the monastery, he had had enough of Chinese domination. "I felt all the time that this was a lie," he said. "On the one hand, they were telling us we are given full freedom of religion, but on the other hand, we are not allowed to honor our root teacher or even keep his picture. I could no longer bear all those disturbances and threatening by the government. Even a minor political mistake could lead to imprisonment."

The monk participated in his first party-led education session in 1993. He did not have to sign a denunciation that time but had to condemn the Dalai Lama in front of his fellow monks. "I had to be very active, had to prove I was really patriotic, so I can pass the exam," he said. "In order to stay in the monastery, I did this. I clearly know the other monks did not do this from their hearts, and not me, either."

The campaigns intensified in 1995 after China named its own Panchen Lama, the second-most-revered figure in Tibetan Buddhism, and the Panchen Lama recognized by the Dalai Lama disappeared. Nearly 200 of the 800 monks in Tashi Lhunpo were imprisoned after they rejected the Chinese choice, and the others had to sit through "patriotic education" classes twice that year, each session lasting nearly two months. Since then, the monks have been required to attend classes twice a week.

"There were too many politically motivated activities," said the 27-year-old monk, who now lives with thousands of others in Dharmsala, India, near the headquarters of the Dalai Lama's government-in-exile. "I could not concentrate on my religious study."

Teachers are an essential element in the many forms of Buddhist practice. The first vow taken by monks and nuns is to "never abandon what your teacher says," said Matteo Pistono, executive director of the Conservancy for Tibetan Art and Culture in Washington. "You can never turn your back on your root teacher."

The Dalai Lama is most Tibetan Buddhists' root teacher, so the denunciations required by the Chinese campaigns completely undermine the first tenet of Buddhist study. "To adhere to the political position is directly contradicting the vows of loyalty," Pistono said. "It hits right at the very identity of Tibetans."

Tsering Wangdu Shakya, a professor at the University of British Columbia, said so many monks have fled in the past five decades that there are no more senior monks living in Tibet itself. That makes it nearly impossible to pass on core Buddhist teachings and provides little buffer between Chinese government officials who control the monasteries and the increasingly restive young monks attempting to study there. Those conditions, he said, are what feeds the "social instability and creates tension in Tibet."

Researchers Zhang Jie and Liu Liu contributed to this report.