Home Issues


Buddhism and its place in Tibetan protests
by Aasim Khan, CNN-IBN, May 3, 2008
Dharamshala, Himachal Pradesh (India) -- Buddhism is often seen as a religion that does not have place for politics. A faith that many believe shuns the power play of everyday life. But do these notions about Buddhism hold true in contemporary India? How are Buddhism and its followers changing?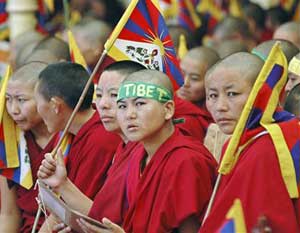 To understand the issues facing Buddhism today, there is no better place to begin than Dharamshala — ground zero for Tibetans-in-exile fighting for freedom. It is also home to thousands of Buddha's warriors.

Lhasa Tsering is an angry poet. By his own admission his writings are more propaganda than poetry. As Lhasa reads, it's not difficult to see that like the wrinkles on his face, his anger and frustration run deep.

"These days whenever I speak, I begin by saying that I hope I am wrong," Tsering says.

An active campaigner for free Tibet for over four decades, Lhasa has travelled around the world, speaking for his cause. But unlike the 15,000 other Tibetans-in-exile, who live in Dharamshala, Lhasa's reverence for the Dalai Lama and his middle path ends at the temple walls.

Karnataka Poll Chat

"The bare fact is that the Chinese came to Tibet to stay and until we throw them out, they will never leave. I think Dalai Lama's middle way policy is nothing but wishful thinking," the poet fumes.

What upsets Tsering most is the message of non-violence the Dalai Lama preaches.

"A military man is raping a young girl. In her attempt to save herself, she flings something at soldier's face and he gets hurt. Can you call that violence? If there is any violence in Tibet, the Chinese do it. They use violence like in genocide," Tsering says.

Disturbing as they may sound, Tsering's words are inspiring young blood in Dharamshala, youth who have yet to see the Tibet they are fighting for. What's happened since March 10 may, perhaps, vindicate Tsering's beliefs.

"We were on our way to India when we stopped in Lhasa. The Chinese Police had beaten two monks. We were there when Tibetans came out on the streets," a Tibetan refugee says.

"There was a lot of Chinese police on the border. We had to cross five mountains on foot. My seven-year-old friend was with me. We felt very scared," says a Tibetan young woman who was in Lhasa on that fateful day. She and a seven-year-old girl were lucky to cross into India even as violence carried on.

It was on March 10 in 1959 when Tibetans first stood up against the Chinese rule. Every year the day is marked in Dharamshala with prayers and protests. But what happened on March 10 2008 was something completely different both in its character and scale. It was like a spark that set off a fire that went far beyond the corners of the otherwise quiet hill town.

Leading the charge of the protest were men and women like Tensing Tsundue, a rising star in the Tibetan struggle. With his red bandanna, Tsundue almost looks like a Tibetan Rambo, taking on the Chinese.

"This red band that I'm wearing, for me this red band is the mark of my pledge that I will work for 'Free Tibet' and until and unless Tibet is not free, I will not take this off," Tsundue says.

Tsundue's weapon is not violence, but spectacle. He has gone to incredible heights to embarrass the Chinese in the past.